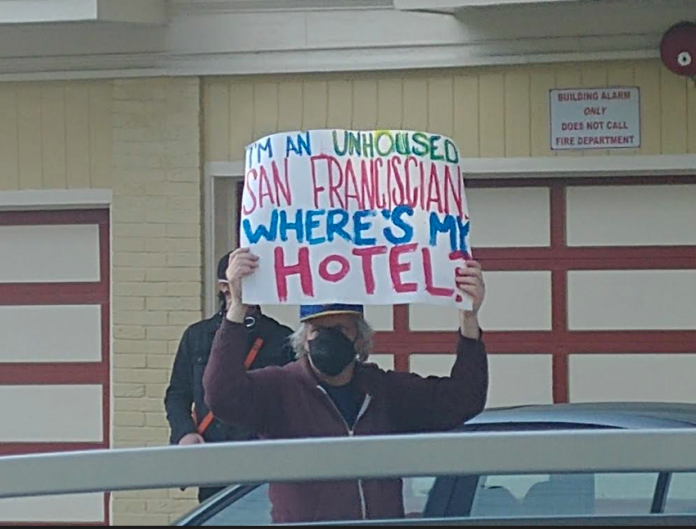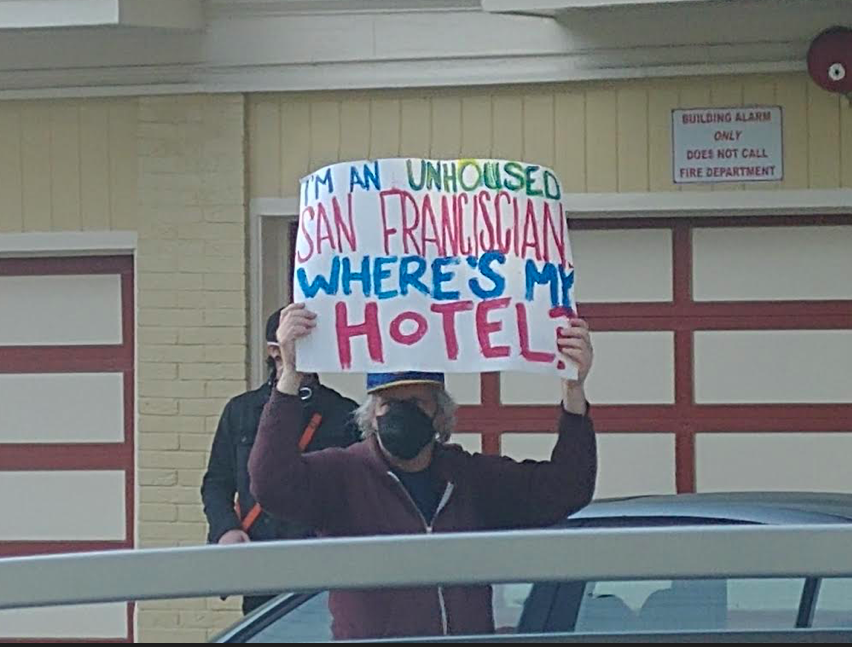 The Board of Supes briefing from the Department of Public Health today was stunning – and showed just how far the Breed Administration is willing to go to avod putting homeless people in hotel rooms.
The quick takeaway:
The top two doctors dealing with the pandemic in SF confirmed that people who have been sick with COVID-19 and have recovered can be quickly returned to congregate shelters – although nobody knows if they are still able to transmit the disease or become re-infected.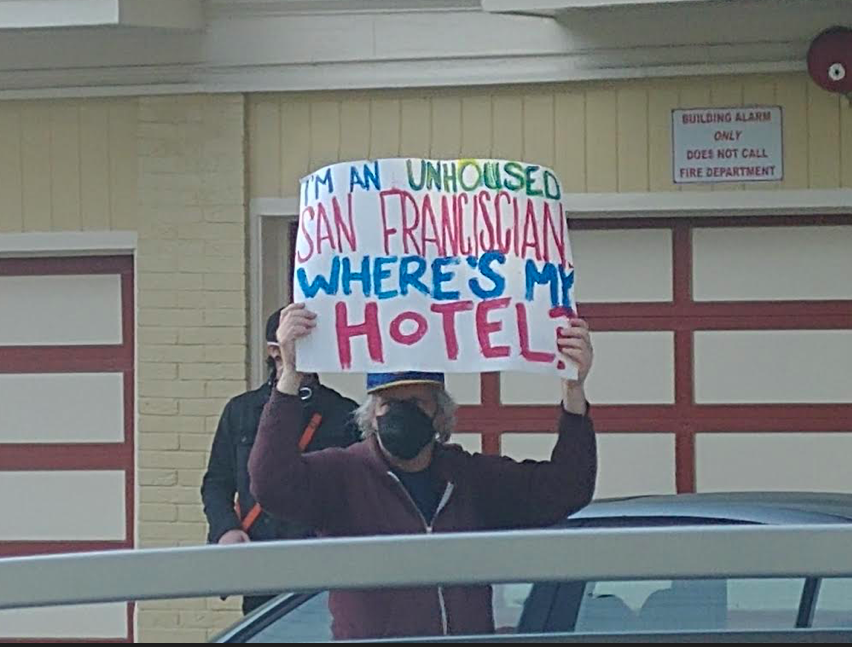 There are no real plans to change the current policy of keeping people on the streets, in tents, or in crowded shelters.
And while the public health officer has the legal authority to order the hotel rooms be available and homeless people be moved inside, he has declined to issue that order – and outright refused to say why.
DPH Director Grant Colfax and Public Health Office Tomas Aragon spoke for more than two hours with the supes. The real highlights came near the end, when Sups. Matt Haney and Hillary Ronen, who represent districts with large populations of unhoused and vulnerable people, were able to ask questions.
Haney said that "it seems to me that your approach to these vulnerable individuals is the same that it was two months ago," when the city began to make emergency plans for shelter-in-place.
He said that homeless people who test positive, are quarantined or treated, and then recover go right back to the unsafe, crowded shelters where they were before.
"Are they still in danger?" he asked. "We are knowingly putting them into a congregate environment."
Colfax said "there's a lot we don't know." He said that health-care workers who have recovered have gone back to work, and suggested that people could resume their normal activities – except that for homeless people, that means returning to a dangerous situation.
"We don't know how long they can excrete the virus or how long immunity is going to last," the doctor said. "That's why our orders are going to last on social distancing and mask use."
But there is no social distancing in a homeless shelter. Its just impossible.
Haney: "I haven't seen any public-health guidance that says it's okay" for people to return to crowded shelters.
Ronen said that the city's policy for the unhoused population has been very different than the policy for people who can shelter in place. "What's so hard for me," she said "is that people who are staying home, outside their door is a massive tent encampment," where the residents have no access to basic hygiene.
"I have just been frankly shocked that not one health order has been issued for this population. There are two standards – one for the housed and one for the unhoused population."
She asked Colfax directly: "Why have you not issued a health order requiring shelter where people are safe" and have access to sanitation and privacy.
His response: "This was a high priority of ours" and the city is making sure that people over 60 and at risk are housed.
Ronen again said the law is clear: The public health officer has the right to procure hotel rooms for all homeless people and move them inside to protect the health of everyone in the city.
Aragon said that he had consulted with the city attorney, and that "we would have to show we had exhausted all resources" before commandeering hotel rooms. But that's crazy: The hotel owners want to rent their vacant space out. There are easily 8,000 rooms available today.
Ronen: "It's so frustrating. You and the mayor have the legal right to do this. You can order this to happen because the public health relies on it. It doesn't make sense – why haven't you issued that order?
Aragon: "That's all I am prepared to say."
Ronen: "That's really disappointing."
Board President Norman Yee, before winding up the hearing, said "I will put this mildly – I don't disagree with Supervisor Ronen."
It's more than disappointing – it's a public-health disaster. People on the streets, whether they are 60 or older, whether they have specific health conditions – are by definition at risk for COVID-19.
And if the disease spreads in the encampments, it will spread further – as Ronen noted, many of the currently homeless people in the city have jobs and go to work every day. With other people.
I remain baffled by the Breed Administration position here. It's not only inexplicable – it's scary.