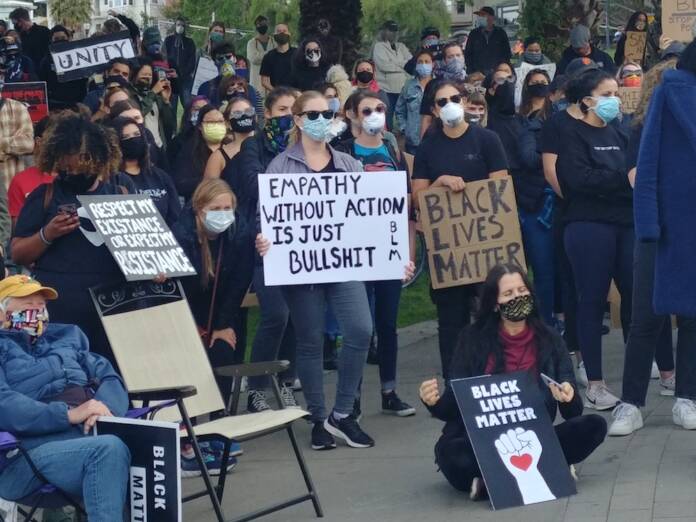 Salam Asmerom works as a nurse at a wellness center in San Francisco. Not long ago, she told me, she encountered a patient who called her "useless" and demanded to see someone "more competent" than her, only to act "sweet and polite" when her white supervisor checked in.
Her supervisor sent in a physician to care for the patient, and when Asmerom told that physician about her interaction with the patient, she approached the director of the wellness center and demanded that "something be done" about the discrimination Asmerom faced.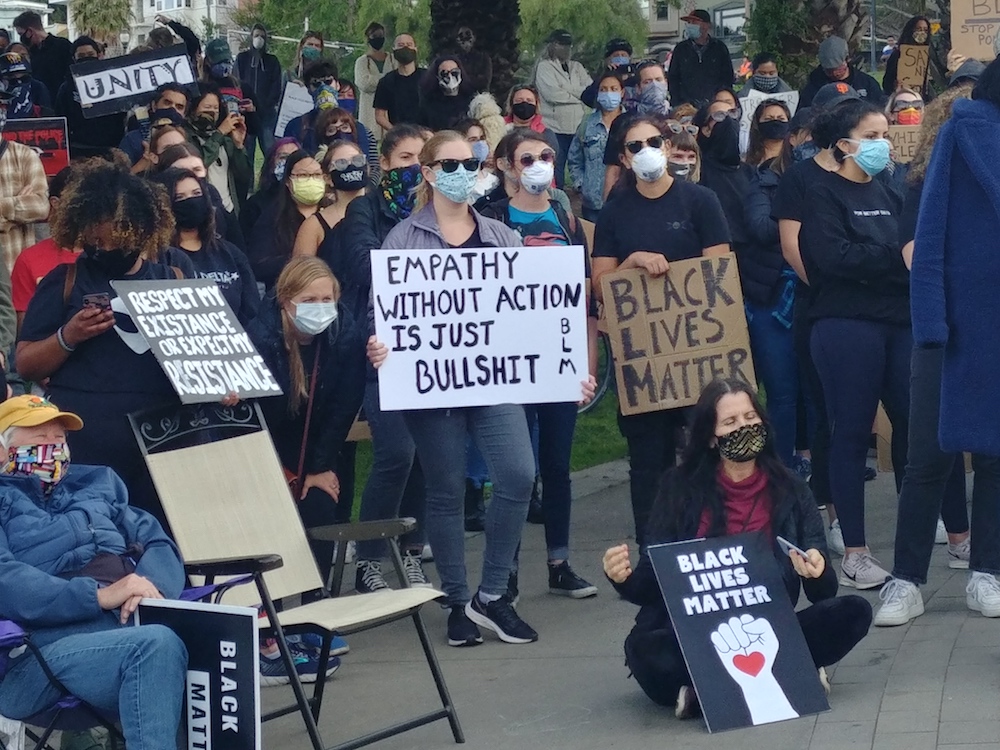 The director sent a letter to the patient explaining that "this sort of behavior will not be tolerated" at the center.
Asmerom said that she felt humanized by her colleague's support.
"This is what women do, we care for each other, we make each other feel special, Asmeron said. "when women come together, we feel powerful, we feel strong," said Asmerom. "It was a woman who made me feel validated after my first experience of racism as a healthcare worker. The more women we hear the more we feel the nurturing, the support, that's why I say women in solidarity."
Asemeron was one of about 350 people, mostly women, who peacefully gathered in Dolores Park Friday to decry racism experienced by women of color. At the demonstration, which was called "Women in Solidarity for Justice and Equality," several women spoke about how they have experienced racism, and those gathered said the names of Black Americans killed by police, including Ahmaud Arbery, Breonna Taylor, and George Floyd, to honor their memory and call for an end to police violence. Demonstrators then kneeled in a moment of silence for eight minutes and 46 seconds, representing the amount of time Minneapolis police officer Derek Chauvin kneeled on Floyd's neck.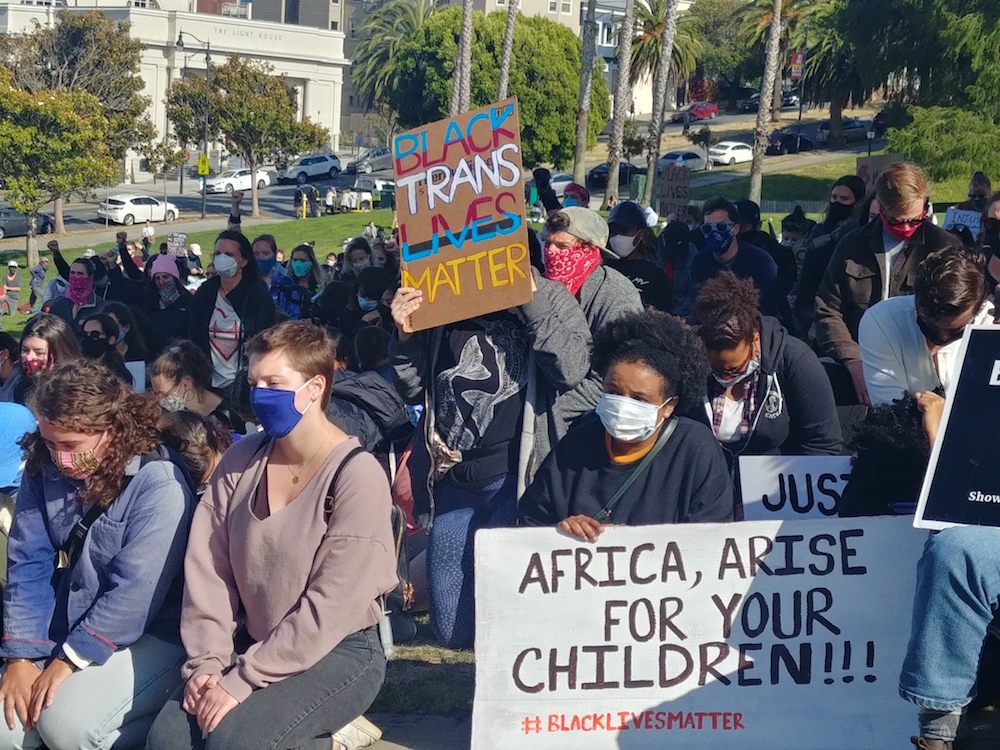 Sophia Andary, co-chair and director of leadership of Women's March San Francisco, called on the allies of the Black Lives Matter movement to take a more active stance in ending systemic racism.
"[Allies] are the ones that need to do the work, empathy without action is bullshit," said Andary, reading off one of the protestor's signs. "We need to show up everywhere, not just here today."
Andary said that racism persists due to lack of diversity in both public offices and corporate boardrooms.
"All of these companies getting on the bandwagon of Black Lives Matter… if I look at your executives, and they are all white, and they are all men, then Black lives don't matter to you, money matters to you. We need to hold those companies accountable," said Andary.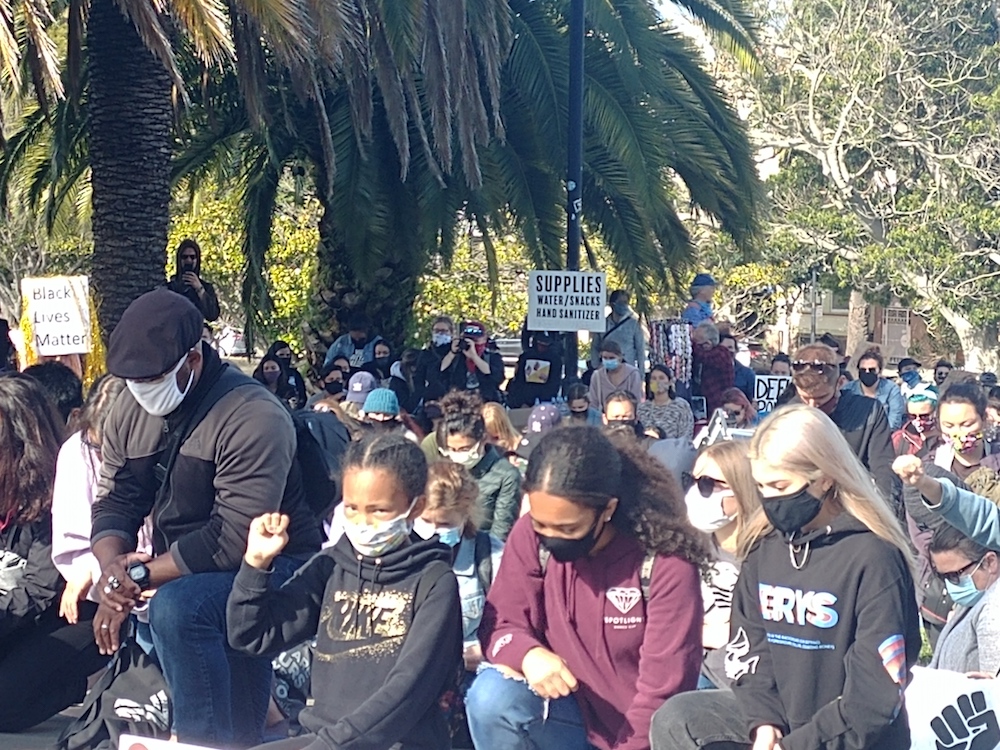 In a separate interview, Andary added that diversity among decision makers in the public and private sector is particularly important for young people, as seeing people of color in positions of power can inspire them to achieve and foster higher self-esteem and self-confidence.
"When [youth of color] aren't seeing themselves, how do they know they can be [in positions of power]? We need to start with the CEOs, the executives, and in politics… we need [people of color] leading and making the decisions," said Andary.
Tiana Day, the 17-year old who recently graduated Dougherty High School and who organized the Golden Gate Bridge protest, told demonstrators about her encounter with racism as a young Black girl. When day was in third grade, she was insulted by her math teacher for her difficulties learning multiplication charts compared to the white students in her class, because her parents had to work multiple jobs to afford to live in the predominantly white suburb in San Ramon that Day calls home.
"She asked me, 'do your parents want you to grow up to be retarded?'" said Day, to audible gasps from the demonstrators. Day explained that she was not allowed to attend recess for the rest of the week, because her teacher made her stay in the classroom and study. According to Day, only she and one other student were forced to study through breaks, and they were both the only lack students in their class.
Day said that this experience in her childhood has had lasting effects on her self-confidence in math, and is indicative of a larger issue of people of color being told from a young age that they are less able than their white peers.
"It starts with the youth, if you tell a little Black girl or a little Black boy and tell them that they are not worthy, that they are not capable, they will believe that. I hate math because [my teacher] made me feel that no matter how hard I try, I will never be as successful as someone whose parents are available to [help them]," said Day.
Day's experiences in her youth made her want to instill feelings of self-worth and value in Black youth, inspiring her to found a non-profit organization along with her father called Youth Advocates For Change. It will offer scholarships to Black youth. Day is currently raising the funds for these scholarship funds via a GoFundMe campaign, which has already raised over $20,000 out of its $50,000 goal.
"The future is in the hands of the youth, working as youth, as one, our voices are stronger," said Day.