Pianist and composer Holly Mead picked the title Solitary Animals for her fourth album months before COVID-19 spun us all into cocoons of solitude. Released July 10th on all platforms, Solitary Animals [artist's note: use headphones for optimal listening] grew out of a breakup that ultimately landed Mead in her first solo apartment, a place where she could unfurl, personally and artistically. When the mandate to shelter in place derailed her plans for a studio recording, she recorded, mixed, and mastered the whole album herself, at home in her kitchen.
Mead is a musical chameleon whose compositions crop up all over the Bay Area and beyond, from Pop-Up Magazine to Awesöme Orchestra. Last year, she created a talk and performance series celebrating the work of women composers over the past millennium. Her solo piano is a balm for the unyielding isolation that stretches before us. It also shows what it sounds like to get through it: Mead was open about her struggles and insecurities in pursuing life as an artist, and the childlike wonder that continues to bring her back to the piano.
48 HILLS How did you first fall in love with the piano?
HOLLY MEAD I have two older brothers, and because we had a piano in the house, my mom decided that it'd be a great idea for the boys to have piano lessons—and they absolutely hated it.
I was younger, and I wanted to show that I could do it. But my mom—because they spent so much money on these boys' lessons—was like, "No, we're gonna wait 'til you're older." And I begged and begged and begged, and finally I was like, "Well, I'm just going to teach myself how to play." And then I started writing songs. Then they [her parents] were like, "Oh, maybe this is a good idea."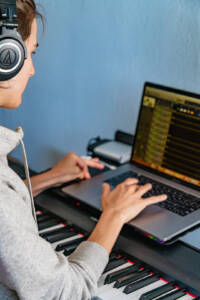 48 HILLS What were the first songs that you composed about? Do you remember any?
MEAD Oh, yeah—gosh, I could play some of them for you. One was called "Rain" and it was very—my parents have really eclectic taste, and but they especially liked anything on the Windham Hill label, so I loved, loved New Age music growing up. Later, when I realized that it was not cool to like that, I went through a crisis that lasted a good 15 years.
48 HILLS Were you trained in a classical style?
MEAD Well, no. Because I was improvising all the time, my mom thought jazz might give me a framework for just being creative and writing songs. So they found a teacher for me: Carolbeth True. She was my guiding light all the way through high school, and she's a jazz pianist, still gigging. Total badass.
She was a really strong female role model, and when I went to college [in Jazz Studies at the DePaul University School of Music], it was a bit of a shock because it was all men. I mean, there was one other woman who was in the program [of 100 students] when we started, and she eventually dropped out because of the harassment.
48 HILLS What kind of harassment was there?
MEAD I wasn't in the rehearsals, but she would come out in tears, and then they would tease her because she was upset. I remember thinking, Don't cry in front of a room full of your male peers! And now, looking back on it, I'm like, Oh, god! My job in that moment was to stand up for her, and I was just not who I would have wanted myself to be.
I was not really outwardly harassed. It was quieter. You just wouldn't get invited to the hang. And so much of playing jazz is the hang—jamming with your friends.
48 HILLS That's exactly how bassist Caroline Chung has described sexism in the jazz scene. I know that this—understandably—precipitated a crisis of confidence that made you almost quit music. What brought you back?
MEAD I had a couple teachers in college sit down with me and ask, "Why are you doing this?" I had to think about it, because I was really unhappy. And I resolved, OK, I should do something else with my time. I would be a great doctor! I could do a lot of other things. And in the next five minutes—I'm pretty sure the tears had not dried yet—I would be at the piano, consoling myself, writing a song or just playing.
I've had to do that a few more times. I may do it my whole life, just to check in and be like, Is this what I really want to be doing? Because you make some sacrifices: it's not what a lot of my peers are doing. If you want to get rich, it is not the path. But I love walking it, so that's why I'm here.
48 HILLS I attended a talk you gave about female composers throughout history, and you mentioned that you put that program together partly because you couldn't recall ever playing something by a female composer in jazz school. Do you feel like your experience in school has expanded the themes you've chosen to explore in your work?
MEAD Yeah—I mean, for a long time, I was just angry about it and felt like I didn't want to spend all my time talking about how I was the only woman in the room. But, at the end of the day, it is my life, and so I ended up being curious about it. The talks that I did at Pixar and the Throckmorton Theater in 2019—all those women—it was a consolation. I learned a lot about myself while I was reading about those women, and how a lot of times they were the only woman doing what they were doing, especially 100 or 200 years ago.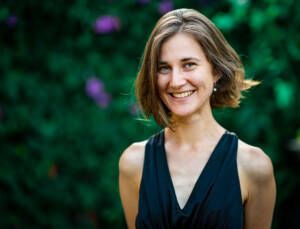 48 HILLS I'm also curious about how your compositions settled into a contemporary classical vernacular when your training was in jazz.
MEAD Genres are hard. What is that saying? That you're a blend of the five people that you spend the most time with. I sometimes think that you could draw a nice parallel there: the music that you make is a blend of the five genres that you spend the most time with.
At this point, I think the pool that I like to swim in is: all of the music that I grew up listening to with my parents. Then jazz was a big part. I studied classically as well. I played in a tango band for a long time. And then it's just everything else that I've ever listened to, and it all gets funneled into the music that I write.
48 HILLS Let's dive into your new album. When did this album start for you?
MEAD I was in a long-term relationship with a very lovely person. We were engaged, and when the engagement ended, I went through a pretty dark time. I'm not one of those artists that is very productive when I'm sad, so I had a dry spell.
It just, at some point, shifted—and therapy helps, friends help—and I was starting to feel ready. I was starting to play again, and I moved into my first apartment by myself.
48 HILLS What effect has that had on your music?
MEAD Living alone has given me a new lease on life. I love being able to sit down and play without any distractions. This house has a long history of having beautiful music playing in it all the time, so I also don't worry as much about what people can hear. I'm just playing for myself, which—it took a long time to get there, but it's made all the difference.
48 HILLS Is it possible to describe what it feels like for your emotions to come out as piano music? What does it feel like to process the world around you that way?
MEAD It's a different language, so it's hard to talk about it. But the best way that I can describe it is that the feeling I get when I sit down at a piano is like when you sit down with a really good friend to have a meal. There is a conversation that happens between you and this instrument, and the way you play has a lot to do with how you're feeling that day.
The thing that's endlessly fascinating to me is that the catharsis that would happen when I was a little tiny kid—just having my big feelings and trying to make songs about them—is really no different from the way that I feel now. Having 25 years of experience under my belt, and training, and dreams—it doesn't actually change the feeling that much.
48 HILLS You recorded this whole album in your apartment during quarantine—
MEAD Yeah, I did! That wasn't the plan, but it became the plan when I got stuck in the house. And because I had the extra time, I decided to mix and master everything myself. Shout-out to Jerome Rossen with Freshmade Music because he talked to me through how to do that just as a friend.
48 HILLS What was it like recording at home?
MEAD It went great. It was actually really lovely. But, like many old homes in Berkeley, it has rats. They're strictly in the attic or the walls. I don't know what they're doing in there, but it really does sound like they're chewing the pipes. It's so loud! A few times I had to stop and bang on the walls so that I wasn't distracted by the chewing. But I've never seen them—they're very mysterious little creatures. They were kind of like the little helper spirits.
48 HILLS The title of the album, Solitary Animals, prefigures this time that we're living in. What does it mean to you? Do you think humans are solitary animals?
MEAD No, I don't think we are, but I think that some of us like solitude more than others. Living alone—the solitude is really important. Having time to let your brain spin, having unscheduled time to just . . . muse . . . is really important.
48 HILLS Do you have thoughts on what this time is going to mean for you as an artist or for the arts in general? It seems like this crazy tension between not being able to perform and not being able get fed—literally and figuratively—in that way, but also having a lot of unscheduled time.
MEAD I count myself really lucky because the bulk of my income comes from teaching, and that's a choice that I've made because it allows me to make the art that I choose to make when I choose to make it.
But a lot of my friends and people in my community are not in the same boat. It is going to be a time of uncertainty, and I think that is really scary for a lot of people: not knowing where your money's coming from, and that things are going to change, and we're just going to have to see what happens.
I was so terrified that you were gonna ask me, "What's next?" because I was like, "I don't know!"
48 HILLS Don't worry, I'm not! That's not a relevant question anymore.
Purchase Holly Mead's Solitary Animals album here. Stream here.