As the world grapples with how to stabilize itself this summer, SFJAZZ has announced a change that should catapult the esteemed institution; effective September 1, Denise Young will become the chairperson of SFJAZZ's board of trustees. 
When asked by 48 Hills about the first Blue Note album she ever heard, Young's love of the sound is evident. Her gobsmacked reaction indicates a distinct reverence for the label. Understand, the most storied imprint in jazz tends to have that effect on true aficionados.
"Wow with such a heritage to speak to, the first record I was very aware of being Blue Note was Bobbi Humphrey, because she was a woman instrumentalist," stated Young via email. "I also loved Donald Byrd. I love the trumpet … it sounds like heaven to me!"
Young is a classically trained vocalist who has collaborated with renowned jazz duo Tuck and Patti, an Apple executive who worked at the company for 20 years, and a Black woman. She is a perfect fit for the role. With her at its helm, SFJAZZ has chosen to stay relevant. 
As co-chair of the SFJAZZ 2020 gala, Young drove the decision to use the event to honor the great gospel and soul singer Mavis Staples with a lifetime achievement award–and to surround Staples with admirers like Bonnie Raitt, Rosanne Cash, and Lizz Wright, as the SFJAZZ site documented. It was the first time the annual event "has so unequivocally highlighted the voices of women," she said. 
Her love for auditory heritage aside, perhaps Young embodies the modern fusion of the  mixtape, a longtime staple in hip-hop that has become a new portal for younger musicians to get a seat at the jazz table. Makaya McCraven, Jeff Parker, and Georgia Anne Muldrow connect with the legacy of America's classical music through looping and sampling, creating a collage that speaks to several generations all at once.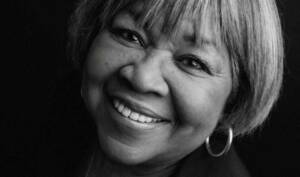 Young has served as an SFJAZZ trustee for five years, and takes the board's helm in a year of transition. She understands tradition, yet also the fact that the number of POCs performing on stage should be somewhat equivalent to the number of POCs holding executive positions.
This is the new normal, the one for which this country needs to push.
Denise Young was gracious enough to speak with us at 48 Hills.
48 HILLS Thank you for taking the time to do this. First off, could you explain casually what being the chairperson of the SFJAZZ board of trustees entails?
DENISE YOUNG Thank you, I appreciate the opportunity to respond. My role is to lead the trustee board of SFJAZZ, Greg Stern our CEO, and SFJAZZ leadership in assuring that we all work together to uphold our vision of being a world-class presenter of jazz, as well as stewards of the genre and its social and cultural significance past, present, and future. This of course includes our educational mission as well as our engagement with communities of artists, audiences, and supporters.
48 HILLS Fridays at Five concerts, drawn from SFJAZZ's archive of videotaped performances, have proved a solid hit during the pandemic. Do you have other projects in the works, keeping SFJAZZ members engaged until performances can resume on-site?
DENISE YOUNG We have been working hard on a full-scale digital strategy for some time, and were pressed into very quick action by the pandemic. We have several digital products to be announced. This month, you'll be able to experience a special online-only concert in honor of the 2020 NEA Jazz Masters—Dorthaan Kirk, Bobby McFerrin, Roscoe Mitchell, and Reggie Workman. 2017 NEA Jazz Master Dee Dee Bridgewater will emcee this premier event coordinated by Musical Director, drummer, and composer Terri Lyne Carrington, which will include performances by acclaimed jazz musicians—including honorees McFerrin, Mitchell, and Workman—recorded from locations around the country. The 2020 NEA Jazz Masters Tribute Concert will be free to watch at SFJAZZ.org.
48 HILLS How do you see SFJAZZ presenting this historic culture to the younger generation who are not engaged or familiar with the jazz tradition?
DENISE YOUNG Young people need to have access to the music, and a story they can relate to about it. This means we have to meet them where they are, versus expecting them to seek out the music our way. I see us producing digital content on the history of the music that is fresh, compelling, readily digested, and relatable. There are exciting jazz artists right now that are younger, and that have the ability to draw in this generation because they rightfully have much to say about what is happening today, and about the impact on their future. This is a moment to engage every generation, and try to build a bridge of knowledge and understanding to a better future.
48 HILLS Do you see a disconnect between younger POC not interested and their not having access or privilege to SF Jazz on goings?
DENISE YOUNG I see this as a huge and exciting opportunity. Just as not every adult musical taste will include jazz, nor will that of every young POC … but for those who are knowledge-seeking, aware, and curious, this represents a vivid link to our history that is hard to find anywhere else. We must find ways to draw them into the music, and again, the digital path can be a great way to get there. When we are open for live audiences again I'd love nothing more than to see more young POC in the Hall, so I will be seeking input from them on how we accomplish this.