These painted figures that fill the pages of Tim Presley's new book Under the Banner of Concern seem to know your secrets. No matter what bizarre and erotic contortions they've twisted themselves into, they always seem to stare straight into your soul with dark, squinting eyes. It's easy to think of the Mona Lisa's calm, knowing smile—or perhaps the Yoruba aesthetic principle of itutu, as translated through Picasso's demoiselles. But more often than not, they suggest Greek and Roman gods, engaged in their endless sexual and martial machinations.
"I've always been a fan of Greek mythology," Presley tells 48 Hills. "It was the only thing I got an A in in school."
The title from the White Fence leader and psych-rock perennial was released by the publishing arm of New York's Mexican Summer label on August 25. Compiled from material produced between 2015 and 2019, when Presley returned to his native Bay Area from L.A. to kick an opioid addiction, Under the Banner of Concern is comprised of paintings, poems, and scraps of cryptic writing—mostly in black-and-white, save for a few pages where Presley's art blossoms unexpectedly into color.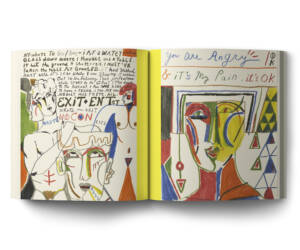 None of these are new pursuits for Presley. He's always written poetry "as a branch off writing lyrics," and before finding acclaim as a musician, he studied painting and printmaking at San Francisco Art Institute.
"I never had a focus, though," says Presley. "I always was so jealous of the people at the Art Institute because they all seemed to know what they were doing. There were kids making 20 grand off a painting—it was like, 'Oh my God, what the fuck?'"
During this time, Presley had his first, secondhand experience with opioids: watching a roommate die of a heroin overdose.
"I was gearing up getting ready to go to work," Presley recalls. "And one of [my roommate's] friends came in and told me, and I went into this strange human instinct thing, calling the police, you know, taking care of the situation. But it was just so horrifying. He was wearing a shirt he'd borrowed from me."
In 2003, Presley moved to LA, where his music career began to take off in earnest. He founded the band Darker My Love in 2004 and spent a brief stint in the Fall, during which he was one of the few band members their notoriously cantankerous leader Mark E. Smith could abide. After playing on their 2007 album Reformation Post TLC, he began recording as White Fence in 2008—the same year his father died.
Presley's not sure whether or not this event was the tipping point, but it marked the period when he began seriously abusing drugs.
"It was the most cliché thing where I started smoking weed every day," he says. "And then if I couldn't sleep, I'd take Valium or Xanax. Then I got Vicodin and it just kind of steamrolled into Norco, Oxy. It was your typical fucking drug story."
Some of the references on Under the Banner of Concern would be unlikely to resonate with someone who hasn't experienced opioid addiction—for instance, the codeword "Valerie," for Valium.
"I felt I was living in an action movie," he says of this time. "I couldn't stop moving. I had to go out and score, and it was like Grand Theft fucking Auto. And then there would be peace when I finally did score."
In 2015, Presley checked into a rehab center in San Francisco, staying with his mother in San Mateo. After a half-decade as one of the most prolific figures in West Coast psychedelia, Presley suddenly found he couldn't make music.
"I felt like I had lost like a superpower, like Spider-Man in a Marvel movie," he says. "And I just felt worthless. Because if I'm not making music, then what the fuck am I doing?"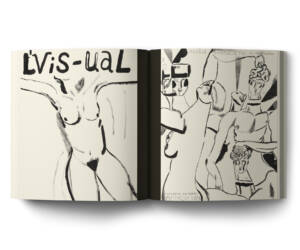 Almost before he knew what was happening, he started painting those contorted, elongated figures, filling the margins of his tableaux with scrawlings—some cryptic, others alarmingly specific, like "Ocean & Geneva," the San Francisco crossroads where he lived when his roommate overdosed.
He didn't expect anyone to care much about them; it was more of a therapeutic exercise than anything else. But after looking around his room and realizing how much he'd produced, he decided to take it seriously.
Under the Banner of Concern first manifested as a solo exhibition at galleries in Chicago and Los Angeles in 2019. A zine under the name was published by LA venue The Pit, and once Presley added various poems he'd written during that time, the book began to take on its final form.
Presley also released his first White Fence album in five years in 2019, I Have to Feed Larry's Hawk. Its title refers to "feeding a beast," like addiction, and its cover is adorned with the same prescription symbol that can be found scrawled throughout Under the Banner of Concern.
"I started to get my self-confidence back, and then I was able to write music again and play guitar and do all these things," Presley says. "It was doing the paintings that got me better, I guess. It just gave me my confidence back and helped me learn how to live without drugs."