To fully absorb the complexity of Naima Shalhoub's music, its plurality must resonate. Shalhoub, an Oakland-based Lebanese American vocalist, musician, composer, and performing artist, is a seasoned restorative justice practitioner who works in schools, juvenile halls, and in the community, holding weekly healing circles with women and girls of color. 
It goes to follow that she makes music that uplifts the soul, providing an oasis away from hurt and suffering. Like a salve, her message carries Grace (her birth name.) Encompassing elements of jazz, blues, and searing hip-hop, the sound shines through a prism of Middle Eastern influence.
The second key is Shalhoub's empathy for the suffering of others—the unjustly incarcerated, the children separated from their parents by the hands of war, even those suffering here in the United States at the behest of the deeply-rooted fascist white supremacy movement that just keeps marching.
Her determination and will drove her to build lyrics around words written by men who are incarcerated at the infamous Roumieh Prison in Lebanon. After visiting the prison with drama therapist and performing artist Zeina Daccache, Naima built melody around the men's lyrics on "Four (Roumieh Prison Blues)," which channels the depths of human anguish.
Never had I heard the blues sung in a different language. But I felt it. The stirring arrangement encourages remembrance of those unjustly confined around the world during this challenging time.
Her first studio album SIPHR—"zero" in Arabic—was recorded and engineered at the Women's Audio Mission in San Francisco. For Naima, zero is a circle that holds us all. Beginnings and endings, nothing and everything.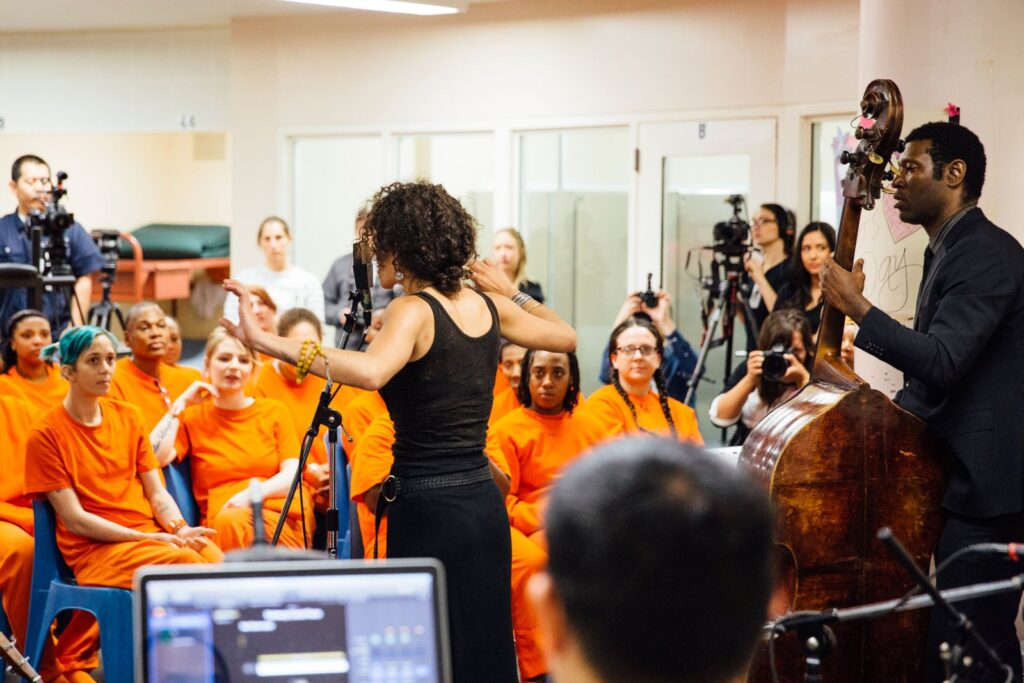 The project follows her 2015 debut release Live in San Francisco County Jail, which explores her Arab American heritage and features Palestine American multi-instrumentalist and composer Excentrik a.k.a. Tarik Kazaleh, cellist Ed Baskerville, and San Francisco Jazz ambassador and bassist Marcus Shelby.
Shalhoub's work is partially funded by a Restoration Village Arts grant designed for artist-activists, contributing to the feeling that community is behind her music. With live gatherings on hold, she continues to share her gifts through alternative means, from leading weekly restorative justice circles on Zoom or singing her track "Two (Rivers in the Desert)" to open a video conference gathering of indigenous water protectors organized by Policy Link. 
Reflecting on the COVID-19 pandemic, Naima contextualizes SIPHR. "I want to share my truth, so you might hear yours," she says. "I wanted to capture the timeless sounds and ancient vibrations of my ancestry while we try to find our way, dreaming new dreams."