The day Chesa Boudin was elected San Francisco district attorney, I got ready: It wouldn't be more than a few months before the news media started to attack someone who is leading the way on criminal-justice reform.
It's the Willie Horton Complex, and it's how so much of the media (still) works: You save the lives of 100 young people by keeping them out of the carceral system and giving them a second chance, you promote policies that focus on alternatives to incarceration, you make restorative justice work — and the press pays no attention.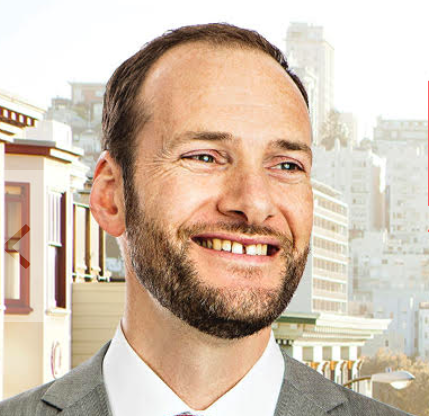 But one person goes and commits a terrible crime, and it's front-page news.
And as is often the case with media attacks on the progressive movement, I figured the facts would be casualties.
The Chron started off almost as soon at Boudin took office. Now, the assault is coming from a neighborhood paper.
I am not surprised that a columnist for the Marina Times, Lou Barberini, who is a retired police officer, would try to portray the DA as soft on crime.
But I was a bit stunned by his recent piece that essentially argued that Boudin allowed a man accused of burglary to be released from jail who later "traumatized a young girl."
This is serious stuff: Barberini claims that Boudin "released a [burglary] suspect into the public" who later went on to commit a serious crime:
"This time," he wrote, "the victim was a juvenile girl at home by herself when she found the Market Street burglar "exposing himself and engaging in sexual gratification" in her living room. The burglar 'approached the young girl in her bedroom, attempted to physically control her and block her escape.' The girl was able to escape the room and call her father who returned home and controlled the burglar until SFPD arrived."
He continued: "Think about the lasting trauma imposed on this poor girl because of Boudin. Does she lose sleep at night? Does it affect her schoolwork? When she is in her living room does she relive the ordeal? Is she afraid to go outside by herself? Will this affect her future relationships with men?"
It sounds just horrible. The problem is that Barberini's account is not true.
Barberini cites no sources for his assertion that Boudin somehow released this suspect from jail. But there is a clear record on what happened, and the DA's Office provided it to me:
The suspect in this case was arrested at about 12:45 am on June 1st and charged with felony burglary. He had allegedly broken into a store. He was booked into the county jail at 1am.
The next day, as is very common and has been common in the city for years, he went through an evaluation to determine if he should be held on bail or released on a promise to appear in court.
The duty judge, following a widely accepted protocol, decided this suspect was not a threat to the public or a threat to flee. He was released June 2, at 2:45 am.
The District Attorney's Office had nothing to do with this. Nothing.
In fact, the DA's Office doesn't typically get police reports and file charges until 24 to 48 hours after an arrest.
In this case, Tuesday morning, June 2, the DA filed felony charges against the suspect. But by then, he was already out of jail.
His arraignment was set for June 5. He never showed up.
At that point, a judge issued a warrant for his arrest. SFPD doesn't prioritize bench warrants, so he stayed on the streets – although the cops could have brought him in at any time.
When he was arrested for the later event, Boudin charged him with multiple felonies and asked the court to deny bail. Which happened. The suspect is now in jail, and will likely serve a long prison term.
I contacted Barberini, and his editor Susan Reynolds, and we had a long email conversation this weekend. At first both of them accused me of working on behalf of the DA. Then Barberini wrote:
"Please let me know: Was an assistant district attorney present in the court room when the defendant was released?"
It's clear whatever his unnamed sources were, they didn't understand the process. There was no courtroom, no assistant DA; the man was released by a duty judge, under well-established rules, before the case ever got to the DA's Office.
I gave Barberini all the information that I got from the DA, and asked both him and his editor if they agreed that the headline and the story were inaccurate.
Reynolds: "The DA proudly says he doesn't want to prosecute people. You know I've been critical of judges (I even wrote a column about it) and think they're a huge key, but we all know the DA has more power than you are claiming and it's ridiculous to say he doesn't."
Barberini: "If my article is incorrect, why doesn't Boudin officially refute it?"
Well, he did. In a statement to me, Boudin said:
"It is disappointing to see articles that promote the negatives, rely on faulty alleged data, and cite no sources for their claims. These kinds of stories promote fear mongering and misunderstanding in the public. They also undermine our ability to keep the public safe by perpetuating falsehoods and promoting distrust."
I pressed: This story and headline are just wrong. All journalists make mistakes; will the Marina Times correct this one?
Reynolds never answered the question; she told me that she doesn't like Boudin's policies. Which is fine; we can disagree about criminal-justice policy, and the city is better off if we have media outlets with different points of view.
But to accuse a public official of damaging a young girl's life on the basis of inaccurate facts is not okay.
Barberini said: "No, I will definitely not change the title of my article. Good luck with your story. I already have outlined a rebuttal."
I look forward to it.