Halloween is cancelled, the world is terrifying, and most of us are still self-isolating from external stimuli. Hey, why not add a terrifying horror clown singing right outside your door, bearing balloons and cupcakes and a bottle of booze and possibly even a used porno mag? Not a bad idea, actually.
The frightfully ingenious mind of our very own drag doyenne of doom, Peaches Christ, came up with the idea for Screaming Telegrams when COVID dashed plans for her annual Terror Vault haunted experience at the Mint.
The basic deal is this: Starting Sat/10, you can order for yourself or a friend a scary, singing clown that will come bearing gifts. It's a perfect chainsaw-rev for anyone's Halloween spirits—and pretty reasonable too, starting at $50, with delightfully weird add-ons extra. Plus, you get to hire a local performer, and since we're facing the cliff edge after stimulus talks were axed by the horror clown in the Oval Office, that's more important than ever.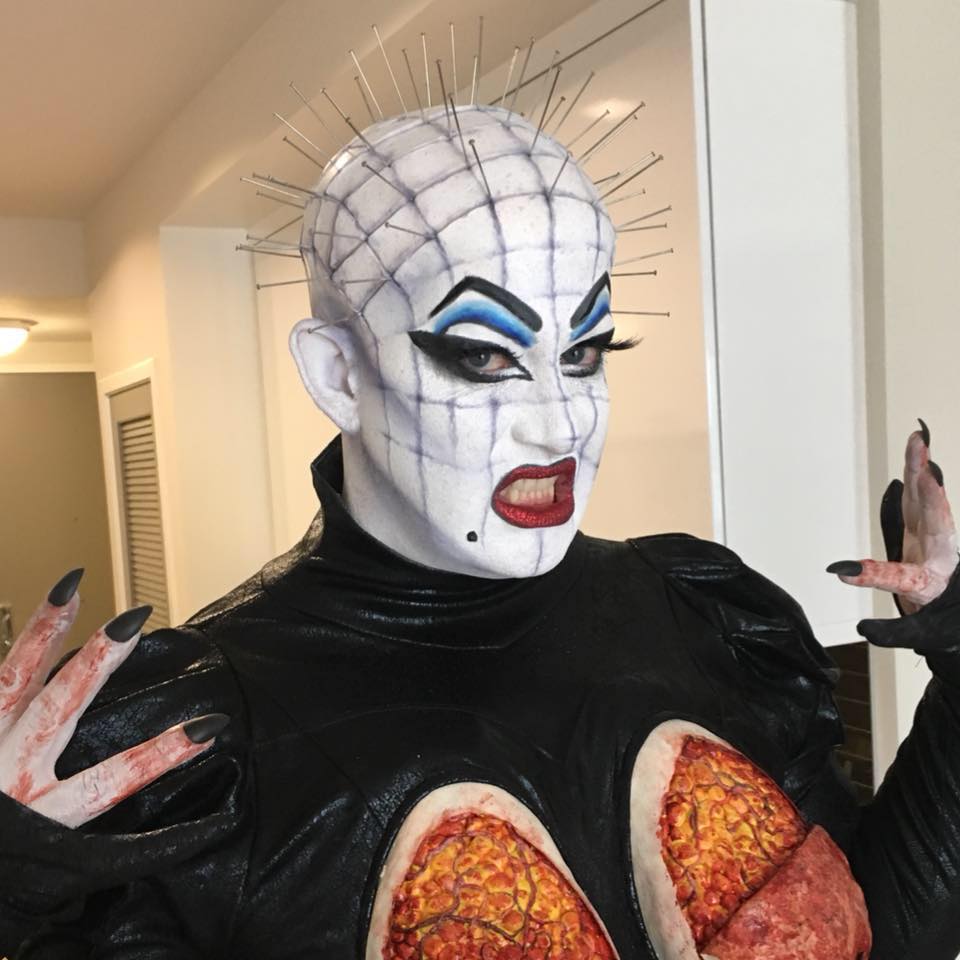 I spoke Peaches Christ over email (I could literally hear her blood-stained talons typing) about the genesis of the idea, and how the fantasy spirit of the Witching Season is more important than ever.
48 HILLS You had to pivot from the Mint-sized horrors of the Terror Vault to a more personal kind of haunting. What sparked the fantastic idea for Screaming Telegrams? And are you working with much the same team of horror clowns and artists as before? 
PEACHES CHRIST I actually wanted to do this last year after seeing a documentary about Wrinkles The Clown. He's this creepy, old looking clown in Florida whose parents hire to come scare their ill-behaved children. Of course, I love this and was thinking that we could have an army of scary clowns.
But last year, the Terror Vault shows themselves just became too much work, so when it was obvious we wouldn't be opening this year—and after seeing D'arcy [Drollinger of Club Oasis] have success with Meals On Heels, I thought that it would be the perfect time. We are in fact working with our Terror Vault clowns from the past few years.
48H Obviously when I first heard about the Screaming Telegrams, my gay mind immediately called up Jane Wiedlin's infamously brief and violently hilarious moment as a singing telegrammist in the movie Clue. What delightful horrors await when a Screaming Telegram is delivered to one's abode? 
PC Ha! I really hope that a Frankenfurter butler doesn't open the door and shoot one of our clowns dead! So, when we send the clown to your friend, the clown will arrive and stand outside the door or building with the victim's name on a large board. This way someone can suggest that this person go look out the window where they'll see a scary clown holding a board with their name on it under the words "I have a message for." At that point, if they can bring themselves to open the door, they'll get a creepy song, a personalized message, and some balloons. People ordering the clown can add extra gifts like a bottle of booze in a brown paper bag, used porno mags, etc.
48H Probably more than any other entity in San Francisco, Peaches Christ embodies the Halloween spirit. With the horror of COVID and the Trump presidency still upon us, Halloween seems almost quaint. What are some of the emotions you're feeling during this particularly terrifying season?  
PC Ugh, the real world is truly terrifying. Between the pandemic, and the election, and the fires, and losing friends—this year is just unreal. Stuff like Halloween and the seasonal traditions actually bring me comfort. I love watching a horror movie these days because it's a safe and fun way to exercise (or is it exorcise?!?) those daily anxieties and stresses we're all trying to cope with. 
48H Following up on that, how do you think people can still observe the subversive spirit of the holiday in this time of real life dread? 
PC I think people will turn to the things that have brought them joy in the past, like carving a Jack O' Lantern, dressing up in a costume, eating candy, watching scary movies, and maybe even ordering up a scary clown because they can't go to a haunted attraction. This stuff brings people joy. Halloween is actually about fantasy and fun—and we need that more than ever due to the absolute horrific shit-show that is reality these days.
Find out more about Screaming Telegrams at www.terrorvault.com. Top photo by Jose A. Guzman Colon.