Forty brassy toots for Broke-Ass Stuart! San Francisco's lovable gadabout started out telling us how to survive on the cheap in our fair burg—way back in 2007, during that housing and market bubble—and then built an independent media empire covering everything from COVID emergencies to guys being dumb. He's a civic monument to can-do spirit in the post-Internet media age, and the only person I will allow wear a fedora in my presence.
Now he's being roasted for his 40th birthday by a cavalcade stars and friends—tune in Wed/16. It's free, with fundraising proceeds going both to keep his independent website going and to the Coalition on Homelessness. I pinned the eternally young, broke, and beautiful personality down for a lightning round on his favorite and most missed adventures around this crazy shut-down town.
Bar (and cocktail at bar) that you miss most
Oof, this one is tough, but I'd say Spec's. I don't think they really opened up for outdoor drinking/dining during that grace period we had. And I truly love that place.
Bartender you miss most
Literally all of them.
Bar bathroom you miss most
Literally none of them. That said, I was at Delirium recently and they actually redid that nightmare of a bathroom! I wouldn't bat an eye if you told me that the old Delirium bathroom was where COVID started, so seeing this new version blew my mind.
Best place to smoke weed in the city
Someplace where I don't run into people I know. Weed is SO strong these days. When I smoke it I get all weird and paranoid and start thinking things like "Is Morgan still mad about that thing I said in 8th grade?" That said, the Exploratorium is really awesome when you're stoned.
Coolest thing to do during the shutdown
Go on long walks through the empty city. Before this the only time I would see it even nearly this empty would be during Burning Man.
Cheapest thing to do during the shutdown
During the first lockdown I spent so little money! I'm a social drinker so I really didn't drink very much. That said, I played a lot of video games. Sure a game is like $60 but you get hundreds of hours of enjoyment out of it.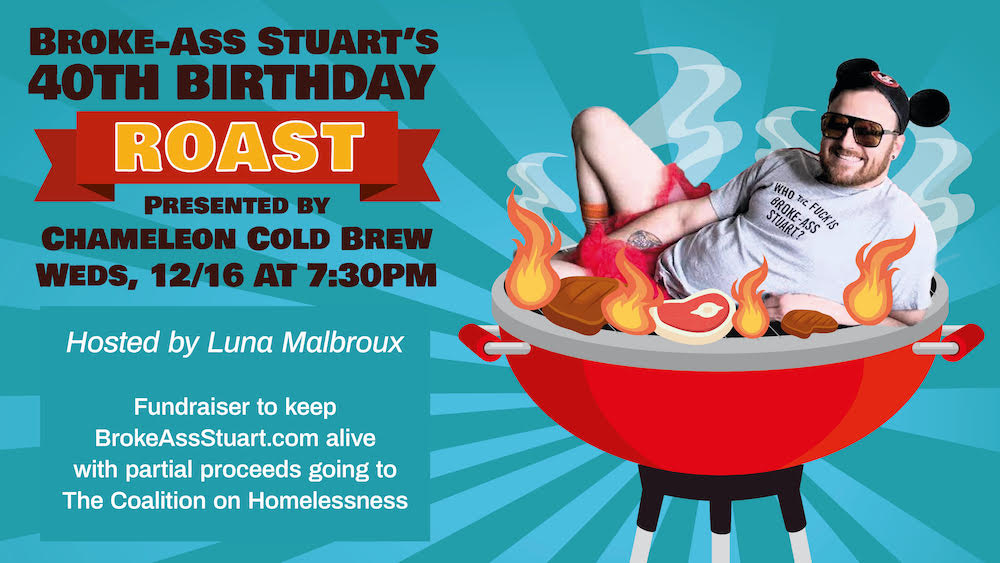 Last thing you heard that made you laugh
Listening to Peter-Astrid Kane roast Joe Kukura on Monday night. I 100% stole the idea for my birthday roast from Joe Kukura's birthday roast.
Last thing you heard that made you weep
A couple months back I was having one of those really tough "everything is awful" days and I went for a walk to listen to some of my favorite music. I totally ended up weeping to Jeff Buckley's version of "Hallelujah" right on the Noe side of Cafe Flore. The song is so beautiful and everything in the world just seemed so ugly. I needed a good sob.
Place that recently closed that you'll miss most
There have been so many that I've lost track, but Lucky 13 closing really hurts. I mean, we all knew it was coming but that doesn't make it any easier. I had so many perfect afternoons and evenings in that dank and smelly bar.
Place you are so glad is still here
I'm almost afraid to say names out loud because I don't want to tempt fate. So I'll say Manora's Thai. We had a symbiotic relationship during the first lockdown; we kept them alive by buying food and they kept us alive selling it. Plus, I'm pretty sure Manora owns the building so my superstitions feel safe mentioning them.
Number of times you've eaten at French Laundry during the pandemic
48. Look, I've got a foie gras problem ok?
One word you hope isn't spoken at your roast
Gonorrhea
Dream 2020 birthday present?
To have everyone who reads this tune in and watch the Roast. It would be so wonderful to spend my birthday with so many people.
BROKE-ASS STUART'S 40TH BIRTHDAY ROAST with Luna Malbroux, Peaches Christ, Matt Haney, Heather Knight, The Bitchy Waiter, Sister Roma, Stuart's parents, and more. Wed/16, 7:30pm, free. More info here.