It's hard to forget the beaming, hoop-earringed percussionist in Toro Y Moi as she absolutely smokes a pair of hand drums. The top YouTube comment on one of the band's videos almost sums it up: "Man, Regine didn't have to flex so hard on those congas."
Brijean Murphy is no doubt used to this error. Even the site I used to transcribe this interview misheard her name as "Regine," and a couple other things as well. Perhaps as a deterrent, she's named her band Brijean, following Sade's logic that if your frontperson is charismatic enough, their name can carry over to the whole band.
Brijean's debut Feelings comes out February 26, and yes, she flexes very hard on the congas throughout. (Read John-Paul Shiver's review of the record here.)
"When we write songs, we write rhythms first," says Murphy. "So we started with drums and percussion and then built off of that. It's definitely elemental to the music writing."
Lyrically, Feelings is about "romancing the psyche, navigating towards equilibrium in my own state of well-being," as she explains. It's a very 21st-century way of writing about the self, even as these 11 tracks evoke a time when disco was crawling towards house music but hadn't quite abandoned its formative Latin rhythms.
Murphy was all but destined for the drums. Her dad is percussionist and engineer Patrick Murphy, and her childhood was surrounded by "aunt and uncle figures," many of them musicians in the Los Angeles scene.
"Some of his best friends would live for years at a time and work on albums in the basement," she says.
One of these friends was Vince Charles, longtime percussionist for Neil Diamond, from whom Murphy "inherited" a set of congas before he passed away in 2001. Murphy started playing in her early teens, and when she moved from L.A. to Oakland in 2007, she immediately started playing percussion in local bands like Waterstrider.
It was at one of these gigs in 2011 that she caught the eye of Chaz Bear, Toro Y Moi bandleader and den mother to innumerable Bay Area bands and artists. (Ask anyone with enough clout in the scene and they'll tell you a Chaz story.) She joined the band not long after, eventually working with other indie rock bands like Poolside and US Girls.
Murphy got a job at the defunct Starline Social Club not long after it opened in 2015, hosting a jazz night and designing flyers, and though her skills as a percussionist were never in doubt, the idea of starting her own band didn't cross her mind until things clicked with her romantic and musical partner Doug Stuart.
Doug was a jazz nerd from Chicago who'd grown up immersed in his hometown's fertile music scene, attending gigs by the legendary Association for the Advancement of Creative Musicians before studying music at University of Michigan. He moved to the Bay Area in 2009 and met Murphy at a Davis music venue, after which the two started rooming and working together almost immediately.
"Doug and I set aside a little time between touring and started working on a project together and hoped we could someday tour together, play more shows together," says Murphy.
They released their first EP Walkie Talkie the following year on Native Cat Recordings. (Starline Social Club hosted the release party.) It attracted enough buzz that the duo was able to sign to vaunted electronic label Ghostly International for Feelings.
In creating Feelings, Murphy and Stuart created a convivial environment not unlike the one Murphy described in her childhood home. The couple rented a 400-square-foot cottage in a Berkeley backyard and turned it into a studio. In summer 2019, they started inviting friends like Bear, keyboardist Anthony Ferraro, and drummer Pepe Jacobo to come lay down tracks.
"It was pretty open-ended," says Stuart. "We just improvised for several hours a day, and then when we got back to writing, we had all this source material to cut, edit, and find little moments that inspired songs. It's kind of like sampling ourselves or our group of friends that we played with."
This convivial environment is, of course, impossible now. (The one track the duo created after lockdown is called, counterintuitively, "Paradise.") Unable to tour, the duo has more time to devote to their music but fewer ways to express it aside from writing and contributing the occasional remix.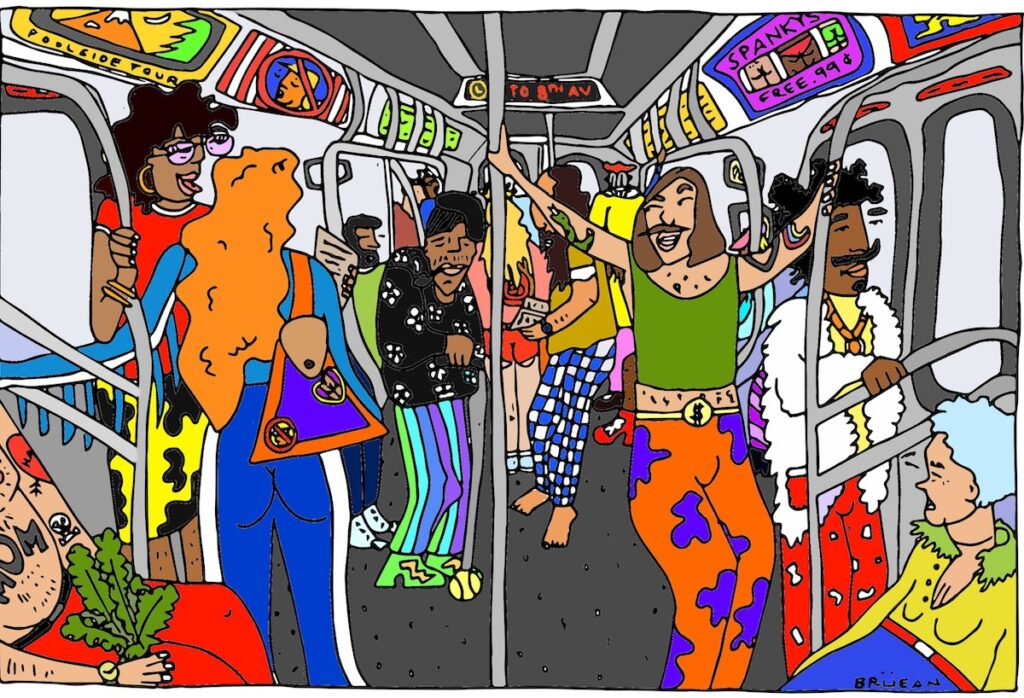 "I think everybody's kind of stretching to expand their skillset so they can still create," says Stuart. "Even if that means doing something new, like editing video or set design or all of these different things that we can normally get together with our community and collaborate on."
Murphy has been devoting more time to visual art. An animator and graphic designer, she does most of the artwork for the Brijean band as well as the set design for their music videos. She's also designing beer cans for Roses' Taproom, and she contributed a mural of a band playing to Elda on 16th and Guerrero in San Francisco.
"Directing the visuals and the single art and the music videos, and getting to collaborate with a lot of other visual artists through that, has been really awesome," says Murphy.
"If you want to be in the conversation right now as a recording artist, you kind of have to have tools and skills to do it yourself," says Stuart. "Which is, um…"
Murphy finishes the sentence for him: "It's a lot."
Feelings is out Friday on Ghostly International records.