Now that the Biden Administration has agreed to pay for it, five supervisors are moving to expand the city's shelter-in-place hotel system to get and keep homeless people off the streets.
The bill would mandate that the city keep 2,200 hotel rooms open, and allow people still living on the streets to move in as current residents exit to other forms of housing.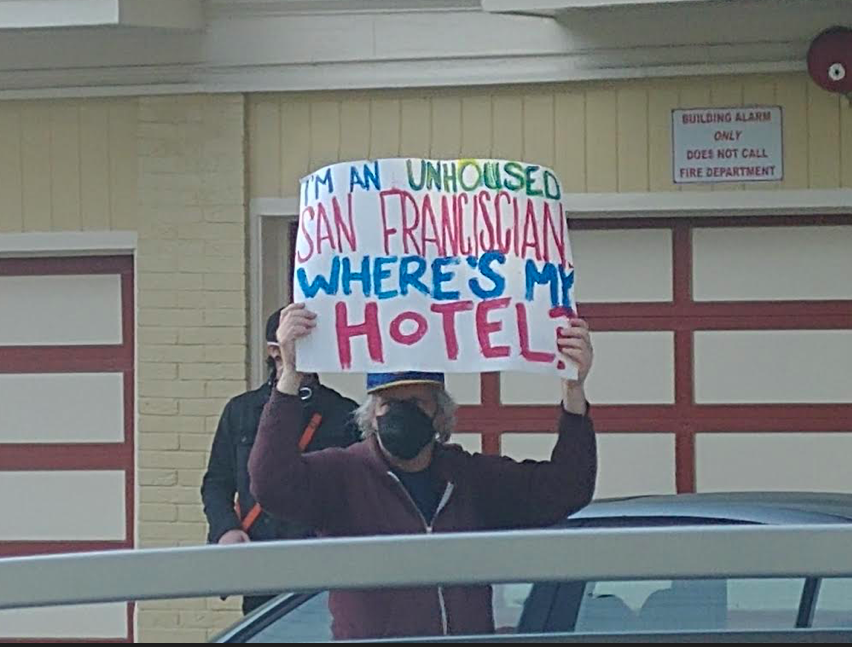 That sets up another potential confrontation with Mayor London Breed, who has been moving to wind down the hotel program and has resisted efforts to expand it.
The five are Matt Haney, Dean Preston, Shamann Walton, Hillary Ronen, and Myrna Melgar. It seems highly likely that they will get the eight votes they need to pass this as emergency legislation.
In a press release, the supervisors noted:
So far in 2021, the prevalence of COVID-19 among people experiencing homelessness increased by over 30%. Based on a count in December of 2020, there were at least 1,300 people experiencing homelessness in tents and vehicles, not including potentially thousands more people sleeping unsheltered. Meanwhile, there are hundreds of hotel rooms that the City already has under contract that are unfilled, and dozens of vacant hotels not yet under contract.
More:
The legislation will address street homelessness and the risks of COVID associated with it by requiring the City to keep 2,200 hotel rooms open for temporary shelter. This would involve backfilling 100% of rooms that are vacated clients exiting the hotels, which is currently happening at a rate of approximately 115 people per month; filling at least 100 hotel rooms that are currently vacant; and making at least 200 more rooms available, potentially by opening new hotels. Over the 60 days that the emergency ordinance will be "active," these changes will mean more hotel capacity for over 500 people. 

In addition, the emergency ordinance would also reverse the Department of Homelessness's policy that limits housing eligibility to only people in the SIP Hotels. There are hundreds of people currently sleeping on the streets who are "document ready" for housing, essentially meaning they are on a waitlist, but under the Department's current policy they won't be able to move into housing until the SIP Hotels are closed in September. The emergency ordinance will improve the flow of people into housing and fill the hundreds of vacant supportive housing units. 
The Breed Administration's main objection to continuing to fill the hotel rooms – or to add to the number of rooms – was that the federal funding might run out at any time.
But now it's clear that the funding will be available for at least another six months or more – and it's possible that the feds will provide money for cities to buy up hotels for permanent affordable housing.
The legislation could mean another 500 people living without shelter will have the opportunity to move inside, during a pandemic.
The last time around, the mayor simply refused to implement the board's legislation. This time, there will be less of an excuse.