A woman stands alone at a crossroads. Mysterious doorways and flying boats drift across a horizon. Lovers slow dance against a backdrop of turbulent skies or drift upward into the clouds. Snippets of a dream lost upon awakening manifest in another layer of consciousness. Artist Carol Aust captures metaphorical images for our infinite contemplation, presenting an insightful perspective on the experience of being human, translated through acrylic paint on canvas and wood.
The characters in her soulful paintings appear in limbo, about to embark upon a new direction down a path filled with uncertainty. Using a colorful palette, the necessity of human connection is palpable in simple gestures and narrative composition, inviting the viewer into an emotional landscape of tangible, eerily familiar experience. With paintings that tell stories of a desire for connection and intimacy and soul-searching, the artist has found herself in times that bespeak those emotions more poignantly than ever.
A self-taught artist who has exhibited nationally since 1990, Aust counts among her influences the artists Emil Nolde, Marc Chagall, Kathe Kollwitz and the German Expressionists—all evident in her distinct style. Growing up in the Central Valley, she moved to the Bay Area in 1987, after a teaching stint in China. Attracted to the diversity and vibrant creative community, she settled her home and studio in Oakland's Bushrod neighborhood.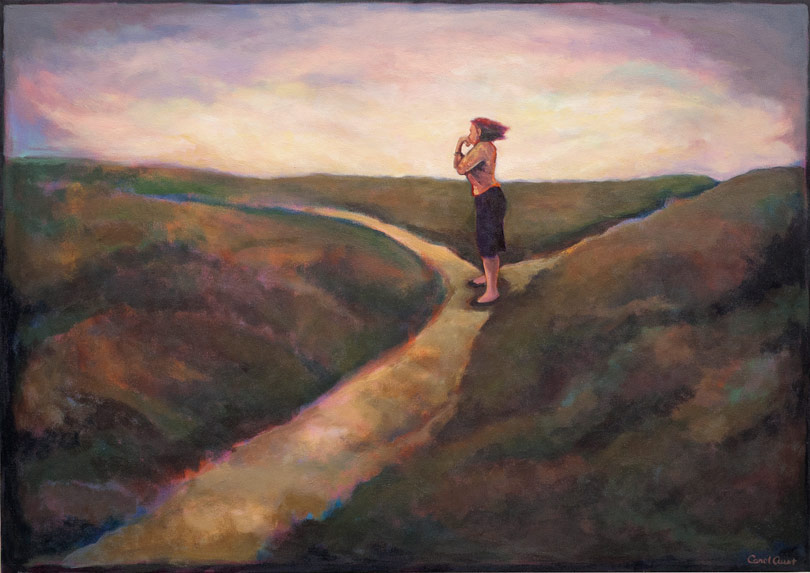 The pandemic, though providing ample material, has changed the rhythm of her work. Aust usually participates in Open Studios twice a year at Hunters Point and hosts salons in her home twice a year. "I have lost the opportunity to show my paintings directly to an audience and observe immediate reaction to new work, discover what and how images communicate," she said. 
Instead, she has set up private viewings on her front steps for collectors who want to see the work in person. The upside to the change is that the isolation has provided more studio time without the constraints of outside deadlines, allowing her to go deeper with more focus. She has also become more engaged in virtual interactions on social media to keep things dynamic and current.
In the beginning of Covid's imposed lockdown, Aust began painting small, confined spaces — couples dancing in little rooms and people in tiny travel trailers, wanting to celebrate the connections that can still happen even within limitations. As the shelter-in-place stretched on, Aust shifted her figures to outside environments, portraying an illusion of freedom while preserving a sense of irrefutable separation.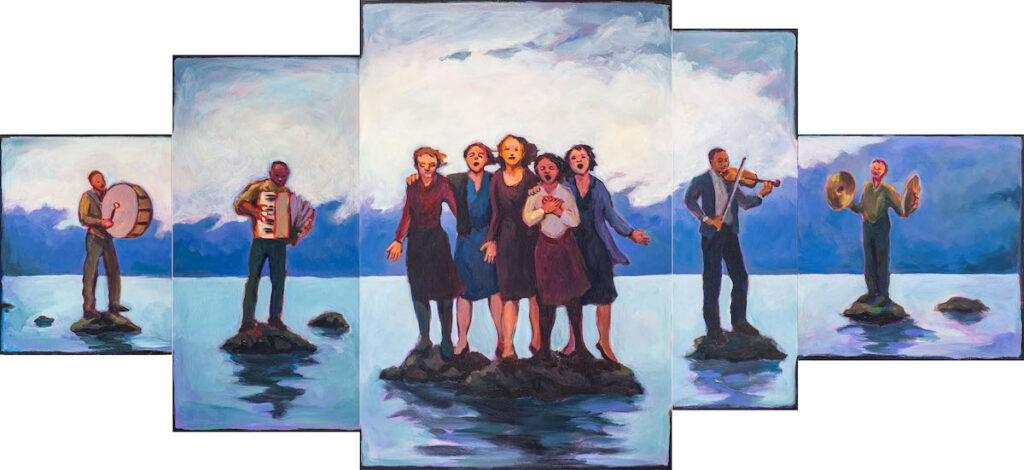 Most recently, she has been working on a series of paintings about all the things she misses — hugging, touching, gathering around tables or campfires. "As I create these paintings, I can almost feel the touch of another hand," she said.
The painter begins her creative process by sketching out her feelings in a visual journal. Then she fills a palette with color and doesn't leave her studio until the paint is all used up. "My method is to have some starting point—a curve of a beach, a child on a hip—and then allow space for surprises to occur," she said. Layering contrasting colors, she adds and subtracts figures and elements of nature until the work feels complete but remains mysterious. She likens her process to that of raising children. "Just like sons and daughters leaving home, a painting isn't finished when I sign the corner. Actually, its life has just begun," she said.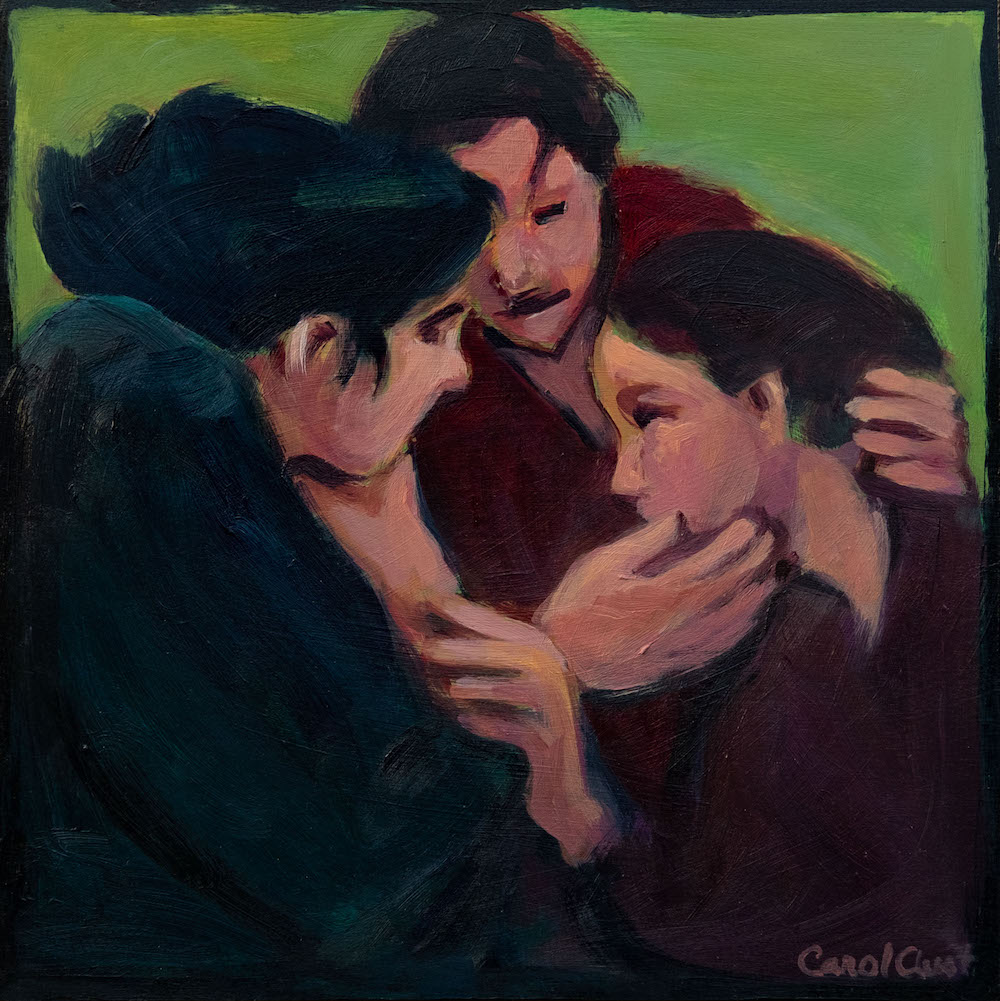 When a painting leaves her studio and elicits responses from viewers, that is when the art becomes complete for Aust as a living force in the world. The story truly begins with us, as the mystery of unanswered questions falls to each viewer to sort out. Characters on the canvas may begin self-referentially but Aust intentionally keeps the faces non-descript in order to invite viewers to place themselves easily into the story. "My audience adds the next chapter to the unfinished story, explaining why the woman is traveling alone, why the couple is dancing in the clouds, why the party is being held in the desert," she said.
In a climate that seems more confusing every day and leaves many searching for answers, it's nice to know we are not alone in our feelings. And that even in the midst of uncertainty and mystery, continuity, connection and humanity can thrive.
Aust's work is represented by several Bay Area galleries as well as Left Bank Gallery in Wellfleet, MA. Her recent solo exhibition, Love in the Balance, was presented at Shoh Gallery's adjunct space on Fourth Street in Berkeley, shown both virtually and on-site on designated days with pandemic-appropriate attendance requirements. Her next exhibition is slated for May at Lola's Art Gallery in the Mission. For more information, visit Carol Aust's website.