Our weekly column Good Taste celebrates Bay Area food and the people who make life more flavorful.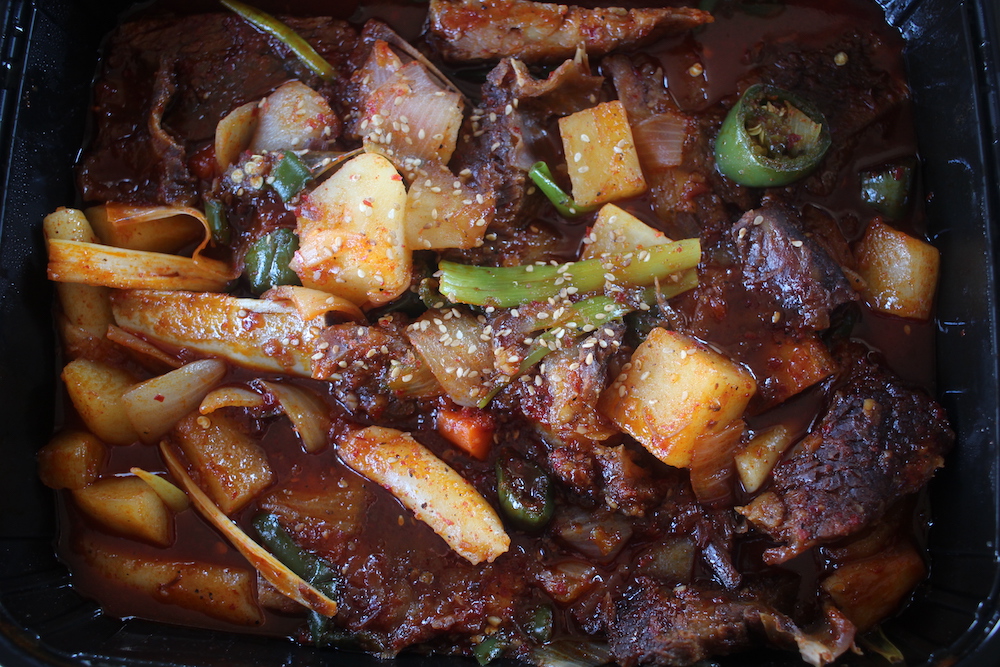 Dreams do come true: I've always been a bit of a grocery store groupie, so my heart was taken on a real ride over the past three years, when Korean chain H Mart announced the intention to open a San Francisco location in the Oceanview Village Shopping Center (3995 Alemany) — and then nothing happened. Until now: H Mart's first San Francisco store celebrates the grand opening today (April 20) at Oceanview Village. Be still my heart!
Besides high-quality produce, meat and Korean grocery staples, our new H Mart has a food court with five vendors, including Daeho Kalbijjim & Beef Soup, the perpetually popular restaurant with locations in SF and Milpitas, Da Pan (which H Mart describes as "Asian fusion"), Da SFC ("casual Korean food") and Paik's Noodle ("Korean Style Chinese Cuisine"). Additionally, the pastry chain Paris Baguette will open in the food court soon. This will be a real boon to the neighborhood and to the whole city; the next closest locations are in San Jose.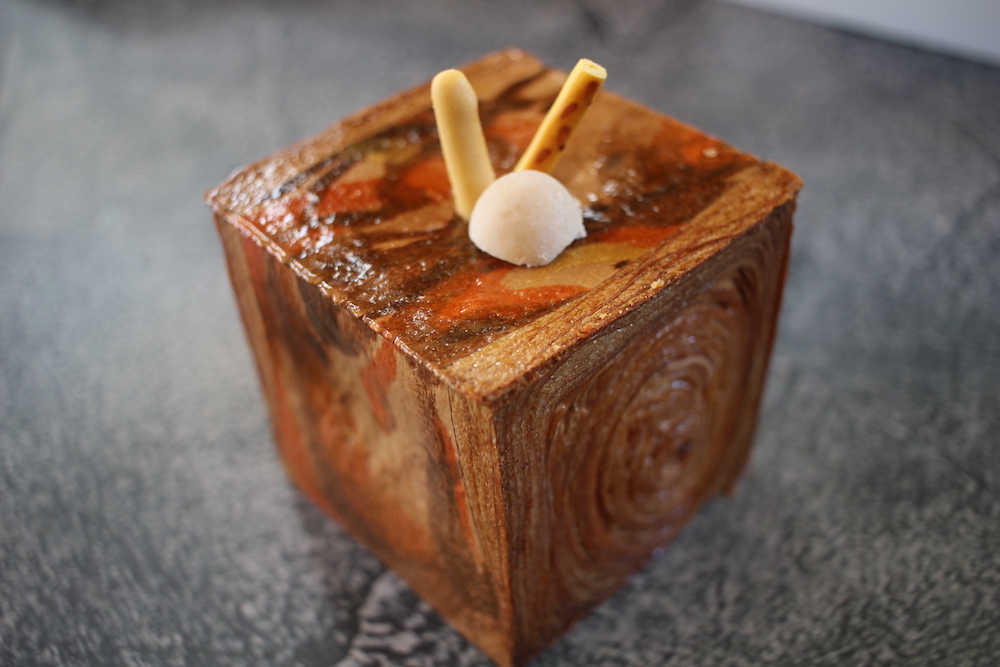 Secrets revealed: Baker Doe helped me get through the impending Great Boba Shortage this weekend with a Okinawa black sugar boba milk tea cream bicolor croissant cube. The flavor is unlikely to come back, because the mysterious local pastry guru is always ready to try something new and unusual, like the avocado and chocolate croissant that was also part of the most recent menu. Croissants always sell out in a few minutes, but here's the secret to have a chance to score a Sunday delivery in San Francisco: visit the Baker Doe Facebook page at 1:30 pm sharp on active Fridays (which are usually teased with some photos on Instagram in the days leading up) and correctly submit your order as quickly as you can.
Where trans POC always eat free: Just wanted to put a new word out to remind or let you know that Gay4U Vegan Eats has been feeding free weekend vegan meals and treats to trans POC in Oakland for over a year now, operating Saturdays and Sundays from 10am to 2:30pm at 1327 Peralta Street. If you can help support this incredibly awesome mission by ordering weekend brunch from them, you'll be treated to a weekly changing menu of creative and nourishing vegan comfort foods that has included dozens of donuts, ramen, chicken and waffles and the now local classic potsticker burrito.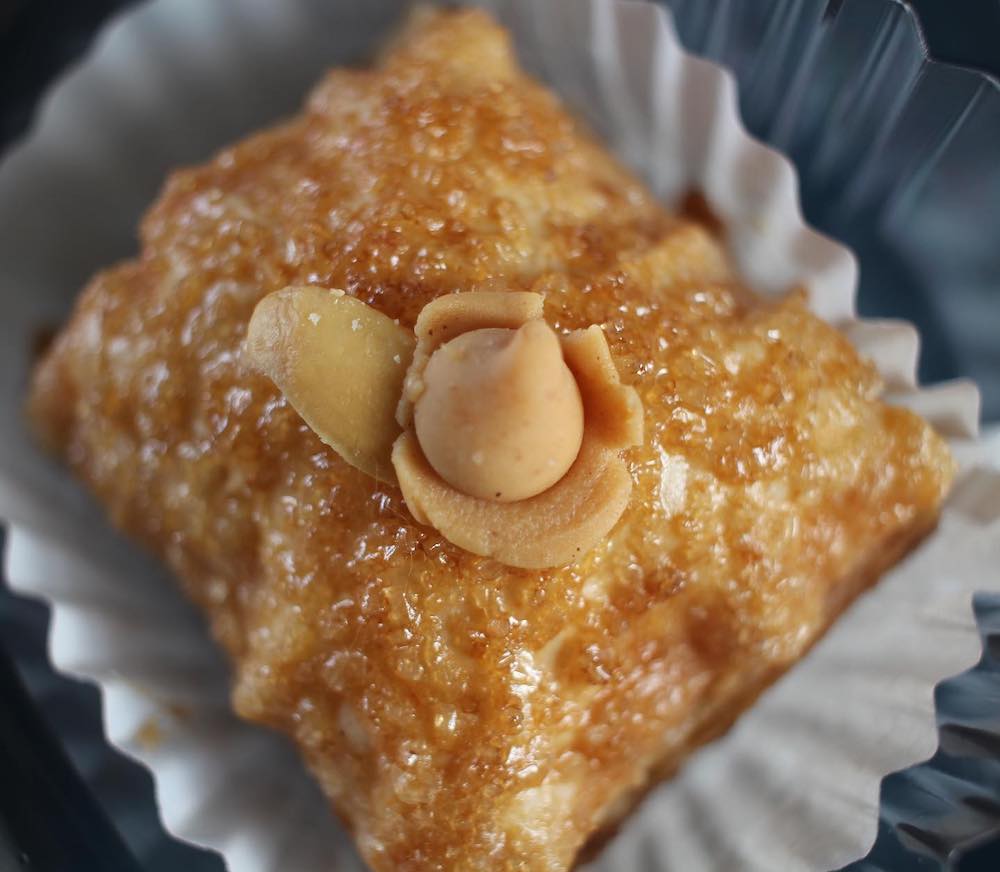 Girl power: Bitchin' Baklava, a side project of Al-Masri Egyptian Restaurant's belly dancing Chef Sausan, has been stocked in a few coffee shops and has catered special occasions for some years now. BB recently joined the Seamless and GrubHub delivery platforms to offer per-piece delivery of unique flavors like Reese's Chips with cashews and butterscotch chips with pecans. There's an even wider variety of flavors if you order larger trays (16-20 pieces for $50) directly from her website — options that caught my eye include PB&J, almond mocha and "Aloha Oe" with coconut and macadamia nuts.
Shark Shuffle: Oakland's Truffle Shuffle, which began offering live cooking classes and truffle products to consumers last year, appeared on the most recent episode of ABC's Shark Tank and scored a half a million dollar deal — $501,000, actually — with Shark Mark Cuban for an 18% stake in the fast-growing company. The video above shows the Sharks circling around Shuffle founders Tyler and Jason McKinney and Tyler Vorce, who originally met while working in the French Laundry kitchen, and the chefs making their final decision.

Still hungry? Go to Tamara's site California Eating for more mind food.