Now served up weekly, think of our local food column Good Taste as a guide to adding fresh flavors to your life.
A message from the Emergency Broadcast System: Boba lovers, brace yourselves — there's going to be a nationwide shortage of tapioca balls for the next few months, as tapioca starch shipments from Asia are delayed. 
"The whole country is running out of supply as we speak," Boba Guys CEO Andrew Chau said in a video posted to Instagram. Boba Guys also operates US Boba Co. in Hayward, which is the only domestic producer of tapioca balls. 
"Some companies are already out and most will be out in the next week or so," he continued. "So what does this have to do with us and our boba factory? Even though we make our tapioca balls right here in Hayward with the machines behind us, we still depend on one key ingredient, which is the tapioca starch that is derived from the cassava plant, which is not grown natively in the US. It's actually made overseas in Thailand and the Pacifics.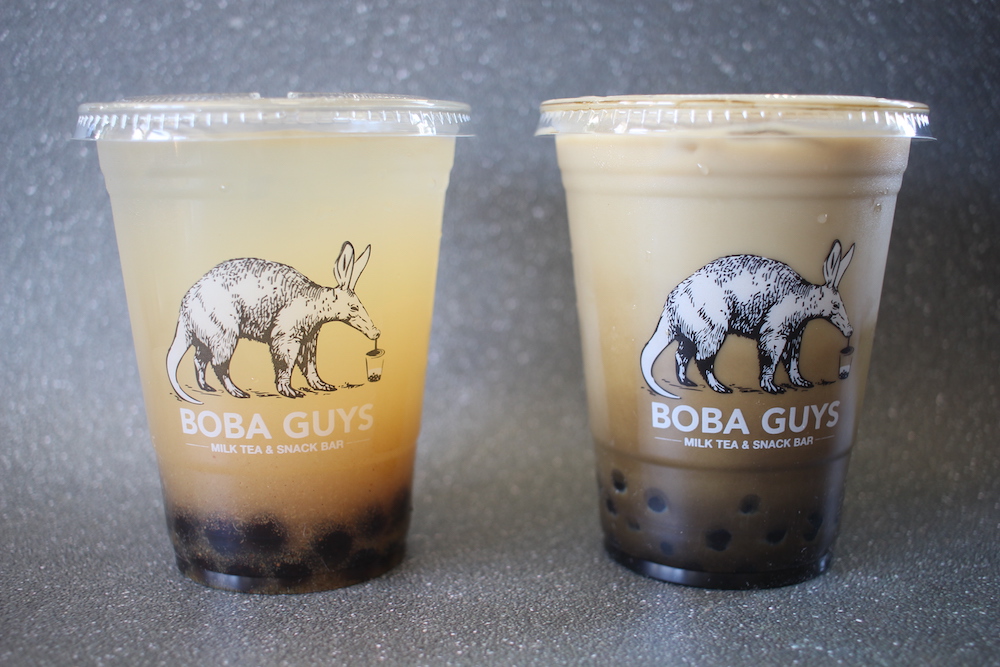 "So that means that Boba Guys, or any cafe that uses our boba will see an impact from this entire shortage. We are trying to figure out where we can get tapioca from. We are trying to import it through different means without ships, but it does mean that boba is going to be out and that's going to be weird for a lot of us who run boba shops, including our name Boba Guys. It's going to be awkward, but we just want to be very upfront. Many of you are powered by boba, we understand that, but we are going to be upfront right now." 
Boba Guys estimate that the shortage could last four or five months, but the Chronicle talked to distributors who think they'll once again be balls deep in about half that time. I hurriedly placed what will be my last Boba Guys-with-boba order today, a non-alcoholic spiced pear cider that tastes like the winter holidays and a roasty hojicha tea with black sugar and oat milk.
So, how will we survive this drought? And, most importantly, how will all of our smaller boba shops make it? Chau recommends trying the many alternative toppings that are commonplace at such places, including aloe, almond jelly, grass jelly, pudding and popping boba, which is made with agar agar.
Moving forward through the crisis, now is a great time to stock up on frozen boba at Boba Pink in the Mission, which also offers a shot of CBD as an add-on option to the drink menu. Boba Pink also has premium tapioca starch in stock right now, so you can learn how to make your own boba (including adorable panda boba) if you really want to take it to the next level. Take a deep breath; we're all gonna get through it together.
Breakfast Verzuz: San Francisco's Eat Just offered me the opportunity to try the new breakfast sandwiches at Philz and Peet's, which both use the plant-based JUST Egg, Beyond Meat sausage, and vegan cheese, so I had to compare them in a bit of a friendly battle.
Philz Plant Powered Sandwich is the looker of the two, with a McMuffin-esque vibe, while Peet's Everything Plant-Based Sandwich, served on a large bagel "thin," is a bit larger. Philz has the appearance of a slightly fluffier egg, but they're both incredibly convincing. I enjoyed both sandwiches and while I was eating, I kept changing my mind as to which one tasted better. Ultimately, the Peet's sandwich became the personal favorite for the bagel's structural integrity and the flavor of the sausage, but I'd recommend each if you're getting a drink at one of these spots.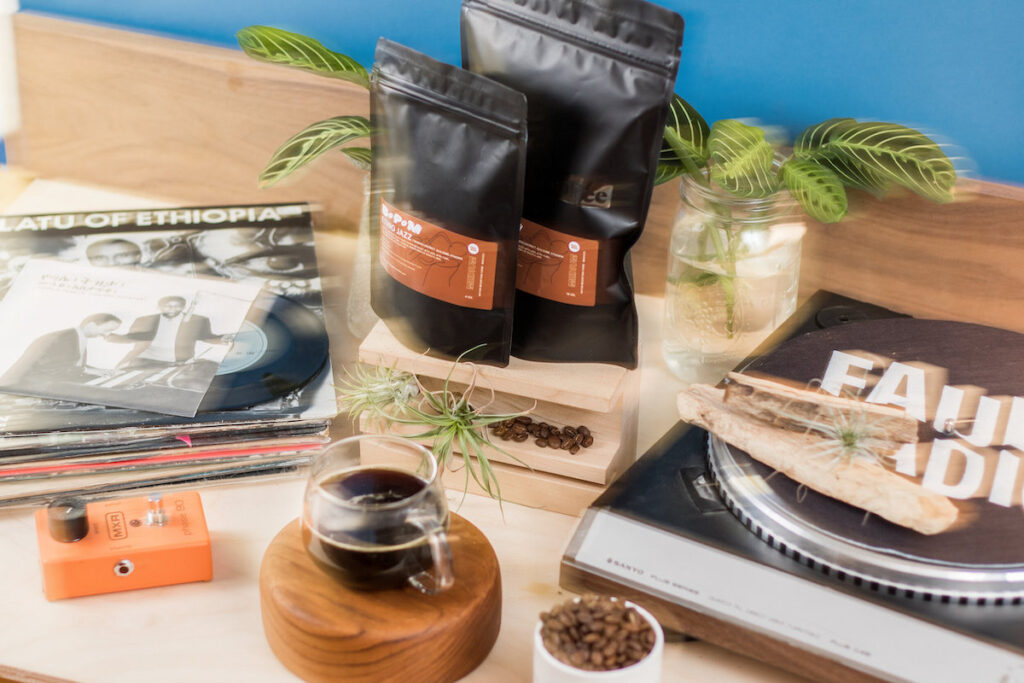 Speaking of coffee. . . Beloved local online station Fault Radio has gotten into the coffee business with Beans Per Minute, a collaboration with Oakland's Bassline Coffee consisting of four varieties, each paired with music from the coffee's country of origin. 12-ounce bags run $18.99, or you can get four samplers of four ounces each for $25.99.
Let's make a deal: SF Restaurant Week runs through April 18, with participating local restaurants offering prix fixe specials for lunch (for $10, $15 or $25) and/or dinner (for $25, $40 or $65). Each restaurant sets the parameters, but some are offering these meals for takeout, outdoor dining and indoor dining. It's hosted by the Golden Gate Restaurant Association (GGRA), which today released a compelling short video to illustrate the resilience of our local restaurant industry.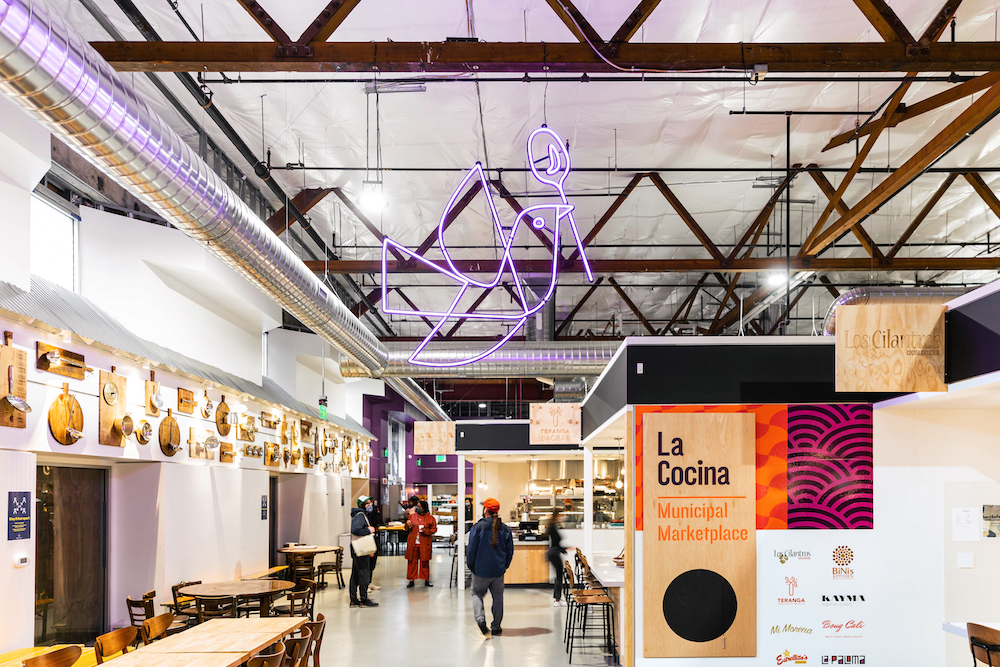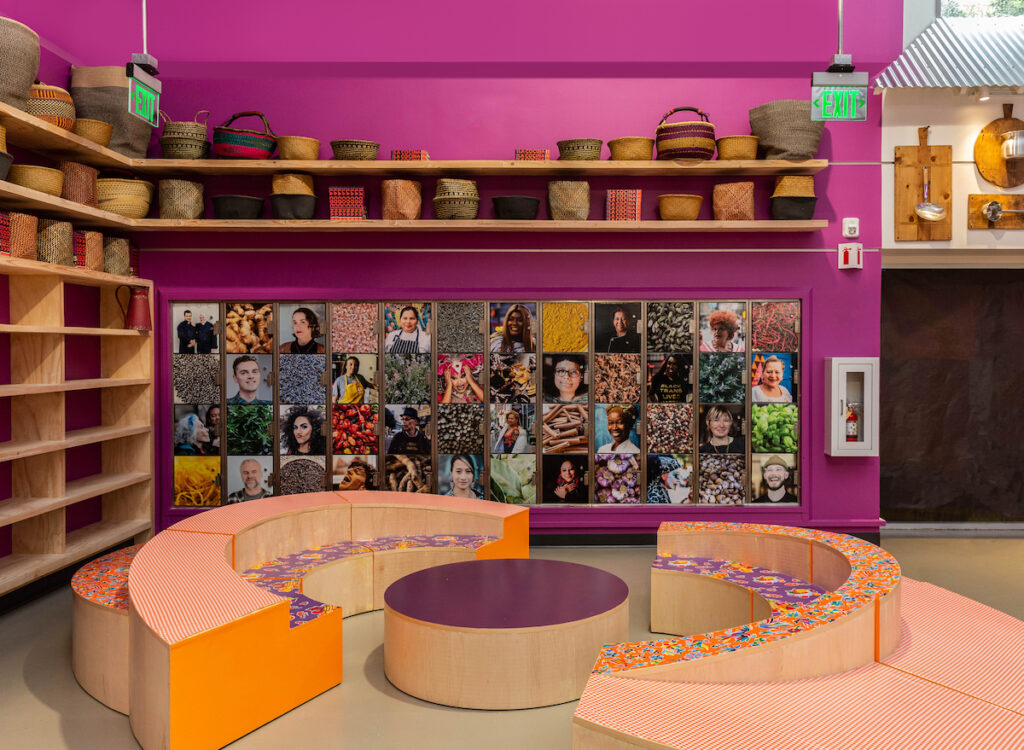 It's heeeeeere! Years in the making, La Cocina's Municipal Marketplace is finally open for business at 101 Hyde Street, with food pickup running out of the entrance at 332 Golden Gate Avenue. As previously mentioned, the all-women-chef food hall features Creole-California creations from Boug Cali, Salvadoran dishes by Estrellita's Snacks, Mexican specialties by Los Cilantros and Mi Morena, Algerian food by Kayma and Senegalese superfood creations by Teranga, and when indoor dining launches, Bini's Kitchen will join with Nepalese food.
The ordering system allows you to select items from multiple vendors, so you can get to sampling. I unfortunately had to miss the press preview of bites and hope to offer more specific recommendations once I get the chance to order in the near future, but I can at least vouch for the general quality of each participating vendor from past experiences. Congratulations, La Cocina crew!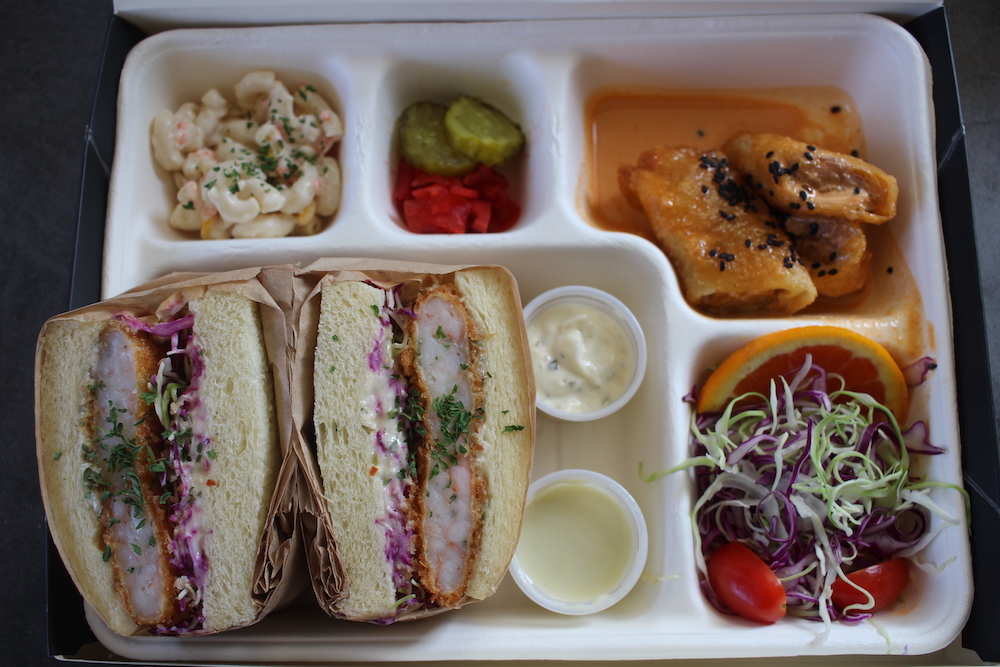 What's in a name? Katsuya, a newcomer to the International Food Court (380 Bush Street), offers a variety of hearty and delicious sandwich bento boxes for $14 — the Ebi Katsu (shrimp) recently kept me going all day long and is a solid value. Now, I'm not trying to be SF's restaurant buster (again), but I can't help but wonder what the famous Southern California-based Katsuya chain thinks of this unrelated newcomer.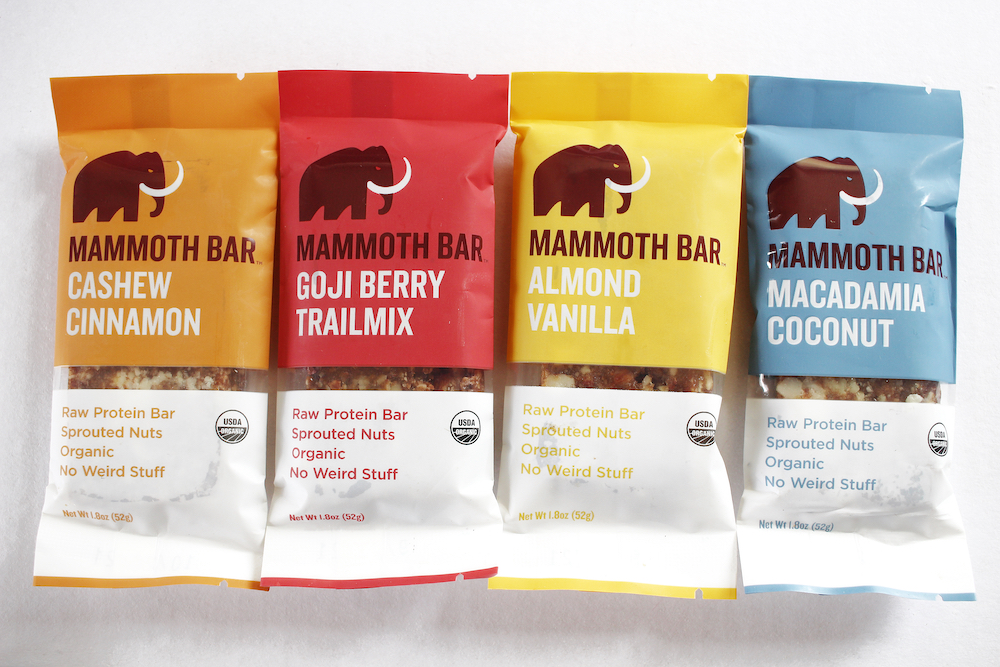 Snacktion: South San Francisco's Mammoth Bar makes bars that are organic, raw, sprouted and, in the words of creator Sivan Wilensky, contain "no weird stuff." Wilensky, who is better known for starting Suite Foods in 2010 to introduce Liège waffles and other sweet treats to the area, kept his business afloat in 2020 by taking on this new and healthier venture. And the bars are excellent, offering enough to satisfy a sweet tooth.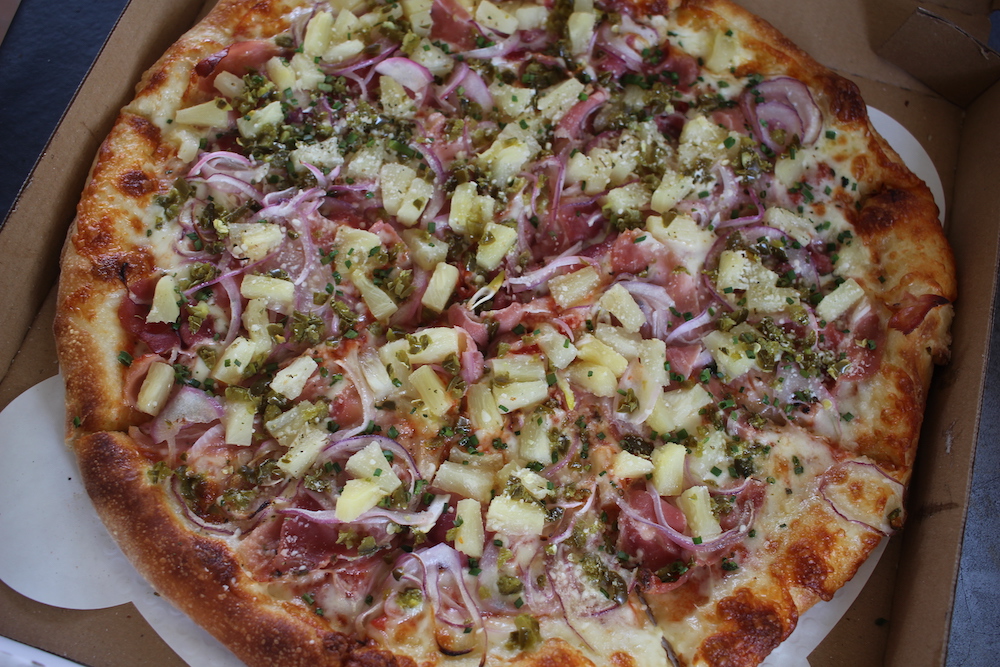 Where do you stand on pineapple pizza? It's a polarizing question, but if you happen to be in favor of the general idea, I wanted to direct you to what I'd consider to be the best new one in town: Hawaiian Punch Pizza from Little Original Joe's. This fairly new West Portal outpost of the old-school Original Joe's empire is the first to serve pizza, and they're knocking it out of the park. The Hawaiian Punch comes with tomato sauce, mozzarella, pineapple, rosemary Italian ham, red onion and pickled jalapeño. I tried freezing half of it to hide it away from my appetite, but that strategy only lasted two days.
Discover more food finds and ideas at Tamara's site California Eating.