Chief Technology Officer Nicole Jackson was in the military when "Don't Ask/ Don't Tell" was in effect.  Now she makes sure to bring her whole self to her job. And she wants people she works with to do the same. 
"After George Floyd's murder, and when we were in a national reckoning last year, I had three Black males reporting directly to me," she said. "You can't be focused when the world is burning down, and I wanted to be transparent, like oh, yeah, I'm Black too and also a lesbian."
Jackson is one of the people profiled in a new exhibit at the California Academy of Sciences, New Science, which highlights LGBTQ people working in STEMM (science, technology, engineering, mathematics, and medicine)—many of them also people of color and gender minorities.
Dr. Lauren Esposito, Curator of Arachnology at the Academy, who organized the show, says it's not just good for future scientists to see themselves represented—it's critical for the field to have all kinds of people to take on global challenges.
"The reason why is straightforward," Esposito said. "Science runs on ideas. And diversity breeds ideas."
Eleven scientists are highlighted in the physical show at the Academy until December (which will possibly be extended) and 23 profiles are online.
Again, Esposito says it's not just important for everyone to feel welcome in the sciences—the perspective and identity scientists bring positively impacts their work.
Like Esposito's friend, Dr. Jessica Ware, assistant curator of Invertebrate Zoology at the American Museum of Natural History, and vice president of the Entomological Society of America, who Esposito says has changed the practice of how to study insects.
"Her work is anti-colonial," Esposito said. "Usually that work is extractive, and people go out and collect samples and come back and lock them away and the people who live in the countries they come from are locked out. But she works with colleagues in the global south and includes them as peers. It's changing what science looks like."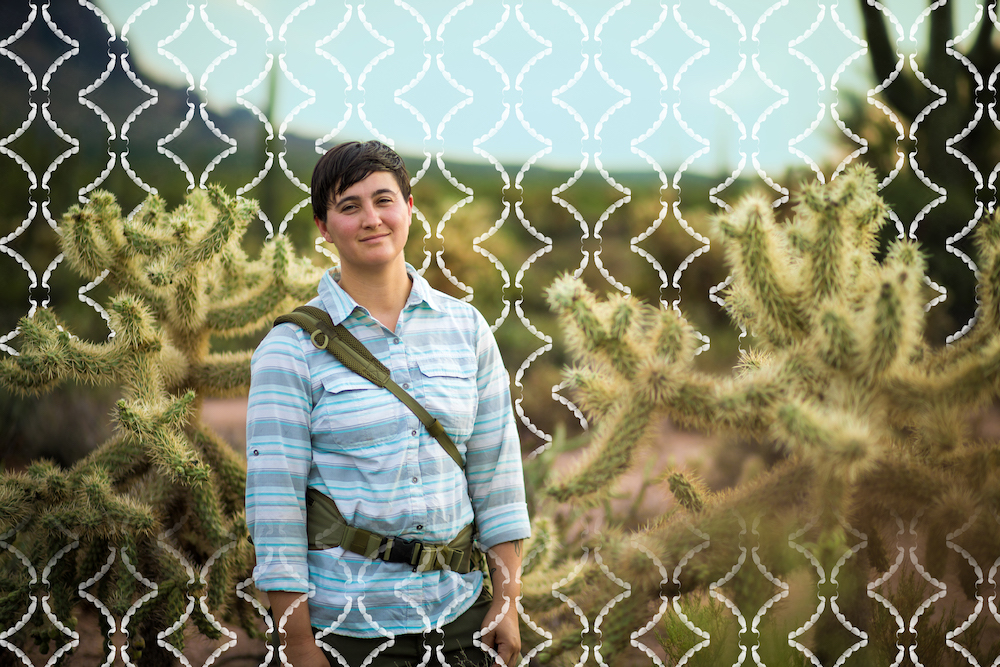 She's not the only one. There's also Dr. Alex Hanna, an AI researcher at Google.
"She was wondering when we use things like AI to track people what happens to people out of gender binary?" Esposito said. "What happens to that information, and how could it be used in a negative way?"
In 2018, tired of not seeing people like her in the sciences, Esposito started 500 Queer Scientists, a visibility campaign.
"I was wondering who else was out there," she said. "Now we have more than 1500 people in sciences celebrating their identity. For me that shifted my perspective knowing there's a community I'm able to share with."
Esposito talks about the walls in the sciences, and with the 500 Queer Scientists campaign and now this exhibit, she wants to show people those walls are not permanent. For her a wall was when she realized she'd never worked in a lab or studied with another LGBTQ scientist.
For Jackson, it's when people assume she's a "diversity hire."
"It's like, 'No, I'm an expert," she said. "I know what I'm talking about."
Jackson says for her children, 18 and 19 years old, walls aren't an issue. "They live out loud," she said. "I think the walls are there, but they don't care. They will knock those walls down."
Esposito says she sees the same thing. "I think the new generation coming up as scientists are not willing to stay in closet," she said. "It feels like a definite cultural shift. Also with people of color – they're not willing to put up with those walls."
NEW SCIENCE
California Academy of Sciences
Golden Gate Park
55 Music Concourse Drive
For tickets, go here.
You can also email info@calacademy.org or call 415-379-8000 between 8 am–5 pm daily.
.