As a symbolist artist working in clay, Sara Lisch has stories to tell.
From her home studio in the Casino View area of San Pablo, Lisch brings figures to life through myth and metaphor. She describes her works as visual poems that bridge the conscious-subconscious divide and thinks about art making as visual dreaming. "Stories have always helped me make sense of the world around me. Art gives me clarity, purpose, and a deeper understanding of my inner dynamic," she said.
Lisch was born on the Sunshine Coast of Sechelt, British Columbia. During the 1969 Summer of Love, her parents moved the family to San Francisco, and eventually landed in Oakland. She never consciously decided to be an artist. But living on a kibbutz in Israel for three months after high school, she discovered a love of portraiture. She attended Evergreen State College in Olympia, Washington, completing her degree in 1992, and had her first solo show in Seattle in 1998. Lisch returned to the Bay Area in 2002.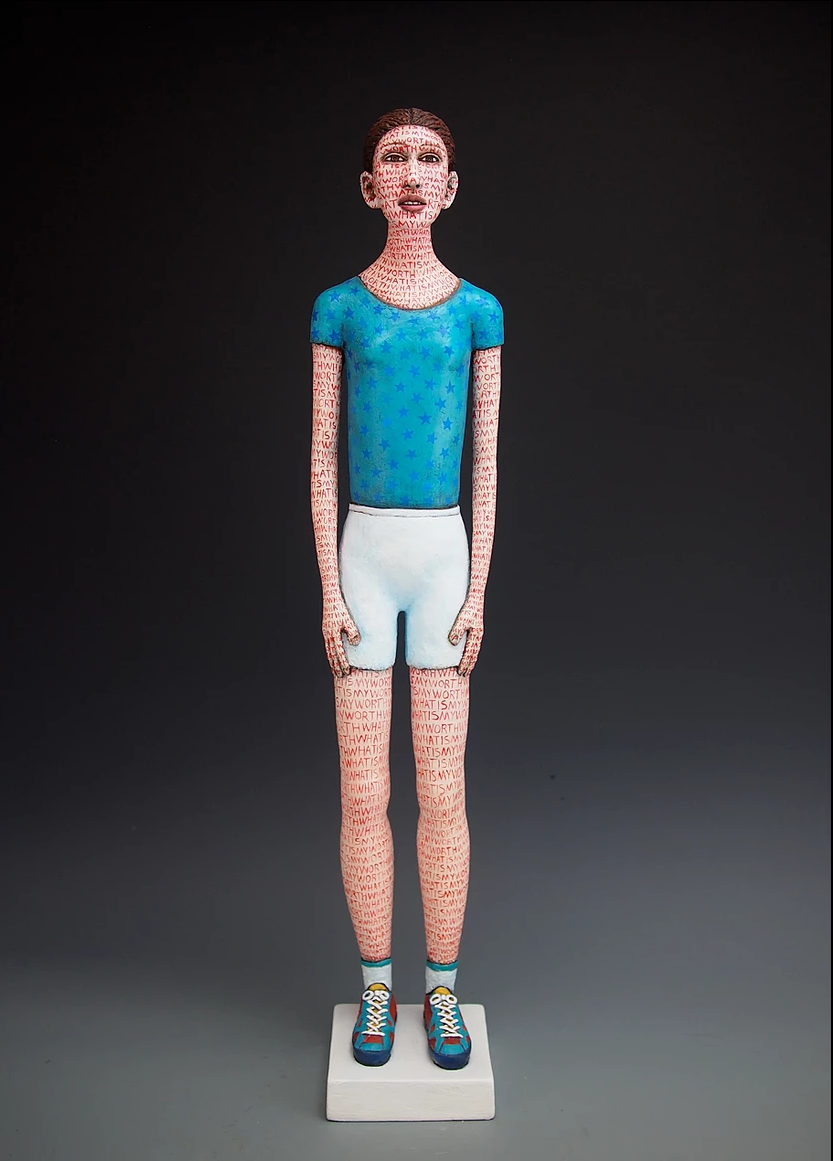 The sculptor feels an artistic lineage deeply connected to distinctive family roots. Her father, Arthur Lisch, was an artist/activist, and co-founder of the Diggers, a radical community-action group of activists and Improv actors in 1960s Haight Ashbury. He believed in the power of art for social change and Lisch shares his activist genes. In 1986, she participated in The Great Peace March for Global Nuclear Disarmament, walking 20 miles a day for nine months, from Barstow, CA to Washington, DC.
Lisch's mother, Jane Timberlake, is a musician and songwriter who brings stories to light through song. Similarly, for Lisch, poetic storytelling always takes main stage. Her work is interior and subtle—like the figures her Grandma Sue depicted in her paintings—while sharing a quality of classical realism with her Grandma Dot's creative expressions.
Sculpture became a natural extension of Lisch's work, stemming from an interest in building and fixing things in her youth.
"I would tear apart an old rotary telephone and put it back together or make a scooter from the wheels off my old roller skates," she said. Her love for exploring the mechanics of an object and a natural curiosity for working with the physicality of the world around her led her to ceramic sculpture, where the building process is tactile and three-dimensional. A philosophy of letting process and medium form her vision has been the north star in her creative life.
Working primarily in clay, she usually has two or three projects going simultaneously, due to the seven stages of workability of the medium: dry, slip, plastic, leather hard, bone, bisque ware, and glaze firing. Much of her time is spent in the plastic stage when the clay is soft enough to carve but still holds its shape. Starting with a vision for a piece, it can require many months or years before she begins creating it.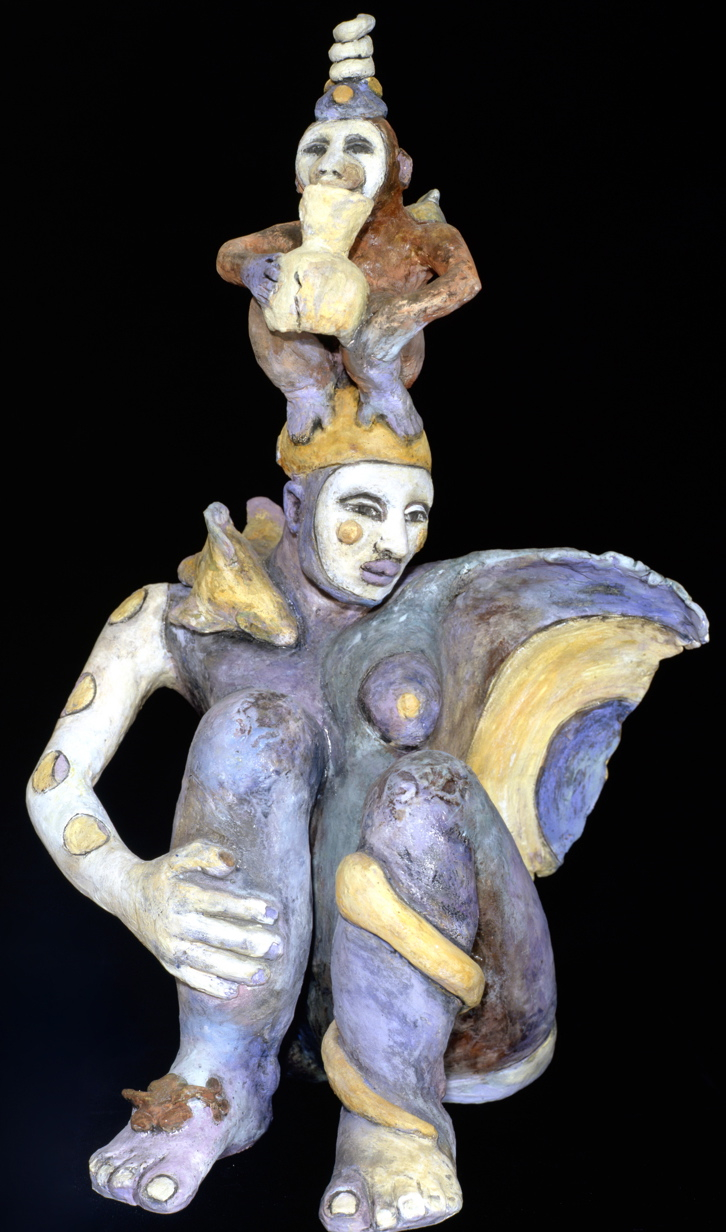 "I am never entirely sure how it will physically manifest but while it consistently transforms, I hold onto an overall concept," she said.
Using low-fire clay and various hand-building and carving techniques, she incorporates terra sigillata, (literally, "sealed earth"), underglazes, stains, acrylic paint, and ceramic transfers to enhance her work's surface.
"Sometimes a piece works, and other times it's a colossal failure," she said. She takes to heart a Thomas Edison quote, "I have not failed. I've just found 10,000 ways that won't work."
Clay is a fickle medium with a personality of its own, Lisch explains. It has a physical memory that becomes more ingrained as it dries. It's all about process, timing, memory, adaptability, and most importantly, letting go. For these lessons, she is forever grateful.
Those who have influenced Lisch include clay artists Tin-Ju Shao, Akio Takamori, Cristina Cordova, and painters Fay Jones and Anne Siems. Right before the pandemic, Lisch happened to meet artist Margaret Keelan, whose work she had always admired.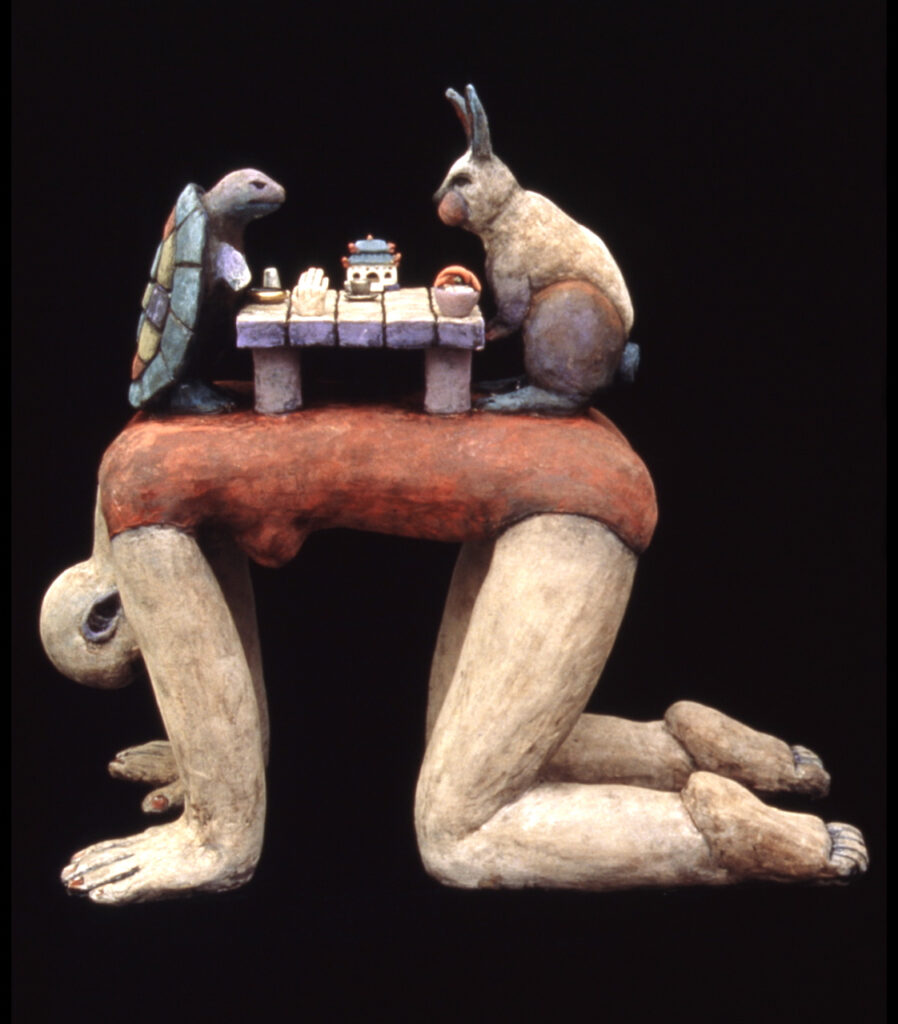 "I asked her what advice she had for her students, and she said to always find a way to go deeper into your work," Lisch said. The sculptor returned home and began to ponder Keelan's advice, though it initially remained elusive. The isolation and reflective nature of the pandemic finally allowed the words of wisdom to blossom. Lisch realized that "going deeper" meant letting her muse guide her and simplifying her process.
Lisch's creative life extends to dancing, collaborating, designing, gardening, and writing. Outside of being an artist, Lisch loves being a mom, wife, daughter, sister, and friend. She loves cooking, reading, movies, conversation, ideas, and most important of all, humor. Does the storyteller have any words of wisdom for us? She said:
"Find joy in all the little things and let your imagination soar."
Sara Lisch's solo show, "Metamorphosis," will open at Mercury 20 Gallery in Oakland from Sept.10 to Oct. 16. For more information, visit saralisch.com.