Nothing could be more terrifying than the past five years IRL, but that's not going to stop anyone from throwing on a Squid Game costume and hitting the town for some terrific Halloween fun. (And why not, if the hit show about class-driven mass-murder-as-entertainment is causing another hilarious Reefer Madness moment among delicate pundits?)
Still, the nightlife scene is still creeeaaaking back to life, like the lid of Blacula's coffin, and often it seems the dance floor is full of shuffling mummies, astonished by all the lights and sounds. But there are some glimmers of dawn in the long, dark tunnel, and a chance you'll be that Final Girl, surviving an all-night club-hopping fright fest.
Here's a claw-full of parties and events to get those adrenalin juices flowing. (PS Day of the Dead SF is back on, Tue/2 starting at 7pm—the best holiday!) Bring your vax proof and, easy for this, mask!
HALLOWEEN EVENTS OF NOTE
ONGOING IMMORTAL RECKONING Look, horror drag goddess Peaches Christ is going to scare the pants off you whether it's Halloween or not. But she's really outdone herself this time, turning the Old Mint not only into the best handed house in the city—but starting the action off in a "nightclub," where you can sip real cocktails! That is definitely my kind of chiller. Through October 31. More info here.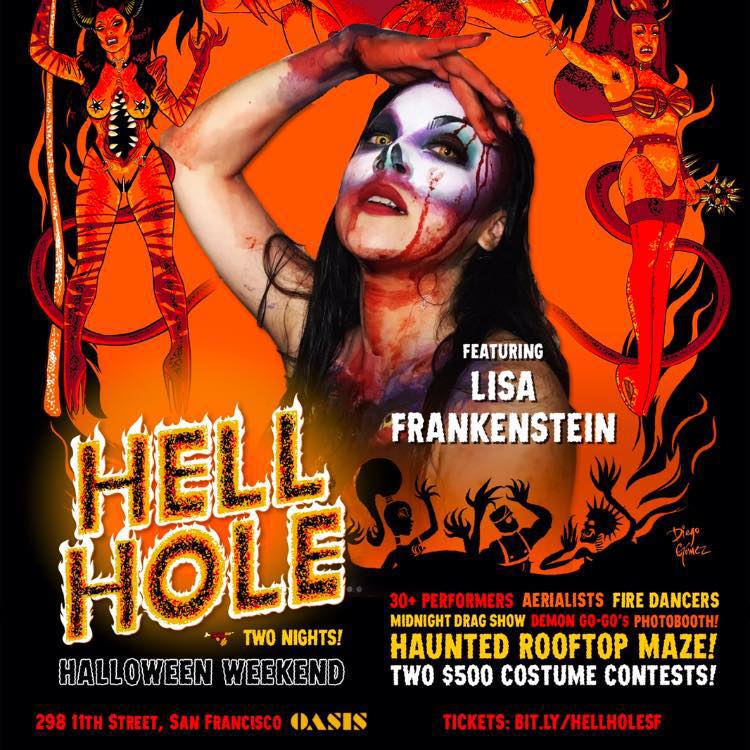 THU/28-SAT/31 HALLOWEEN DRAGSTRAVAGANZA AT OASIS Shake out your fright wig! Four nights of drag and dancing with all the ghastly gurls you can fit on your broom at this fab club. Thursday sees "Chillonas," with Latin ladeez Princess Panocha, Pinche Pobrecito, La Chucha, and more nipping at your nalgas. Then Friday's "Nick at Fright," with the Media Meltdown coven presenting "a killer dance party and drag show celebrating the creepiest and kookiest of Nickelodeon." (Yes, there will be sexy SpongeBob.) Finally, weekly drag explosion Princess party fills your "Hell Hole" with TWO NIGHTS of mayhem on Saturday and Sunday, with more performers than I have the will to list, plus a rooftop maze, hair-raising decor, and "an immersive party experience featuring over 30 performers encompassing DRAG, AERIAL and FIRE ARTS." More info here.
THU/28-MON/1 DNA LOUNGE HALLOWEEN MADNESS Five nights and seven parties will surely leave you hollowed out after Halloween! You can grab a multi-pass that will let you in to see everything from dubstep king Trampa and Best of the Bay winner Booty Halloween to the All Hallow's Eve massive and of course Monday night's goth wonderland Death Guild, the longest-running weekly party in San Francisco. You can also just pick your favorite and just hit that one up individually! Check out the whole smorgasbord of splatter here.
FRI/29 WORMHOLE HALLOWEEN If you've outgrown trick-or-treating, unlike me, nothing says "Halloween" more than getting pummeled by deep and dark techno and trap beats, from the likes of superstar DJs Eprom, Craze, and oodles more. 9pm-4am, Public Works, SF. More info here.
FRI/29 AURORA HALAL | LAUREN FLAX | TATIANA VAUGHAN Monarch Club has a weekend all of fabulous Halloween events (check them out here), but this straight-up techno onslaught is one I really can't miss. Three of the coolest women ever bringing dark electronic, industrial, acid, and experimental vibes to shake you to your core. 9pm-4am, Monarch, SF. More info here.
FRI/29 SMITHSFITS HALLOWEEN What goes better with Halloween than some maudlin Smiths and some creepy Misfits? This wonderfully mixed up dance party returns with, yes, all Smiths and all Misfits all night. I cannot thank DJs Yule Be Sorry, Nako, and Omar Perez enough for this gem. 9pm-2am, The Knockout, SF. More info here.
SUN/30 HORROR STORY: BLOOD MOON Another spooky rager at Public Works, this time brought to us by the double-headed party team of Polyglamorous and Mystopia, so you know there will be a hellacious amount of cute queer people in revealing, sparkly onesies. DJs David Harness and Kim Ahn headline, so you know you will be howling on the dance floor. 10pm-3am, Public Works, SF. More info here.
SAT/30 HAUNTED HOEDOWN It's a very Burning Man Halloween when sound camp Space Cowboys launch into spooky territory, pink fuzzy chaps and all. The funky electronic sounds of Washington, DC, group Fort Knox 5 will make you toss your sequined cowboy hat in the air. 10pm-4am, Great Northern, SF. More info here.
SAT/30 FAKE AND GAY X SQUISH: GOTH JAFAR + SÉVERINE I am dying to attend this: Two of our best underground queer parties hook up to bring in two very special underground guests—expect wiggy hyper-pop and dark techno, with a few diva surprises. The location? A new spot called Monument on 9th Street, which bills itself as "a live/work/event space" that "provides affordable housing to a range of residents—from students, working artists and performers, to engineers and CEOS." Terrifying! 10pm-3am, Monument, SF. More info here.


SUN/31 DEAD MEADOW How about some witchy contemporary shredding to soothe your raging inner pagan? Dead Meadow "combine '70s hard rock and 60s psychedelic rock with far out and sometimes mystically minded lyrical themes occasionally even hinting at the obscure genius H. P. Lovecraft and other far out writers of the bizarre and weird." 8pm, The Chapel, SF. More info here.
SUN/31 SUNSET SOUND SYSTEM HALLOWEEN BOAT PARTY The classic rave crew hosts their annual bash on a boat, with big time DJs Seth Troxler and Mike Simonettii, plus of course founders Galen and Solar, and a really special collaboration between Its Own Infinite Flower and Spacetime Continuum. They'll provide the sparkling grooves, you look cute in your costume on the Bay. 5:30pm-11pm, San Francisco Belle from Pier 3. More info here.
SUN/31 MAN ON MAN HALLOWEEN It's a big gay rock 'n roll Halloween party! "MAN ON MAN (also M.O.M.) is a new gay lover band made up of Joey Holman (HOLMAN) and Roddy Bottum (Faith No More, Imperial Teen, CRICKETS, Nastie Band). Their upcoming self-titled record, ​MAN ON MAN,​ is infused with indie-rock distortion and soaked in gay pop confidence while still maintaining the acerbic and pure sense of humor they both share." Also featuring my favorite relatable punks, Middle-Aged Queers. 8pm, 311 Broadway, Oakland. More info here.
SUN/31 THE FRISCO MASH: A LOS RAKAS HALLOWEEN Super-awesome Bay duo brings their Latin hip-hop sounds to the El Rio patio for a daytime banger, with a huge roster of performers, DJs, and vendors. There will be food too, so you can settle in and enjoy the Halloween vibes. Best musician costume contest! 3pm-8pm, El Rio, SF. More info here.
SUN/31 CREATURE XXVIII: FLESH The Creature parties are justly infamous for wild decor and drag performances that sear themselves into your brain—I love that they are taking over one of my favorite bar patios in the world, at Casements, for a shivering Sunday of deviant delight. With appearances by Yves Saint Croissant, Travis Dee, Paris Piss Play, Anais Aboudie and freaky tunes by DJs Nico, Casual Aztec, and more.. well, you simply MUST come drink and dance your frock off. 7pm-midnight, Casements, SF. More info here.