You could be forgiven for thinking that the title of Amoako Boafa's stunning show at the reopened Museum of the African Diaspora—"The Souls of Black Folks" (through February 27), inspired by WEB Du Bois' groundbreaking 1903 work of African American ethnographic literature—is a bit too on the nose. Here is a forest of ravishing portraits of Black people, yes, their souls made almost tactile through Boafa's technique of painting with his fingers on fragile paper. These souls seem way too contemporary and refined to be tied to a 100+-year-old book.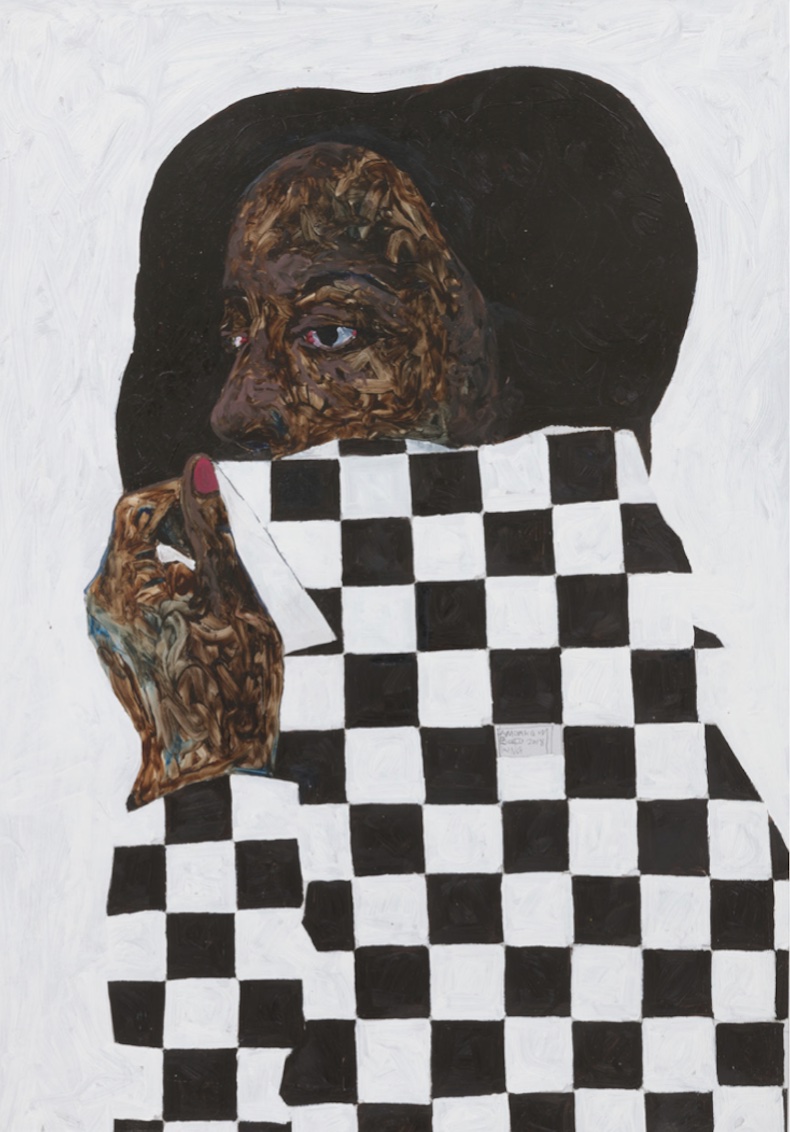 But there's a deeper connection. Ghanaian-born, Vienna-residing Boafo grew up in Osu, where Du Bois, the author of "The Souls of Black Folk" is buried, establishing a cyclical, diasporic connection between the two artists (especially poignant since this is Boafo's first-ever solo in the US, despite his cosmopolitan stature and global Instagram following). Dig more and there's another thread: Du Bois, himself so cosmopolitan and refined, coined the term "double consciousness" to describe the sense that Black people in our society must constantly view and define themselves through others' eyes. That we are looking at Black people through Black eyes, eyes that obviously hold deep affection for their subjects, offers an opportunity to think about this fundamental concept in a different light.
For my first time back in a museum or gallery since the pandemic shut downs, I chose the MoAD because it was offering four shows that sounded fascinating, and wow they did not disappoint. On the top floor, Boafa's wonderful portraits—full of sly details, gonzo personalities, fabulous outfits, and gorgeous colors—await, and honestly I could look at them forever. The show's subjects doubled as my first crowd, without the social anxiety (although of course I felt a little humbled being around such powerful souls, some of them even giving me a little side-eye). It was joyous party, curated by the adroit Larry Ossei-Mensah, and abetted by MoAD's other shows.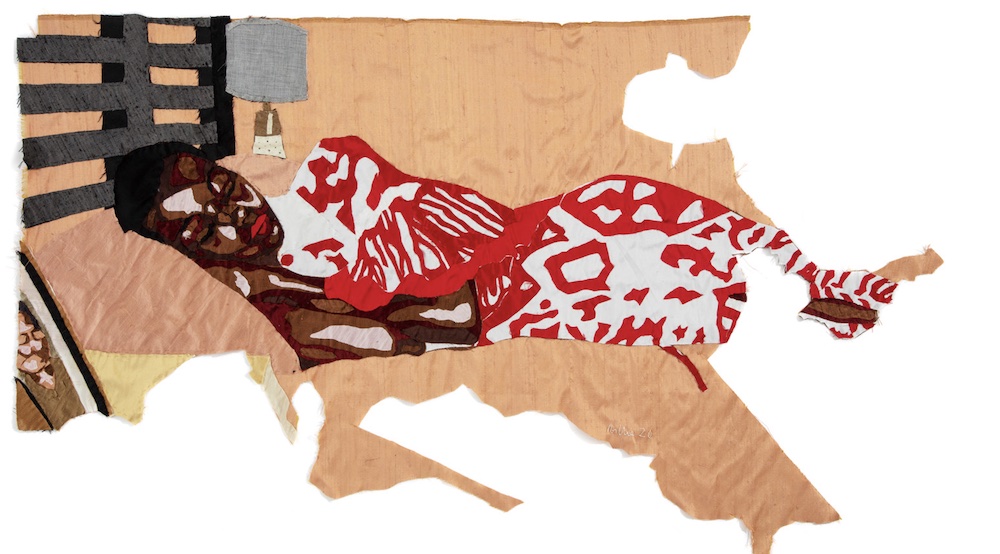 Boafo pieces together personages with swirls and smears of oils; Malawi-born, Johannesburg-based Billie Zangewa, in "Thread for a Web Begun" (through February 27) employs a labor-intensive collaging technique using pieces of silk tapestries and other cloth to create jewel-toned scenes and figures with hyper-contemporary resonance. Both have a heady way of activating the white space around and within their subjects, and Zangewa's fragmentary creations sometimes reminded me of shards of ancient texts, with textures in place of writing. In any case, her work—emphasizing a unique woman's way of looking and feeling in the world—captures quotidian scenes that are sometimes elegant, sometimes erotic, sometimes introspective and homey—at times all of those, as in a sublime piece showing one person bathing another. (In another piece, she humorously places herself in an episode of 'The Bachelor,' as the object-of-attention bachelorette.)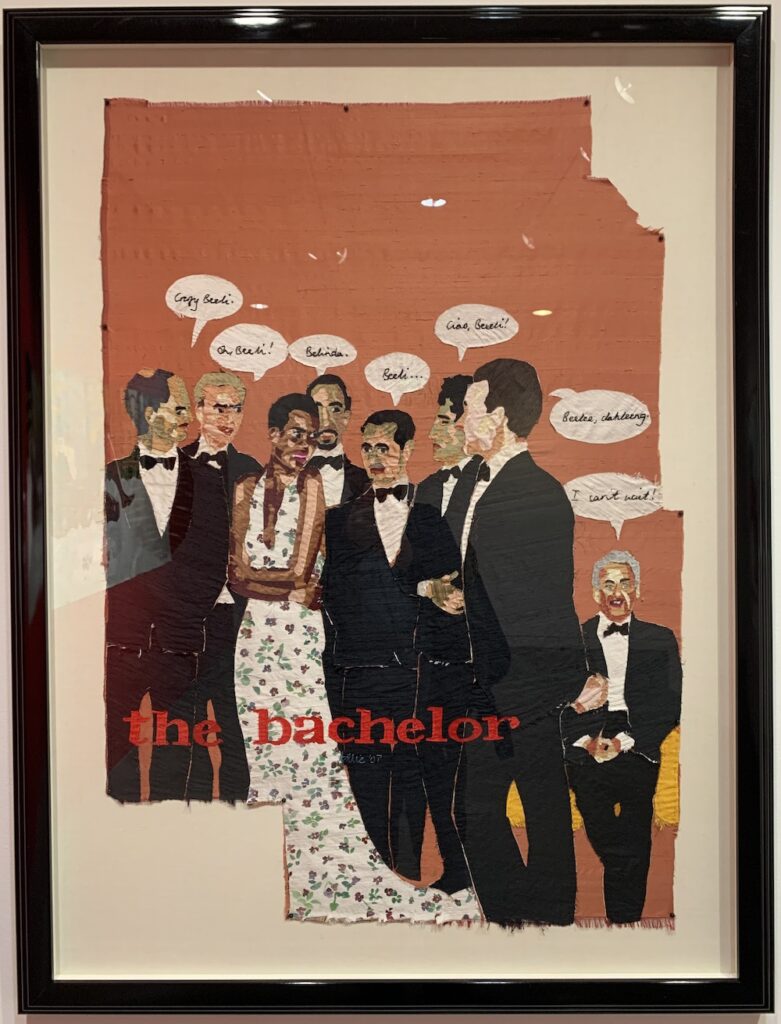 Two other awesome shows by young artists: Sydney Cain's "Refutations" (through this weekend!)stands as a sharp riposte to the prevailing narrative that Black culture has disappeared without a trace from San Francisco by exploring the legacies of memory and myth. (Her tremendous drawings of Black figures gathered on street corners made me ache for the days when homeboys hung out on Divis and made the area feel like a real neighborhood.) And do not miss her tiny rolodex of various materials from her genealogical and artistic research work, which you can flip though like an internal astral slideshow projector. On the ground floor and in the elevator, Sam Vernon's "Impasse of Desires" (through February 27) takes as its departure point Matt Richardson's 2013 zine The Queer Limit of Memory and covers surfaces with found images that made me rethink how collage can be used to both preserve and clarify the past.
Go to MoAD! COVID protocols are in place (and its free on MLK Day, January 17). More info here.
MORE ARTS EVENTS OF NOTE
WED/15 WET LEG The deliciously deadpan "Chaise Longue" from this young duo from the Isle of Wight (expanded to a wonderful full band) has been one of the highlights of the dreadful COVID years. Thet they're appearing with the equally delicious Fake Fruit may mean you'll have to fight for tickets, but it will be worth it. 8pm, Rickshaw Stop, SF. More info here.
WED/15 FUZZ The California garage rock threesome—led by psychedelic shredder Ty Segall—lives up to its name with heavy, caustic, fuzz pedal-worshiping '60s proto-metal and psychedelic influences ranging from Jimi Hendrix to Blue Cheer. 8pm, Great American Music Hall, SF. More info here.
THU/16 'BAUHAUS TYPOGRAPHY 100' AT LETTERFORM ARCHIVE GALLERY Calling all design geeks: Here's a very rare chance to peep stunning works by famous German Bauhaus artists Johannes Itten, Paul Klee, Wassily Kandinsky, László Moholy-Nagy, and more—and check out the new Letterform Archive Gallery on Third Street. 3pm-4pm, Letterform Archive Gallery, SF. More info here.
THU/16 DAVID BENOIT TRIBUTE TO CHARLIE BROWN CHRISTMAS More than 50 years after "A Charlie Brown Christmas" debuted, the season isn't the same without hearing Vince Guaraldi's iconic theme music. Here, pianist David Benoit recreates the magic live. 10pm, Yoshi's, Oakland. More info here.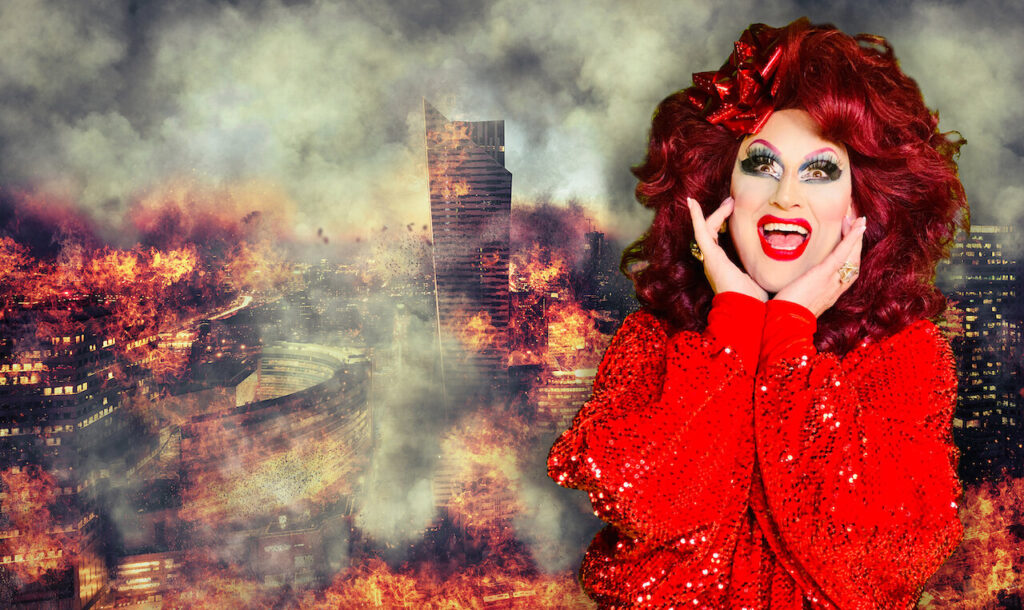 FRI/17 JACKIE BEAT: UNDER THE TREE Delightfully deranged Los Angeles drag legend Jackie Beat swoops into town for a night of hilariously crass carols and "nativity-knockin', Santa-smackin', menorah-manglin'" fun. 7pm, Oasis, SF. More info here.
FRI/17 AND SAT/18 SOUNDBOX One of the city's best immersive, experimental musical showcases is back live—and I am so excited about this. Sneak behind the SF Symphony for this installment, curated by Grammy Award-winning drummer-producer and composer Quentin E. Baxter, called "Embarkations"—"steeped in the sounds of Baxter's hometown of Charleston, SC and inspired by the artists and poets who live and work there, including John Duckworth, Marcus Amaker, and Jonathan Green." 9pm, Soundbox, SF. More info here.
SAT/18 OTHER CINEMA: AVANT TO LIVE: NEW EXPERIMENTAL WORKS Experimental films galore! "Among the 16-some(!) pieces—with many artists in person(!!)—are a bounty of local, national, and international premieres: Dominic Angerame debuts Flashback, Thad Povey launches Sketches for Rock, Bryan Boyce premieres Simfield Peaks, Scott Stark unveils Underlying (world premiere!), Greg Marshall releases bearing, Matt Soar inaugurates Gnaw their Tongues, Charles Cadkin unspools Past Life, and Jessica Bardsley premieres Good-bye Thelma." 7:30pm, other cinema, SF. More info here.
SAT/18 SHOW ME LOVE House music from those who know! DJ Steve Fabus has been behind the decks for more than four decades—he knows how to guide a party to the sweet spot. He's joined by drag goddess Juanita More, Eddie House, and more. 9pm, Monarch, SF. More info here.