Under the Stars is a quasi-weekly column that presents new music releases, upcoming shows, opinions and a number of other adjacent items. We keep moving with the changes, thinking outside the margins, and staying overwhelming optimistic about this moment in hip-hop.
Nope. I'll let the professionals give the quick review on Kdot's fresh drop. What I'm excited about is the macro.
Black Star, Black Thought, and Kendrick Lamar—legacy acts with unquestionable and in some cases generational street cred—releasing new material in the second quarter of the year?
That lifts, floats the rest of the hip-hop ecosystem.
All three artists are rarely just motivated by financial gain. They usually act when the timing, culturally, seems appropriate. In hip-hop and music in general, that's a rare occurrence.
The one and only hip-hop duo of Yasiin Bey and Talib Kweli, aka Black Star, self-released No Fear of Time, their first album in 24 years, through the Luminary App, which costs $4.99 per month or $34.99 per year. It has no music library, and is targeted at podcasts rather than songs.
But it's still able to play the Black Stars' steadfast modus operandi of self-determination, assisted with production by none other than Madlib. I knew we'd be alright as soon as I saw Mos, er, Yasiin Bey, wearing a Black Flag tee.
After 25 years with The Roots, Black Thought, widely regarded as one of the best MCs in the game, began working on solo projects in 2018. He unveiled his upcoming project, Cheat Codes, with Grammy-winning producer Danger Mouse earlier this month. It features the late MF DOOM, Raekwon, Run The Jewels, Joey Bada$$, Conway The Machine, A$AP Rocky, Russ, Michael Kiwanuka, Kid Sister, and Dylan Cartlidge, among others.
"Please, you ain't f*cking with no amateurs homie / Philly ain't known for cheesesteak sandwiches only," Black Thought spits on the debut single "No Gold Teeth," which features DangerMouse smashing the bejesus out of a cold blues break. That individual, Mr. Bravado, who keeps the bars crisp at all times, not the on-camera manager of a late-nite TV show, informs us that this project, due out in August, is far more serious than any slap could possibly be.
And then there was last Friday's Kendrick Lamar moment, with the release of his new album Mr. Morale & The Big Steppers, which came after the bizarre video "The Heart Part 5" in which Kdot's face morphs into deepfakes of OJ Simpson, Will Smith, Jussie Smollett, Kobe Bryant, Kanye West, and Nipsey Hussle, with a heavy Marvin Gaye musical vibe running through.
These releasings and happenings, the biggest moments in hip-hop since March 2020, helps to lift the entire section of music. Providing a foil, a background to compare and contrast younger, smaller, more individualized groups.
Take, for example, the Tampa Bay production/rap combo They Hate Change, who recently released Finally, New, a far-reaching, hugely experimental, and energetic punch in the arm record. With the vocal intensity of a UK Pirate radio station Emcee circa '97, these newcomers gallop through drum and bass, post-punk, jook bass music—the Gulf Coast's bawdy answer to house—and crank—Miami bass meets NOLA bounce.
Or there's Uglyface from Oakland, who just released The Good EP last month, which is jam-packed with deep bass drops, catchy hooks, hard-hitting percussion, and gritty tales of everyday life. These childhood buddies who have developed into a rap group, bonded through the good, bad, and ugly and turned those "sessions" into group therapy destined for vinyl.
Both up-and-coming outfits who will feel the bump of mainstream hip-hop artists returning to the fold.
OK, lets get to it!
Allysha Joy Torn: Tonic (First Word Records)
Allysha Joy, a foundational member of Melbourne's vibrant soul & jazz scene, and, more importantly, lead vocalist for 30/70, legitimized that band and the movement.
That soulful voice coupled with those Fender Rhodes talents have made the rest of the world wonder "what they got going on and how did it land there" for quite some time. If her debut solo album, Acadie: Raw from 2018—named Best Soul Album at the Music Victoria Awards, featured in Bandcamp's Top Soul Albums of the Year, nominated for Best Jazz Album at the Worldwide Awards—didn't catch your attention? Torn: Tonic will.
Swirled and immersed in 'Baduizm'—low-slung, sultry beat construction—Joy invites Ego Ella May, BINA, Rara Zulu, Belle Bangard, and Dancing Water to add commonwealth to her bruk-centric rhythm and Fender Rhodes acuity. Torn: Tonic, a raw 40-minute dive into an artist's clear vision, is a testament to soul music when it's fully unleashed. Purchase here.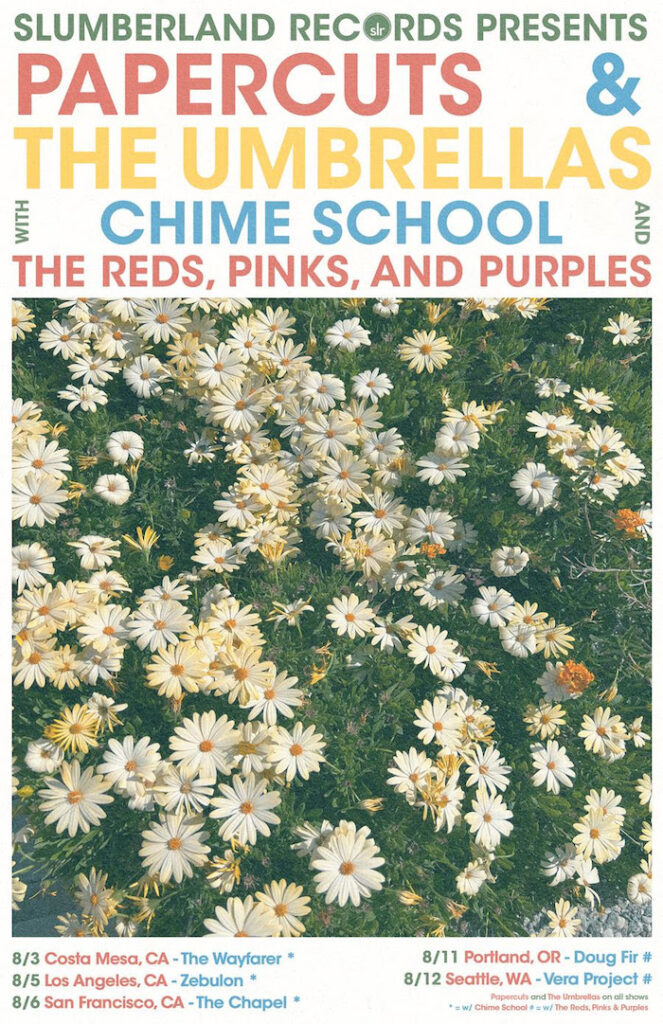 Slumberland Records West Coast Label Tour
Slumberland Records, Oakland's influential 30 year-old label, has organized a tour featuring bands at the forefront of today's international indie pop scene.
This East Bay label announced its first ever label package tour earlier this month, with five West Coast shows featuring Papercuts, The Umbrellas, Chime School, and The Reds, Pinks, and Purples. On August 3, the tour will begin in Costa Mesa. (It hits SF's Chapel on August 6.) Papercuts and The Umbrellas will perform on all dates, with Chime School joining for the California shows and The Reds, Pinks, and Purples performing in Portland and Seattle.
Papercuts recently completed a European tour with Still Corners in support of their brand new LP, Past Life Regression. Last year, The Umbrellas released their self-titled debut LP. The Reds, Pinks, and Purples are out to promote their new album, Summer At Land's End. In 2021, Chime School also released their self-titled LP. That's a lot of new music to catch live.
For ticket info go here and accompanying tour playlist go here.
Tell Them We Were Here with Vetiver at Balboa, Sat/21
A very special screening of Tell Them We Were Here will show at the Balboa Theater with a special live performance by San Francisco folk-rock stalwarts Vetiver.
Tell Them We Were Here is a feature-length documentary about eight artists from the Bay Area who create politically charged, socially conscious art. "The most serious challenges of our time are embedded within their art practices, such as prison reform, homelessness, racial equity, feminism, environmental justice, and income inequality. These artists are examples of resilience and generosity as individuals, but collectively, they offer an uplifting alternative worldview that prioritizes creativity and community over money."
Featuring are Sadie Barnette, Amy Franceschini, Alicia McCarthy, Nigel Poor of Ear Hustle, Jim Goldberg, Tucker Nichols, Lynn Hershman Leeson, and more.
Andy Cabic of San Francisco goes by the stage and recording name Vetiver. The band has played with Wilco, Fleet Foxes, Fruit Bats, and The Shins over the years, having formed in 2002 as part of the early waves of the freak folk movement alongside Devendra Banhart and Joanna Newsom. Up On High, their most recent CD, has been dubbed a "Masterful Collection."
Vetiver will play at 7:30pm, the film will screen at 8:30pm with directors Griff and Keelan Williams on-hand for the event. Purchase tickets here.
Kolumbo, "Imperial Bikers MC," Gung Ho (Calico Discos)
Imperial Bikers MC, the consciousness-expanding homage to the motorcycle club located in Crown Heights, Brooklyn for the past 40+ years is a woozy blip of a jam that feels humid.
Wear some shades and extra deodorant. It goes for the cosmic jugular and wins–being hallucinatory scary too. You can feel the hot sand underfoot; several cold showers in one day may follow.
Kolumbo's forthcoming debut album Gung Ho, an exotica album produced during lockdown with at least 11 musicians on each track, will be out at the end of June.
Frank LoCrasto, the svengali beheind the project, relies on library music to a certain degree as his source material. These are arrangements from the symphonic 1950s and 1960s exotica movement along with jazz-pop orchestral albums recorded in Capitol Records' famed studios.
But I implore you to go see Kolumbo at The Chapel on June 5 with Sugar Candy Mountain, it promises to be fantastic. Prepare by gathering up some edibles—more on the Indica side of things (aka in the couch) for chewing on this austere visual. There will be a quiz after. (Kidding.)
Purchase tix here here and pre-order the album at the show.
Arp, "New Pleasures" (Mexican Summer)
The composer of the Arp project, Alexis Georgopoulos, is uninterested in tiny sounds or subtle gestures. On "New Pleasures," the lead track from his upcoming album of the same name, he weaves, builds, and punches through effects that sound mechanical and shine like glass.
"New Pleasures" is both experimental and approachable, soundtracking a world brimming with futurism, high-minded pop, and silky takes on the avant garde. These frequencies, plucked from another dimension, reorganize contemporary notions of what electronic music is. The funk lies in the eerie tones rather than the consistency of a downbeat.
Using a Linn drum machine, live hand percussion, and liquid fretless bass, Georgopoulos has patched together a cleaner sounding '80s aesthetic that slaps oddly very funky. With drums popping off with expert sound compression, in your headphones and earbuds, which they are, imagine how this project would hit on a proper soundsystem. Pre-order here