TV shows like Rutherford Falls and Reservation Dogs are bringing attention to Native American comics, said Oakland writer and comedian Jackie Keliiaa. These shows not only feature Native actors but showrunners as well, and almost everyone working on Reservation Dogs, from the actors to the writers to the crew, are Indigenous. Keliiaa said that means it's not the "same stereotypical bullshit with someone who's a little brown and has long hair and, sure let's call them Native." 
Keliiaa thinks the shows' success means audiences are ready for more "real" material—and they need to get it from the people who live it.
In 2020, with COVID disproportionately affecting the Native population, Keliiaa started virtually producing "Good Medicine," shows featuring Native American comics with the proceeds going to help tribes impacted by COVID. "Good Medicine" has already been hosted by the Oakland Museum and is in talks with the Oregon Shakespeare Company.
Now, July 16, they will perform for the second time at the California Shakespeare Company Theater. (More info here.) They performed there last year as well when Artistic Director Eric Ting invited them to be part of Shared Light, a program started to share the theater's outdoor space with community groups and arts organizations in Oakland.
The show this year includes Keliiaa along with Marc Yaffee, Monique Moreau, Teresa Choyguha, and Brian Bahe, who also performed last year. Bahe, who lives in New York, said he loved being on a stage with all Native performers.
"What's different about 'Good Medicine' is that it's so rare for that to happen," he said. "We're kind of spread all over—like I think in New York City, there's one other Native comedian. It feels like a really cool space and the audience was predominantly Native, too. It's fun to be around relatives in a way."
Despite Native American stand-up comedy having a long but obscured history, Bahe said it never occurred to him growing up that he could be a comedian, since he never saw anyone who looked like him with that job. When he was at Arizona State, a friend asked him to take an improv class with her, and he "reluctantly" went along. He didn't like it. But, still, when she asked him to do it again, he did. This time was different.
"Something clicked," he said. "I thought, 'I'm having fun doing this,' and I loved making people laugh."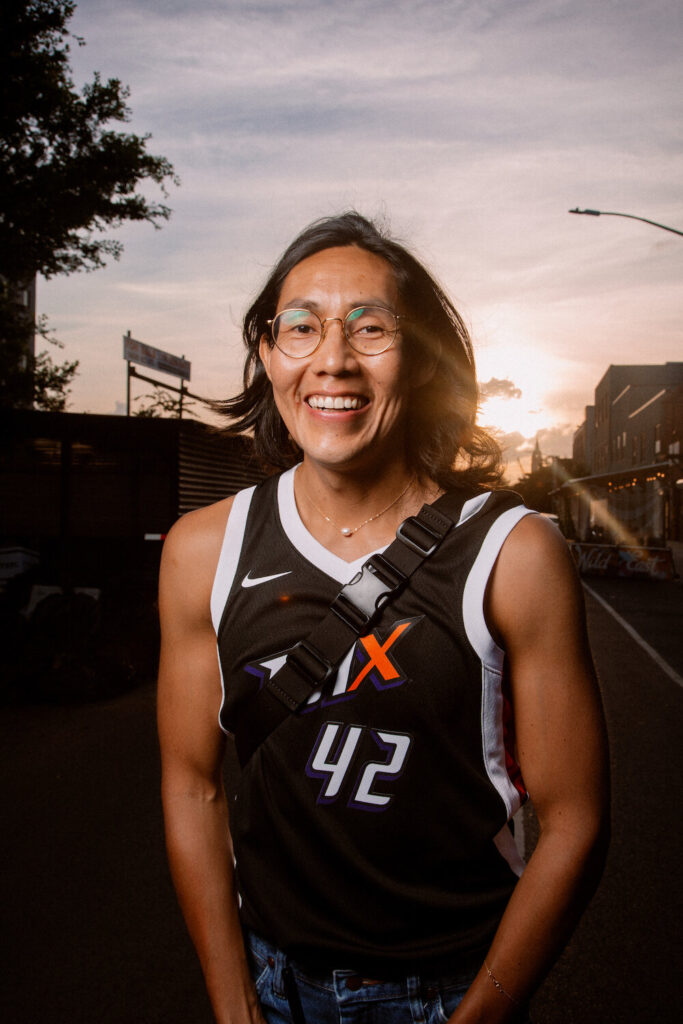 When he started as a standup comedian, he didn't know of any other Native people who had taken that career path, except for Charlie Hill. (A Google Doodle on July 6 of this year celebrated what would have been the groundbreaking comedian's 71st birthday). Like Keliiaa, he's happy to see Native people on shows like Reservation Dogs.
"Now there are people like me and so many who have a platform," he said. "Young people see people who look like them or their cousins or parents or something. It makes me think what I'm doing isn't psychotic."
Native TV showrunners and people behind the scenes also help to dispel stereotypes, Keliiaa said. "Before any content created was always written by non-Native people and ended up creating an idea of what a Native person should be," she said. "An all-Native production never happened before. It's like Taiki Waititi [co-creator and executive producer on Reservation Dogs as well being involved with other projects including Thor, Our Flag Means Death, and The Mandolorian] said—we waited 500 years for this."
'Good Medicine' itself offers more than cliches, according to Keliiaa As far as she knows, it's the only all-Native lineup at a comedy show in the Bay Area—but the points of views are diverse.
"Every single comedian brings a different perspective to the table and every single perspective can combat BS stereotypes," she said. "It's just us telling our own stories, and it's crazy that that is so revolutionary."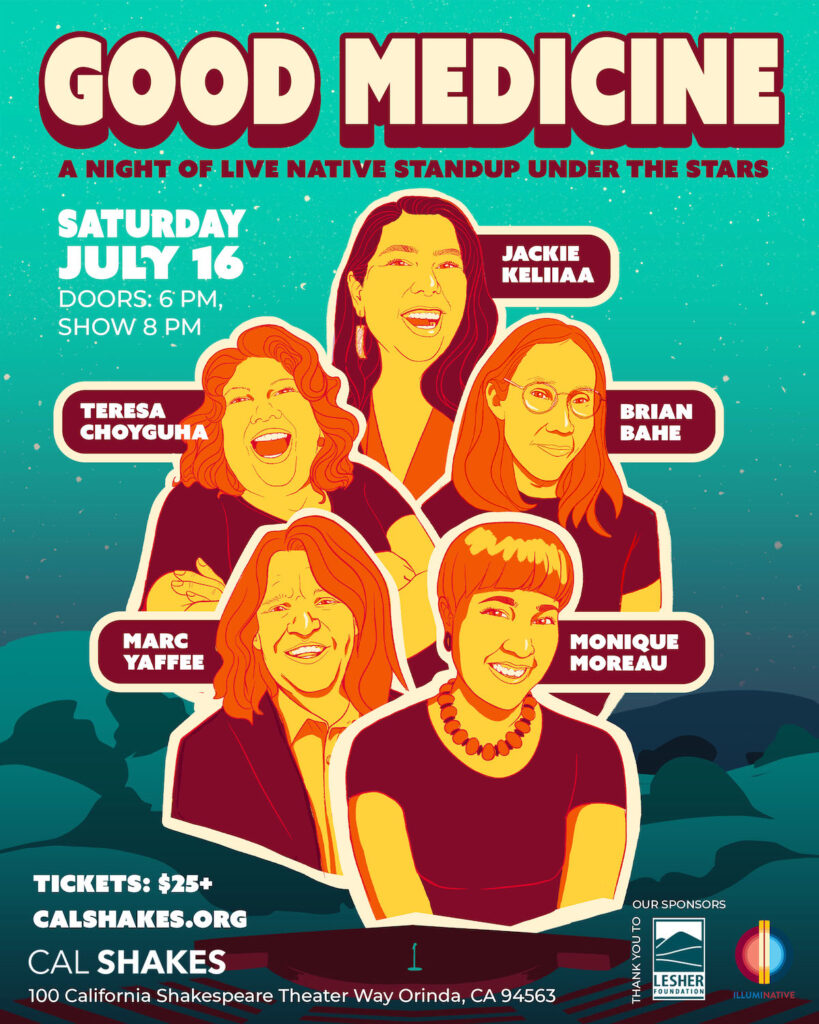 The idea for 'Good Medicine' came when Keliiaa was talking to her friend and fellow Columbia University student Mari Hulbutta, and they decided they wanted to do some kind of fundraiser for Native Americans hit hard by COVID. Keliiaa produced the shows online, which had the advantage of letting both performers and audience members from anywhere join in.
Last year Ting asked Keliiaa if she wanted to bring 'Good Medicine' to Cal Shakes' outdoor stage. He met her through Dallas Goldtooth, a member of the Indigenous sketch comedy group, the 1491s. Ting directed a play of theirs, Between Two Knees (as in Wounded) at the Oregon Shakespeare Festival in 2019.
When people at Cal Shakes decided they wanted to offer their outdoor stage to others, Keliiaa was one of the first people he thought of, Ting said. The show last year was a huge success. 
"Brian opened the show and had us in nonstop stitches," Ting said. "I think it reveals truths that are there in plain sight that for whatever reasons, we haven't seen."
Doors open at 6pm, and there will be food, drinks, and music by John Paul Hodge, as well as a Native artisan market, Keliiaa said. Getting to support these people and to perform at the Bruns Amphitheater seems special to her.
"It's so cool. As comedians we're so used to all kinds of very dark, small places, and this is this beautiful gigantic stage with the added benefit of being an outdoor amphitheater, so it's lower risk," she said. "I haven't seen a lot of the Native community—a lot of powwows got cancelled and this allows us to gather in a safer way."
Bahe also said he loved the space, which he describes as feeling a little like summer camp. "I want to say what Jackie has put together is really cool, and I don't think there's anything like it," he said. "I hope this continues to grow and people come."
"GOOD MEDICINE," Sat/16, 8pm, Bruns Amphitheater, Orinda. Tickets and more information here.