Under the Stars is a quasi-weekly column…..don't have time for the rest. It's festival season. Let's goooooo …
KOKOROKO, COULD WE BE MORE (BROWNSWOOD RECORDINGS)
Do you know how you instantly recognize how significant, in demand, highly-talented, and trained an artist is in what they do? Their product sells out before it even hits the shelves. That is the case with the London-based eight-piece band Kokoroko, who have finally released their long-awaited first album Could We Be More. Such a goodie, it's gone. [Edit—we've just heard from David James of Amoeba that they have some fresh copies of the CD and LP at the store on Haight Street—go get 'em!]
Finally, hype you can trust. This band makes Afrobeat, highlife, soul, and funk feel like the cool sea breeze blowing gently across your skin when you're dippin' those toes deep in the sand. Throughout the course of 15 heavyweight smackers of culture—beautifully plotted-out compositions—Africa is talking with its Afrobeat intact. The album sounds like King Sunny Ade and Donald Byrd holding court. It's that assertion of pride and grace, rolling through the polyrhythms.
Vibes. Of the most significant type.
I was fortunate enough to obtain the advance copy of Could We Be More, and have been playing the soulful "Ewa Inu" on a continuous bump. It sums up West Africa, West London, the Caribbean, portions of Brooklyn, Oakland, and San Francisco's Mission District on a very good day.
Better than Ice Cube's, ya dig. Making Tony Allen and Fela Kuti up in the heavens mighty proud.
You can purchase the album—well actually, you can't. But go here for updates.
MILDLIFE AT THE INDEPENDENT, SEPTEMBER 29
Mildlife's debut album Phase blended jazz and post-disco with space groove atmospherics to offer a new take on krautrock, highlighting the genre's ability to remain perpetually adaptable. Complete transparency? I've been waiting for this Melbourne-based band, whom I once referred to as "daring musical gamblers," to make it Stateside and to the Bay, specifically.
Until that glorious day, you can take a vacation with their 2018 root declaration, "The Magnificent Moon," which has a music video shot in one lengthy, documentary-style shot that runs over nine minutes. The song's groove never stops opening up.
By the end of that breakthrough year for Midlife, they'd been nominated for Best Album at the Worldwide FM Awards (Worldwide's Gilles Peterson wound up becoming the category's notable champion), won Best Electronic Act at The Music Victoria Awards in Melbourne, and had been officially anointed by DJ Harvey, who included "The Magnificent Moon" on his Pikes compilation Mercury Rising Vol II.
But the music suggested that there was much more to come.
Midlife has produced a few EPs and albums since then, and I think there has been a band lineup change. At its core, this appears to be one of those ensembles for which you really dig your heels in when they take the stage, and for whom you're on your feet, eager to see where the energy leads.
Congratulations, Independent, on their September 29 booking. Many folks in the States have wished to see these musicians do their thing live. When they played London a few years ago, every publicist, artist, band, musician, and DJ I spoke with said the shows were electrifying.
This performance, only on Divisadero, promises to be a cosmic revelation.
Buy your tickets immediately. This show will sell out.
21ST ANNUAL LAUREL STREETFAIR WORLD MUSIC FESTIVAL IN OAKLAND, SAT/13
For the first time since 2019, the Laurel StreetFair World Music Fest returns to Oakland's Laurel District. This global collection of music, gastronomy, folkloric arts, artisans, cuisine, and more features rhythms from around the world, and from different neighborhoods, too. Forever committed to promoting community traditions that connect and bond, the event represents all that is delightfully and brilliantly Oakland.
Piwai, Soji Sai & AfroBeat Highlife, Fogo Na Roupa, Bayonics, La Gente, and a traditional blessing and land recognition by In Lak'ech Danza Azteca will appear on the fair's Community Bank of the Bay main stage.
Come taste the sizzling world cuisine, sip a drink at the CA Draft Tech Beer Garden (which will feature over 20 different craft brewers), and wander the outdoor retail bazaar spanning six city blocks that will host a kid's carnival for the young at heart at any stage of life.
The event opens with a free outdoor yoga session conducted by Rachel Rajput of Left Coast Power Yoga, as is customary. Prepare your mind, body, and spirit for a continuous day in the Commonwealth's sunlight.
The event takes place Sat/13, 11 a.m.-7 p.m. Admission is free. Find wheelchair access on MacArthur Boulevard between 35th and Maybelle Avenues. Bring your leashed dogs. More info here.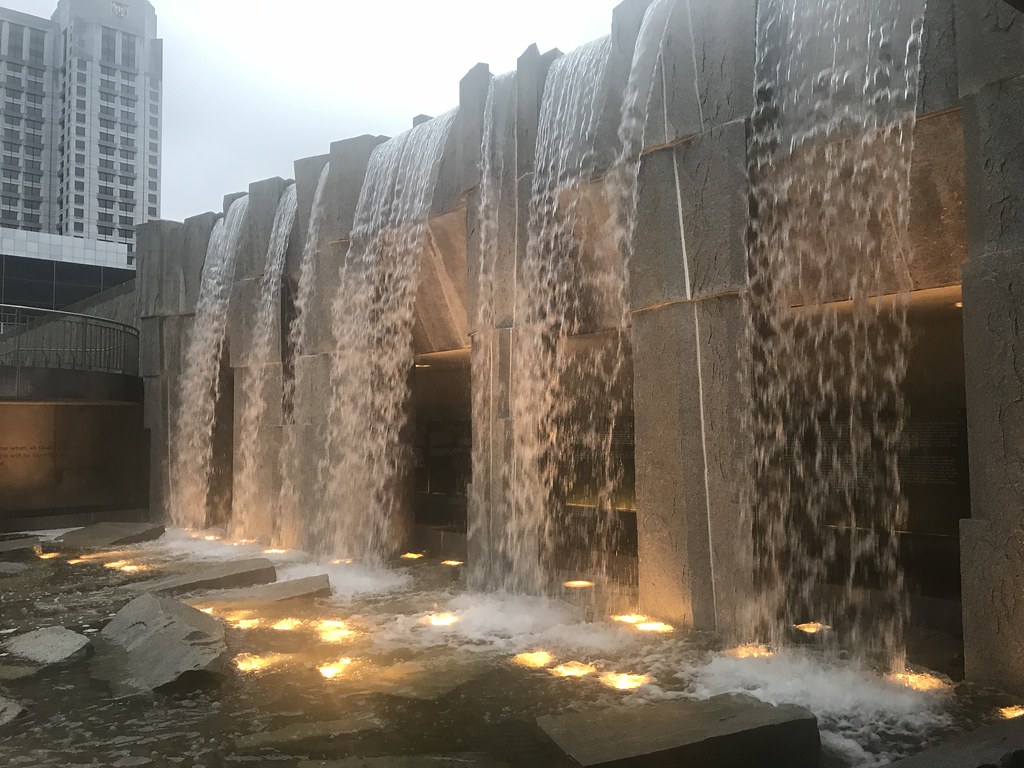 YERBA BUENA GARDENS PUBLIC ART TOUR, EVERY TUESDAY IN AUGUST
Public art holds a distinct position in the art world. Like landscape architecture, it's sometimes underestimated in comparison to big-name gallery presentations. However, there are several reasons to applaud its merits—for starters with it being free and accessible to everyone. You don't have to dress up to check it out. This ability to engage with it at your own comfort level enhances the experience.
For the month of August, the Yerba Buena Gardens Festival offers a monthly walking tour that examines the amazing works in our own downtown green space. These free, in-person tours provide an in-depth look at the Gardens' distinctive artworks, such as the Martin Luther King Jr. memorial waterfall, the Shaking Man, and the Oche Wat Te Ou | Reflections dedication to the Ohlone people—as well as the artists who created them. The tour also delves into the rich history of the Yerba Buena area, the communities who have made it their home, and how it grew into the public space that it is today.
The trip begins in front of the Martin Luther King Jr. memorial waterfall, which is located in the heart of Yerba Buena Gardens (between Mission and Howard, Third and Fourth Streets). The path avoids stairs and should be suitable for individuals using a walker or wheelchair. There is no need to register. The tours last for one hour and include time for questions and answers. Prepare for San Francisco weather.
Tours take place on every Tuesday in August. More info here.
JACK CURTIS DUBOWSKY AT LUGGAGE STORE GALLERY, AUGUST 17
Jack Curtis Dubowsky, Charles Sharp, and Jeff Schwartz will provide an evening of ambient, environmental, new age, and experimental music at the Luggage Store Gallery on Market Street in honor of Bolsa Chica Calm, Dubowsky's 2022 album that is an ambient ode to Bolsa Chica State Beach. Everything from vaporwave to Wendy Carlos' sonic spices will reach your ears—this promises to be avant-garde.
The project is comprised of two long, midcentury-inspired meditations with genuine strings, winds, piano, analog synths, and field recordings.
"As a surfer, composer, and historian of easy listening, I combined some of my interests and put them into musical practice in making this album" stated Dubowsky, who works in concert music, choral music, improvisation, and live scores for silent films.
Tickets are $10-20, sliding scale. No one will be turned away for lack of funds. Masks are welcome indoors, and vaccination and booster shots are highly recommended. If you feel ill, please do not attend. More info here.
JOHN CALE, "NIGHT CRAWLING" (DOMINO RECORD CO.)
This track is John Cale's first new release since 2020, when he released the song "Lazy Day" and teamed with Kelly Lee Owens on "Corner of My Sky." "Night Crawling" is a sample of what's to come from Cale, and is mixed by Bay Area producer-extraordinaire Seven Davis Jr.
Cale penned the song as homage to 1970s New York City pre-disco, and it recalls days when he and David Bowie would walk about the city at night. Cale blends his unique voice with a skipping rhythm and lingering bass throughout the composition. With jockeying percussion and whirls of synth, it becomes practically danceable as it unfolds.
"There was this period around the mid-late '70s when David and I would run into each other in NY," shares Cale in a statement. "There was plenty of talk about getting some work done but of course, we'd end up running the streets, sometimes until we couldn't keep a thought in our heads, let alone actually get a song together."
"When I wrote 'Night Crawling,' it was a reflective moment of particular times," he continues. "That kind of NYC that held art in its grip, strong enough to keep it safe and dangerous enough to keep it interesting. I always figured we'd have another go at the two of us recording together, this time without the interference of being perpetually off our heads. The thing about creating music is the ability to divine thought or feeling even when reality says it's a logical impossibility."
Stream the track here.