Artist Miguel Arzabe weaves his cultural roots into paintings, quite literally. A singular process that is not just about applying paint to canvas, but rather research, deconstruction, and adaptation, takes place in his Oakland studio.
Arzabe was born in St. Louis, Missouri and grew up in Centerville, Ohio. After grad school, he arrived in Oakland in December of 2000 and crashed on the couch of some college friends. The idea was to continue north to Portland and Seattle and pick a city. He never left the Bay Area, however, and these days he lives in the Mosswood neighborhood of Oakland, just around the corner from that couch.
But it wasn't always a given that he'd some day be following his artistic whims.
"As a kid, I loved drawing cartoons but was also good at math and science, and was steered in that direction," Arzabe told 48hills.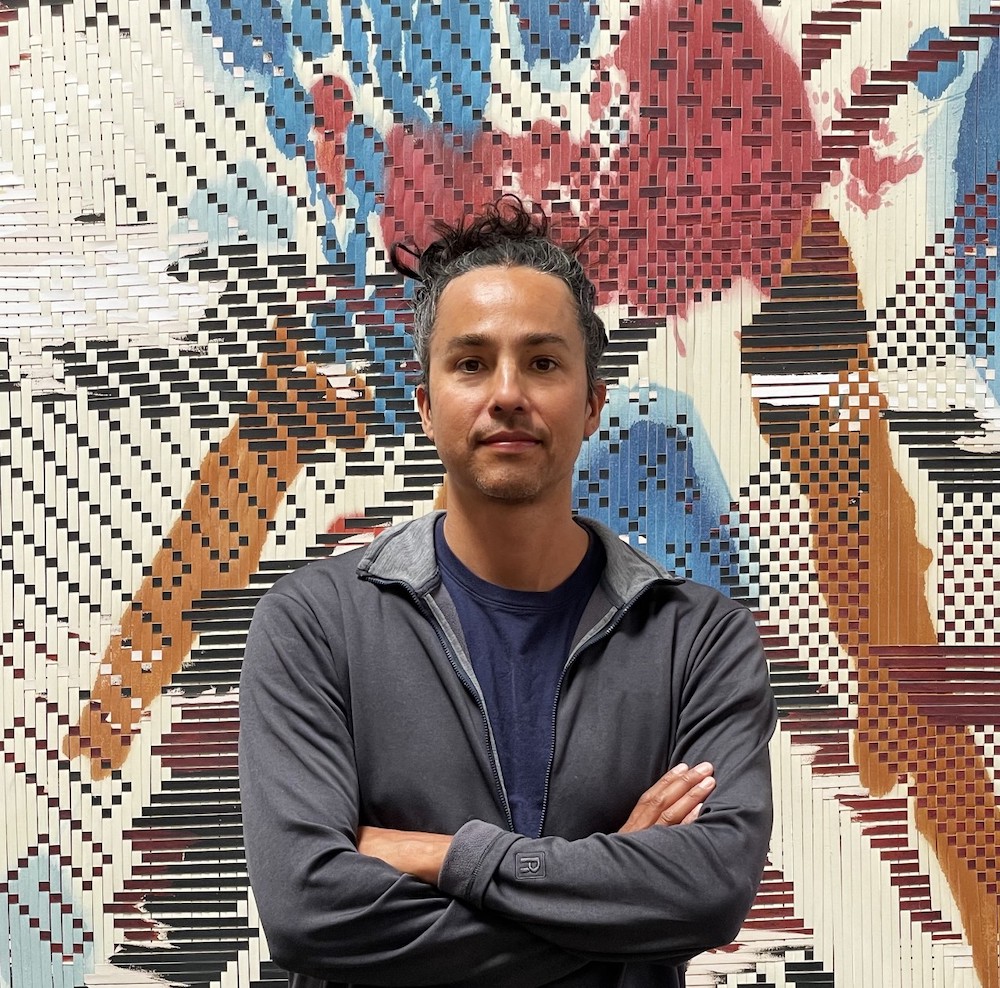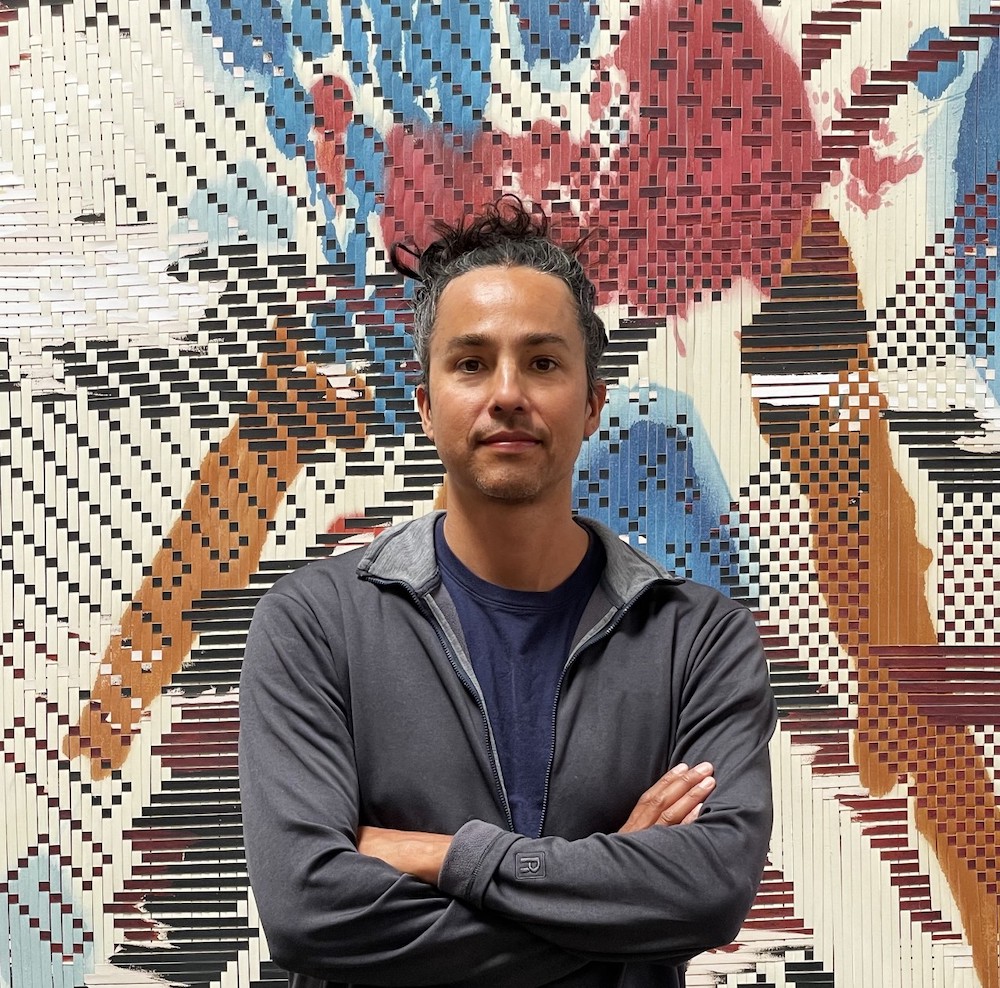 His impressive academics include a BS in Mechanical Engineering from Carnegie Mellon University in Pittsburgh, PA and an MS in Environmental Fluid Dynamics from Arizona State University, Tempe. He minored in Fine Arts and continued drawing and painting while working as an engineer. The Bay Area was the first place he saw a possibility to make a life out of art, a vision that led him to pursue an MFA (2010) from UC Berkeley.
"Ultimately, I decided to be an artist because it feeds my soul," Arzabe said.
His roots provide a key to understanding that soul. He is very close with his parents, and they have had a profound impact on his life and work. Originally from Oruro, Bolivia, they immigrated to the US in the 1960s.
In Bolivia, where the majority of the population identifies as Indigenous, Arzabe's family is mestizo. The country's racial hierarchy has persisted since the Spanish Conquest of the 15th century, favoring those with fairer complexions. Against this complex backdrop, Arzabe speaks to his own experience as a Brown kid in conservative White Middle America.
"My work comes from an urge to break down all these hierarchies and for a deeper knowledge of self," he said. "Who am I? Where did I come from? What is my own hybrid culture?"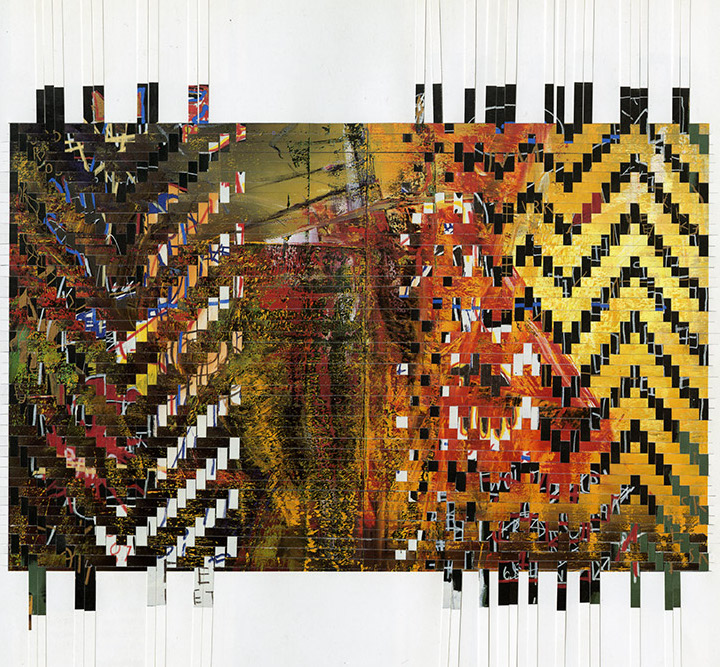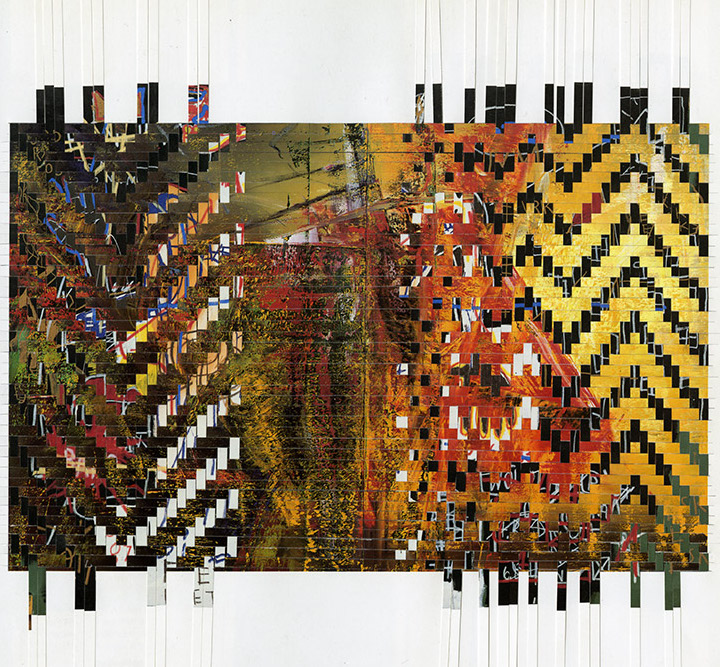 For inspiration, the artist peruses books for historical artworks that can serve as a starting point for his acrylic paintings on canvas. The paintings are then sent to a fabricator who cuts them into strips, which Arzabe weaves together in his studio. Some elements of the designs are planned, but for the most part, they are improvised and grow organically.
After dropping his daughter off at preschool on a typical work day, Arzabe rides his bike to the West Oakland studio he shares with his wife Rachelle Reichert. The space has an uneven cement floor, a high ceiling with skylights, and a radio dial that is always set to KALX.
Arzabe lived in an adjacent warehouse 15 years ago while he was applying to MFA programs. The period marked a major transition away from his engineering career, so he sees finding himself here again, years later, as a full circle. (He is also a charter member of the Minnesota Street Project, where he keeps a shared studio.)
His process of transmuting painting into weaving brings the visual language of Andean textiles into a productive confrontation with Western modernist painting. His works emerge from an inquiry into his own Latinx/mestizx identity rooted in the mixing of the European and Indigenous.
"The Bolivian sociologist Silvia Rivera Cusicanqi writes about the concept of ch'ixi, an Aymara word which refers to the juxtaposition of two contrasting colors," he said. "Two parallel identities that don't extinguish one another, but rather exist side by side in an antagonistic relationship."
Arzabe further elaborated that all of his art studies served as an indoctrination of the Western canon of art, especially when it came to painting. That didn't feel like his cultural narrative.
"The Andean practice of hand weaving is one of the oldest active textile traditions in the world, but it was barely mentioned, if at all," he said.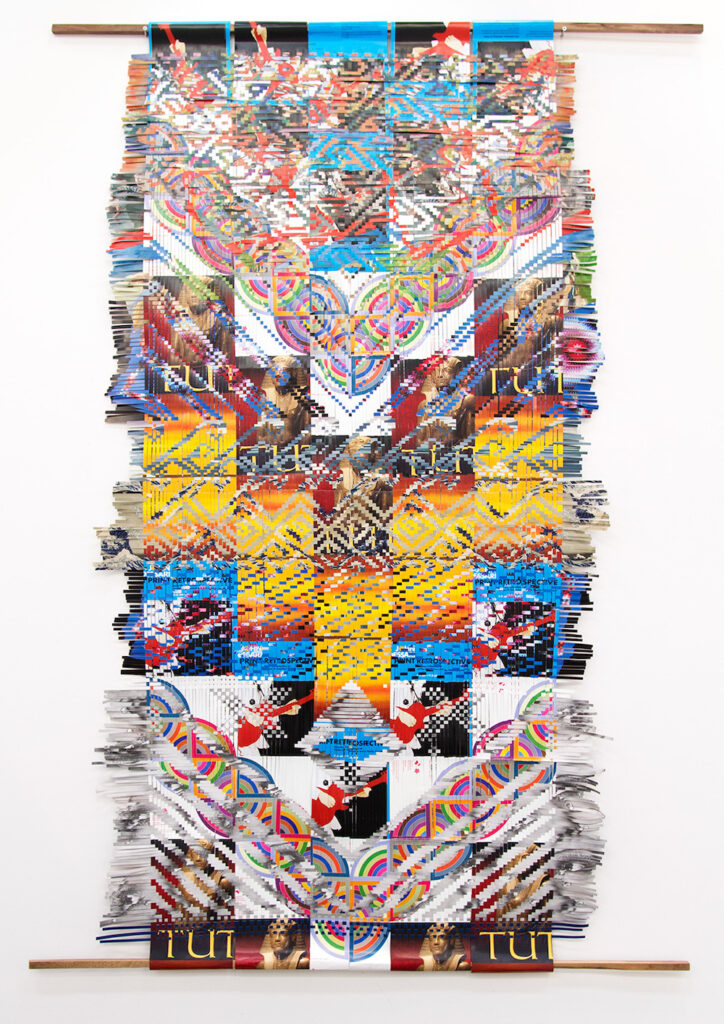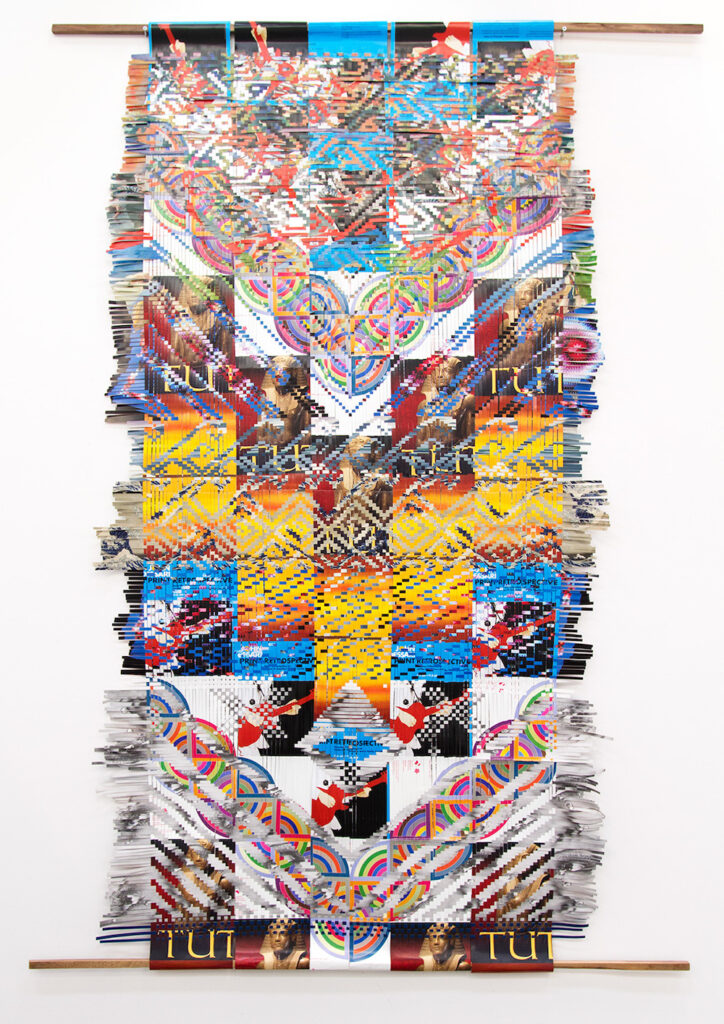 Arzabe began to get glimpses of a different artistic lineage during visits to Bolivia, noting how textiles are present there in everyday life. When he did a residency at the de Young Museum in 2016, he headed straight to its textile library.
His research excited him to learn more about the techniques, symbolism, and sociocultural importance that weaving plays in Bolivia, inspiring him to link that unique cultural expression with his practice.
When the pandemic began Arzabe enlisted his parents, who live in New Mexico, to work on a project with him. He mailed them small paintings, video-chatting throughout the process. His parents cut the paintings, rearranged the parts, and his mother sewed them back together into a kind of quilt.
On trips to see them, partially motivated by his father's convalescence that left the rest of his family under duress, Arzabe will bring a circular orange kite with him, and sets up a video camera in the same spot in the desert to film the kite flying in the mountains behind his family's home. It's a ritual that helps him cope with the trauma of loss, and to feel connected to the cycles of nature and the passing of time. As a way to celebrate abundance, presence, and reflection, every year he flies that circular orange kite to capture the harvest moon as it rises in the east.
The artist is keeping busy and gearing up for the coming year. In 2022, he was awarded the San Francisco Bay Area Artadia Award. He's working on public art proposals for transit facilities in two major US cities, as well as taking on a large mural project in San Francisco.
Arzabe recently showed video work at the Wattis Institute for Contemporary Art, and another one of his videos was acquired by the State of California for a digital media collection displayed in the lobby of the California Natural Resources Agency headquarters in Sacramento.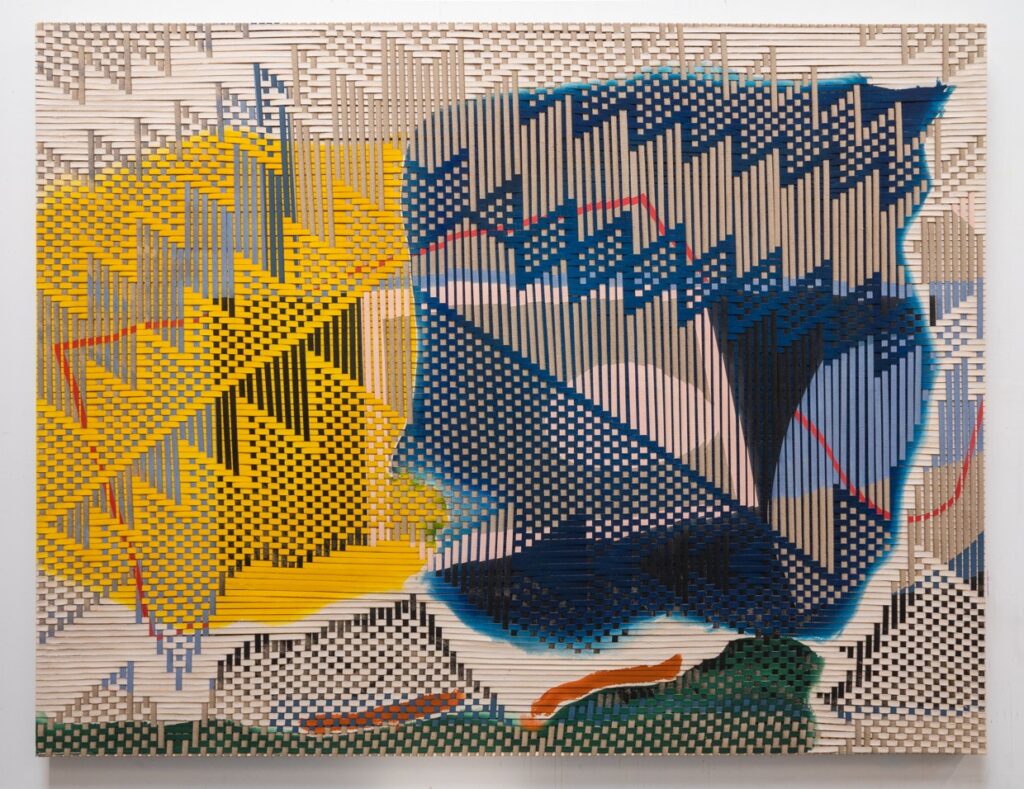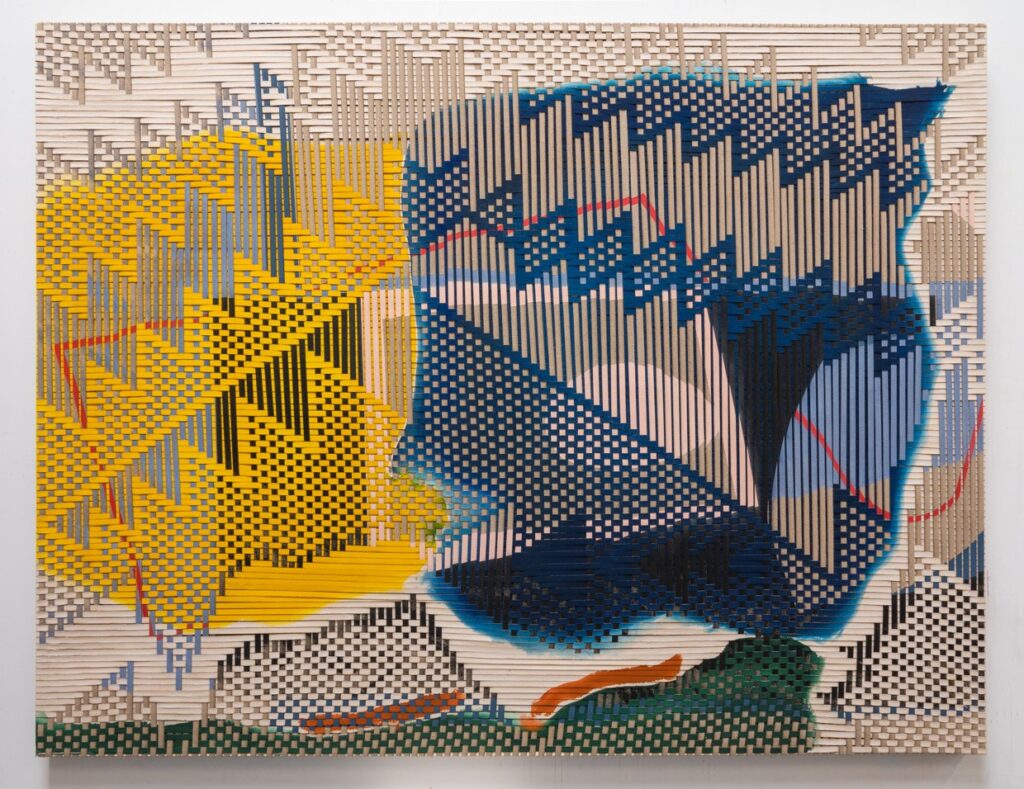 His work "Para Humber" is on view in the group exhibition "Tikkun" at the Contemporary Jewish Museum until January 2023. He will also be featured in an exhibition of Andean textiles at the Tucson Museum of Art in 2023.
Arzabe's 2021 piece "Te Quiero Inti" was just acquired by the de Young Museum, and will be featured in an upcoming exhibition in 2023. His new work will also be shown at the Untitled Art Fair in Miami with Oakland-based Johansson Projects in the winter of 2023. He was also commissioned by San Francisco-based author Ingrid Rojas Contreras to make a screenprint for the launch at City Lights Books of her memoir The Man Who Could Move Clouds.
"I want my work to remind people of their presence in this world," said Arzabe. "I hope it has enough openness to bring some beauty, joy, humor, and unprescribed contemplation."
When he's not in the studio, you might find Arzabe playing fútbol, a lifelong passion, attending a match, watching the sport on TV, or aspiring to coach his daughter in the future. This was the 10th year of his orange kite ritual, which took place on Bernal Hill on September 9 when the harvest moon rose at 7:32 pm—in case you happened to see it.
For this day and all days, Arzabe says,"Gracias, Pachamama. Thank you, Mother Earth!"
For more information, visit his website miguelarzabe.net or his profile on Instagram.