In 2022, live music is as corporate as it's ever been. Two of the biggest national concert promotion firms, Goldenvoice and Live Nation, have a strong foothold in the Bay Area, running operations at a number of the city's most storied venues—including The Fillmore, The Warfield and The Regency. The Berkeley-based Another Planet Entertainment continues to consolidate its power as a regional heavyweight. Meanwhile, running a truly independent venue is a tall order in this town.
And yet, many such venues continue to persist in San Francisco. Places like Rickshaw Stop in Hayes Valley, Bottom of the Hill in Potrero and The Chapel—the crown jewel of independent live music in the Mission—which is celebrating its 10th anniversary with a special three-month series of concerts.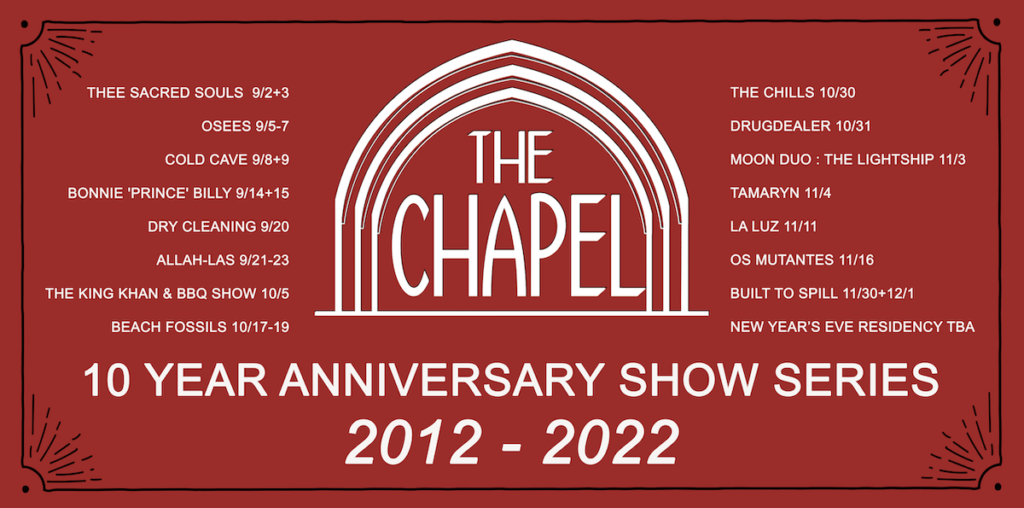 "Everyday I have to get in the ring and fight for a piece of the pie," said Britt Govea, who has been the talent buyer at The Chapel since it first opened a decade ago. Govea added that his goal with live music in the city is to, "Keep it alive and keep it from being in a corporate headlock."
The Chapel is an ideal home base for Govea to carry out his mission. A former funeral home, with a high, arched ceiling and a 500-person capacity, the venue fits neatly within Govea's overall aesthetic. Prior to The Chapel's opening, Govea had already built a reputation as a local tastemaker with his boutique promotion outfit (((folk YEAH!))), which is known for throwing destination-driven shows anchored by psych, indie, and folk rock talent. Think Toro y Moi at the Henry Miller Library in Big Sur or Patti Smith at Pappy and Harriet's in Pioneertown.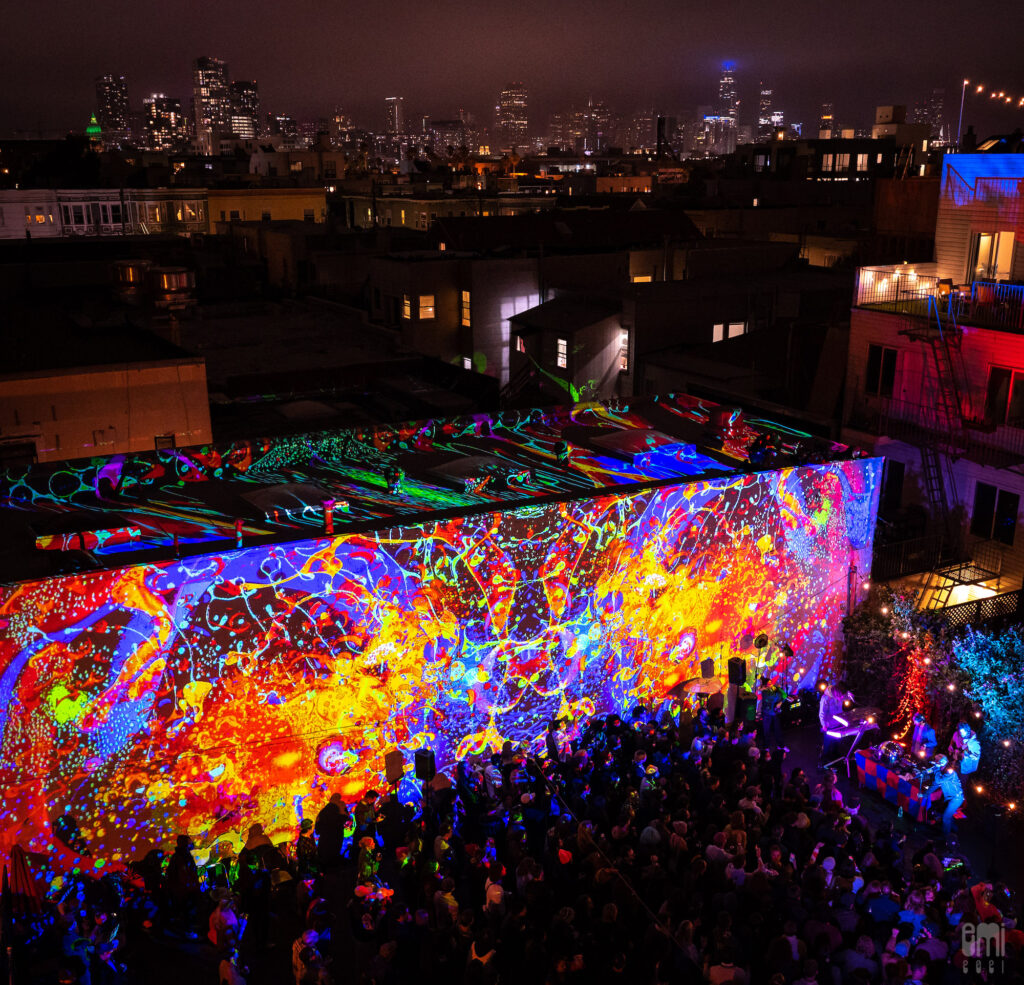 In addition to bringing acclaimed national acts into the intimate Valencia Street venue, Govea is also dedicated to making sure local acts get opportunities—booking them as opening acts and hosting local showcases.
Given how hard it is to run a successful small business in San Francisco, keeping The Chapel alive for 10 years would have been an admirable accomplishment in its own right—even if the pandemic hadn't turned the live music industry on its head. While restaurants and bars were able to reopen as soon as lockdown ended, music venues had to rebook canceled shows and re-work their calendars around multiple tour schedules many months in advance. And that doesn't even touch upon the difficulty of convincing a very COVID-wary population to start enjoying live music indoors again. (The Chapel hosted a popular outdoor stage on Valencia during the pandemic.)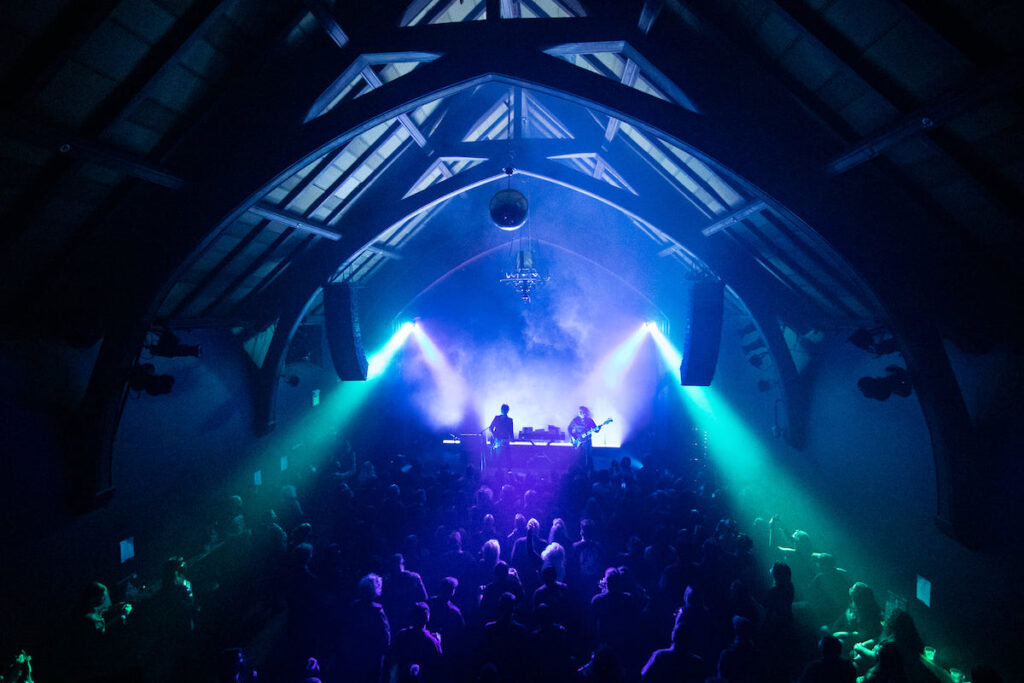 "The climate is just so different," Govea said of the post-pandemic live music scene. "People are getting more and more comfortable and resilient to the virus, thankfully. And realizing that without culture, all we're left with is this harsh reality."
The 10th Anniversary celebration rolls on for the next couple of months and kicked off this past weekend with a two night run by LA lowrider soul trio Thee Sacred Souls. Read on for our picks of other shows from The Chapel's slate of 10th anniversary celebration shows, and visit The Chapel's calendar for the full list and ticket info. 
Osees
Sept. 5 – Sept. 7
While the former San Francisco-based garage rock band have relocated to Los Angeles, they still make it a point to come back to the city where they launched on the regular. Osees will be supporting A Foul Form, their latest (and perhaps loudest) album. Bronze and Automatic share the bill as support acts.
"Nothing screams indie and DIY more than John Dywer in SF," Govea said, referring to the Osees charismatic front man. "The fact that he comes back to our room shows that he understands the independent culture. He's a force of nature and the city is so lucky to have had him emerge from the scene here."
Bonnie "Prince" Billy
Sept. 14 – Sept. 15
One of the many shows presented under Govea's (((Folk YEAH!))) banner, this is a rare performance from the indie-cult favorite. Govea said that (((Folk YEAH!))) got its start by booking Bonnie "Prince" Billy's Will Oldham in 2005. Kidi Band and Ari Micich share the bill.
"That's a wing and prayer story," Govea recalled. "Baptized by fire by Bonnie "Prince" Billy. Surprisingly, he's never played the Chapel as Bonnie "Prince" Billy before, either." 
Allah-Las
Sept. 21 – Sept. 23
The jangly, breezy garage rock of the Allah-Las has become a staple at The Chapel. They played a three-night run at the venue five years ago as part of a New Year's Eve residency. Big Search, Glenn Annie, Sam Blasucci Band and Reverberation Radio DJs are also a part of the lineup.
"They're not really on an album cycle right now," Govea said of the Allah-Las. "So every show is going to be different."
La Luz
Nov. 11
w/ Naked Giants
The surf-y, retro, Seattle-born, LA-based band fronted by Shana Cleveland released their self-titled fifth album last year. They sold out the Chapel when they were here last and Govea said that those kinds of relationships were part of the focus of booking the Anniversary shows. "We definitely selected artists that we have a history with and love," he said. Naked Giants share the bill.
Os Mutantes
Nov. 16
Formed in the late 1960s, Os Mutantes pioneered the Brazilian psych-rock movement by infusing it with a heavy dose of tropicália's mysticism. They'll be in San Francisco for one night, still helmed by original band member Sérgio Dias. Claude Fontaine opens the show.
"They're such a great fit playing in The Mission," Govea says. "They exemplify the creative, out-of-the-box spirit with that little bit of weirdness."
Built To Spill
Nov. 30 – Dec. 1
In a 48 Hills exclusive here, we can confirm that Built To Spill will be playing a soon to be officially-announced two-night run at The Chapel as part of the 10th Anniversary shows. The pride and joy of Boise, Idaho, led by the incomparable Doug Martsch are dropping the band's ninth album, When The Wind Forgets Your Name this week. I had the pleasure of witnessing Built To Spill earlier this year at Boise's Treefort Festival and they're sublime. Worth the seven year wait in between albums even.
The band's new three-piece lineup with bassist Melanie Radford and drummer Teresa Esguerra totally rips. Govea calls them "legendary," and I can't disagree. "Fool's Gold" instantly entered the conversation of the band's best songs upon its release and this is indie rock royalty.
Other bands on The Chapel's anniversary calendar include Beach Fossils, Dry Cleaning, Cold Cave, Tamaryn, Drugdealer, Moon Duo, The King Khan & BBQ Show, Fake Fruit, and more. Full details here.