Jack Johnson, Diplo, Snow Patrol, and DJ Steve Aoki aren't the first musical performers that jump to mind when you think of the Castro Theatre, that San Francisco cultural gem nestled in the historic LGBTQ neighborhood. The home of the Mighty Wurlitzer organ is more prone to hosting silent film festivals and homegrown drag comedy shows than mainstream music stars with millions of fans.
The possibility of those performers touching down in the heart of the gay district is now a dizzying prospect, as behemoth promotion company Another Planet Entertainment is set to take over operations of the beloved Spanish-Baroque temple of cinema, in a partnership that was announced yesterday. For some, it may be an exciting possibility—the Castro has been losing venues for years, and certainly lacks for dedicated live music and performance showcases.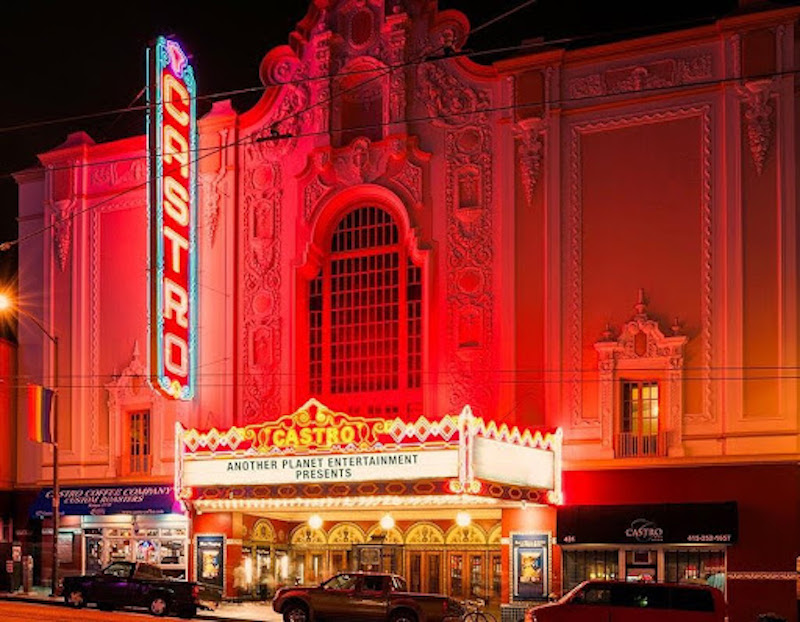 For many others, the APE partnership with the founders of the theater, the Nasser family, signals the demise of yet another rare-bird independent arts venue, and brings up the grim specter of gentrification—and even worse, considering the already lively culture of the neighborhood that's struggling to hold on, blandification.
APE has won plaudits for its meticulous revitalizations of the Greek Theatre in Berkeley, the Fox Theater in Oakland, Bill Graham Civic Auditorium, and The Independent in San Francisco. (It has also produced the Outside Lands Music Festival since 2008.) And according to the press release about the new partnership, it aims to continue in this vein with the Castro: "We want to activate and re-energize the building, making improvements to the customer and artist experience," CEO Gregg Perloff said, unfortunately in the kind of overeager market-speak that usually foreshadows a big uh-oh.
"We want people to say Another Planet has changed the cultural identity of the Bay Area," he continued to the Chronicle. "We want this neighborhood to really explode with this pairing."
New San Francisco strikes again.
Look, time moves on, COVID is still with us, venues are struggling to adapt (with little help from the city), people are doing what needs to be done. Roger that, we get it. But the way this one was just dropped on us feels sketchy, done in the dead of the holiday season, with no community outreach, and definitely no LGBTQ spin on things. (APE said events that are currently on the 2022 schedule, like the San Francisco International Film Festival and Frameline46 LGBTQ+ Film Festival will go on as planned, but hasn't committed to what the future would hold for these gatherings, or any of its legendary repertory programs.)
No one wants to see the Castro Theatre sit empty, and recent concerts there programmed by the FolkYEAH company have reaffirmed its viability as a live music venue, though one badly in need of some upgrades. Other theaters, however, are trying their best to stay independent before giving in to the chains—like Balboa Theatre, which has transformed into an incubator of local bands through ingenious hybrid programming. There's currently a public campaign to landmark and revive the Clay Theatre. Other futures for the Castro may have been possible.
The truth is: We need more independent music and film venues, not less, if we want a thriving arts ecosystem. Bigtime promotion companies like APE are snapping up many of the remaining concert halls, and public film programs are being abandoned by major institutions. Finding a place to grab some popcorn and see old movies with a comfortingly rowdy crowd of cinephiles is becoming impossible, in a city whose global image was sturdily built on its cinematic representation.
And, as the outpourings of memories in the wake of the news attests, the Castro Theatre is a very special case.
I've personally viewed fantastic 70mm prints of The Godfather 1 and 2, The Master, Zodiac, and numerous John Hughes films, and attended annual presentations of Rainer Werner Fassbinder's Ali: Fear Eats The Soul at the Castro. These carefully selected artistic endeavors, along with film noir festivals, multicultural celebrations, campy revivals, and regular showings of The Celluloid Closet function as a healthy smorgasbord of cinematic history, Culture 101 if you will.
It was a joy to grab a sando, snacks, and a few beers from Mollie Stone's up the street, contraband those joints in (c'mon everybody did that shit), and plop my big Black ass down for two, four, six, maybe eight hours, letting the vintage experience of capital-C Cinema leap from the screen on one of those rainy San Francisco afternoons. When you just turned off the cell and refused to be found. Sure, my backside would go numb on those hard seats. A worthy sacrifice I'd do all over again in a nanosecond.
Well, it seems an entertainment multiplex mindset may be roosting in those vaulted rafters. For now, we're glad the Castro will stick around, and things are still in flux. But like good movie fans, we'll be watching what happens closely. And we'll see.