New year, new #bombcyclone! I am huddled in my bunker with my pineapple express gummies and my favorite teddy bear (gay porn star Teddy Bryce) thinking ahead to when we can leave without danger of a house falling on us. Hope you made it through OK!
But there are some bright things coming this month! One of them is the return of Sketchfest for its 20th year, which will be taking over the city with dozens of fun—and often wonderfully strange—comedy performances, January 20-February 5. Some highlights? "Jolli-baes" Filipino comics showcase; "SuperMarried," during which a comedy couple works out its real live marriage problems onstage (eep!), and "Talking Simpsons," where experts reveal just how much of our lives were predicted by the animated show. There's a bunch of famous funny people, too, like Elliot Gould, Cheech & Chong, the wonderful Laraine Newman, and David Alan Grier. You can learn more here.
ALAS POP-UP MAGAZINE has called it quits. I've adored the live magazine format, which brought in-depth storytelling and journalism, terrific artists, gorgeous animation, features and more (including live ads and brilliant accompaniment by Magik*Magik Orchestra) into multimedia spectacles to the Bay for several years now. At the last one we unexpectedly wept at the tale of two young gay Native American dancers. Can some billionaire please step in and save them?
EVENTS OF NOTE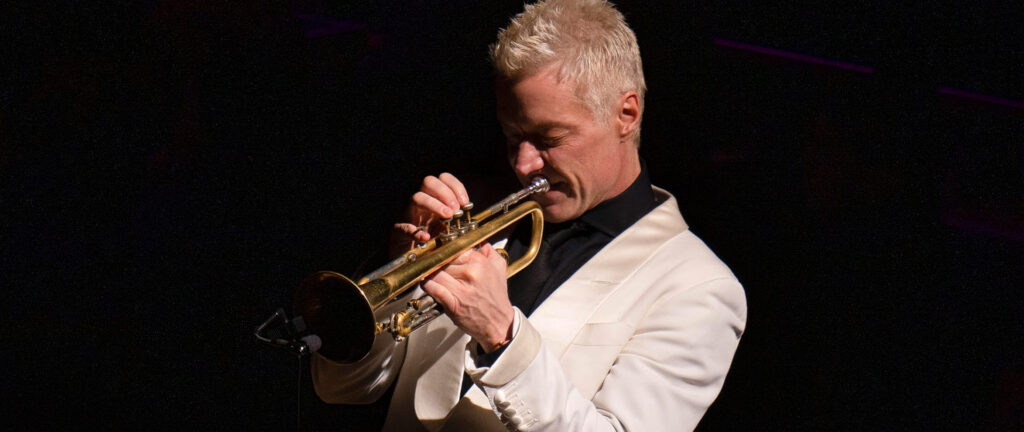 THROUGH JANUARY 8: CHRIS BOTTI "With his finely etched features and piercing green eyes, trumpeter Chris Botti combines matinee idol looks with the simmering lyricism of an expert balladeer" says the Mercury News. OK, calm down girl. But do turn up for a lively night of standards and lively tunes from several decades from one of the most popular horn-blowers in the country. SF JAZZ. More info here.
THROUGH JANUARY: GAMELATRON—RESONANCE IN LIGHT 2 The Gamelatron is a robotic orchestra of chimes based on the traditional Javanese instrument, which has thrilled Burning Man attendees for years. This experience combines the machine with several displays from local light artists, flooding the senses with music and visuals. Reservations required, Heron Arts, SF. More info here.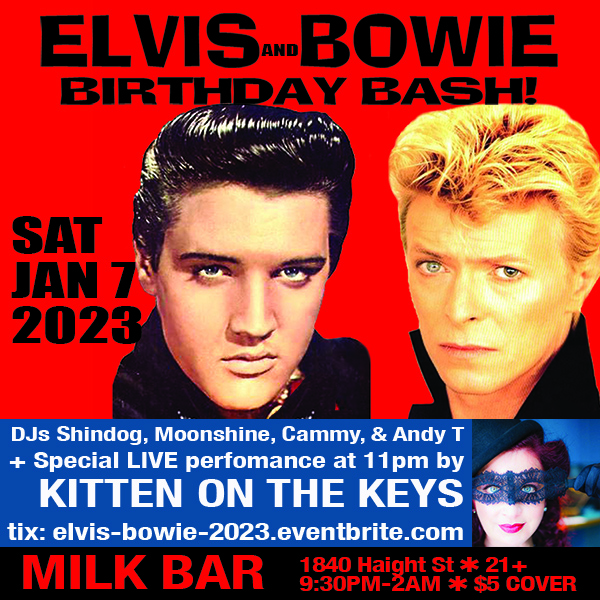 SAT/7: ELVIS-BOWIE BIRTHDAY BASH "The annual Bowie & Elvis Birthday Bash returns in its 12th year, and uniquely among other events, presents the music, image and legend of these two iconic artists who each changed popular culture as none other —we'll never see the likes of them again. DJs Shindog (New Wave City), Cammy, Moonshine, and Andy T. play all David Bowie and Elvis Presley: The event features a special live performance by San Francisco's Kitten on the Keys." 9:30pm-2am, Milk Bar, SF. More info here.
SAT/7: OM NOM NOM NON-BINARY PRESENTS: NEW YEAR, NEW QUEERS! What could feel more refreshingly 2023 than a gaggle of newbie enby performers taking to the stage to express themselves through poetry, song, and performance? Artorious Cade, Calypso Paradise, Feral Fleur, Foxie Moxie, and more entertain you as you support trans and gender-expansive artists. 8:30pm, Amado's, SF. More info here.
SAT/7: GLASSJAW PLAY EYEWTKAS AND WORSHIP AND TRIBUTE The New York post-hardcore band recorded their classic Everything You Ever Wanted To Know About Silence in 1999 and follow-up Worship and Tribute in 2001, successfully synthesizing a sound aimed at "destroying Adidas rock," ie the corporate sponsored nu metal bands like Limp Bizkit and Korn that dominated the scene. Both albums sound terrific two decades on, and they will be playing both all the way through. 6pm and 9:30pm, Great American Music Hall, SF. More info here.
SAT/7: THE SCIENTIST The legend of dub returns! "Hopeton Brown better known as The Scientist and sometimes known as Overton Brown, from Kingston, Jamaica was a protégé of King Tubby (Osbourne Ruddock), one of the originators of dub music. The Scientist burst onto the reggae scene in the early '70s with a reckless mixing style that seemed to outdo even King Tubby's wildest extravaganzas. He began his career as an engineer at Tubby's in the mid 70's. Shortly afterwards, he gained a reputation with a very distinctive mixing style." 7:30pm, The Chapel, SF. More info here.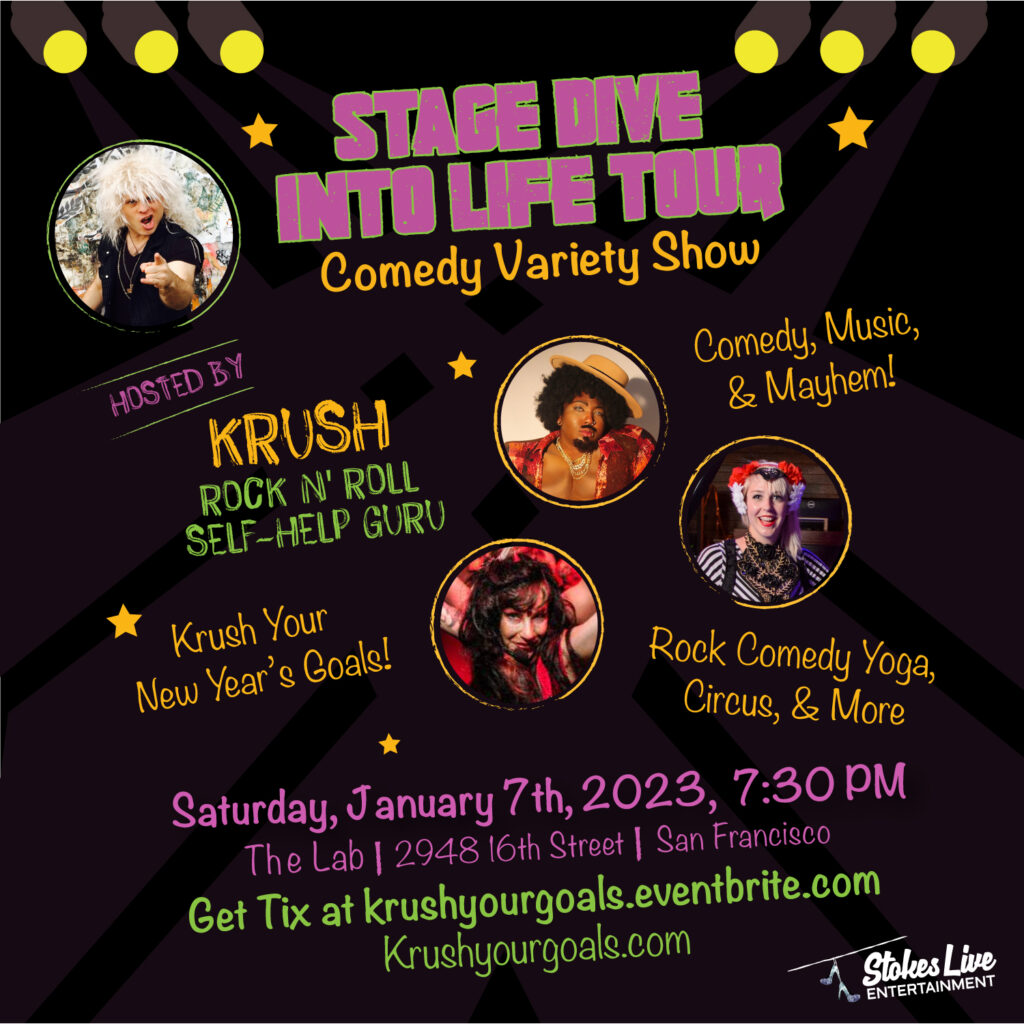 SAT/7: STAGE DIVE INTO LIFE TOUR This far-out variety show features " fearless self-proclaimed life coach Krush, who moves audiences, in his rocking British accent, to 'go beyond cloud nine and touch the stars!'" Along with Nona Fenders and the Benders' "comedy rock yoga," circus with Snatch Adams, and more, Krush will show you how to "Krush your New Year's goals in seven minutes." OK, then! 7:30pm, The Lab, SF. More info here.
SUN/8: THE GRANDMASTER SCREENING Kick off the new year with a free community event hosted by the Chinese Historical Society of America, celebrating the 10th anniversary of epic 2013 martial arts film The Grandmaster, based on the life story of the Wing Chun grandmaster Ip Man, whose most famous student was Bruce Lee. The film was directed by Hong Kong legend Wong Kar-wai and features his trademark romanticism packed with action and drama. 2pm, Chinese Historical Society, SF. More info here.
TUE/10: FREE NOONTIME CONCERT—SARAH YUAN I love these weekly lunchtime dips into beauty at Old St. Mary's Church. This one features award-winning 17-year-old Miramonte High School senior Sarah Yuan, playing Beethoven, Rachmaninoff, and more. Noon, Old St. Mary's, SF. More info here.