The thing people often forget about upward mobility is that rising above poverty shouldn't be the end goal unto itself. The goal is to use the tools and methods, once grasped, so as to help others do the same. But capitalism being capitalism, wealth breeds entitlement: attaining it is akin to slaying a dragon, so anyone who wishes to do the same must be a thief who wants to take the gold you've hoarded. (Nevermind the fact that hoarding gold means you're now the dragon.)
Listen, you can like Jay-Z and Beyoncé, but their neoliberal sensibilities and "up-by-your-bootstraps" hypocrisy means they're still the same virtual-signaling profiteers Harry Belafonte accused them of being. It's no surprise Beyoncé would claim the Renaissance album is a tribute to queer culture before performing for $25m in Dubai where homosexuality is outlawed.
Blue, the titular jazz trumpeter and club-owner of Dominique Morisseau's Paradise Blue (through February 26 at Aurora Theatre, Berkeley), is the sort of Black person who'd applaud the shameless capitalism of Beyoncé and Jay-Z. Much like Zora Neale Hurston in the '50s and Oprah Winfrey today, Blue's success (such as it is for a Detroit club-owner in 1949) manifests as antagony towards other Black folks who haven't magically elevated to a higher economic class. He's practically the Randian ideal of the Magical Negro, charging customers extra for every drop of sauce on their food and more than happy to sell his club to the highest bidder.
With Mayor Eugene Antwerp having been elected on the promise to "clean up" the city—a major gentrification plan that requires the land on which Blue's club, Paradise, stands—it isn't a question of whether or not Blue (Oakland actor Titus VanHook) will sell out as much as how much he can get.
Obviously, this would be a drag for his bandmates, pianist Corn (Michael J. Asberry) and drummer P-Sam (Kenny Scott). They not only see Paradise as their go-to performance venue, but also as a safe space and refuge for Detroit's Black population. Losing it would mean losing a palpable epicenter for the local Black community. Yet for Blue, the place is little more than the venue where he can allow his poorly talented girlfriend Pumpkin (Anna Marie Sharpe) to perform, like Randolph Hearst building a film studio for Marion Davies.
What the poetry-loving Pumpkin lacks in talent she makes up for with a heart of gold, something that would also be lost if she went along with Blue's plan to sell the club and move somewhere like Chicago. But the wallflower of a woman isn't in much of a position to push back against someone so imposing. That may very well change with the arrival of Silver (Rolanda D. Bell), the brassy, curvy, feminine force of nature who blows in to rent the room above the club. Hailing from Louisiana and "lots of places", her past is a mystery, but the way she changes the characters' future is indisputable.
Paradise Blue is certainly an improvement over Morisseau works like Detroit '67 (which the Aurora produced in 2018) and Ain't Too Proud (which world premiered at the Berkeley Rep and toured SF last year). As much as she loves her hometown, she often struggles to make her characters realistic and worth rooting for. Oddly enough, she seems to struggle the most with Black women, whom she portrays as either ideas more than human beings (the former play) or just necessary plot points (the musical).
That's what makes Silver and Pumpkin such a welcome change from Morisseau's early work: They don't seem to exist solely for the sake of the men in the story. Silver, as played to perfection by Bell, is the right balance of vulnerable and no-bullshit, making it easy to believe that she inspires a sort of epiphany in the mousy Pumpkin.
Though, as much as the script is an improvement over the author's previous work, it also comes with its own set of problems. It does well when showing the anguish of widower Corn around sexpot Silver, and using P-Sam as a contrast to Blue is also executed well. The main problem is that Morisseau seems to shoehorn in a possible supernatural element that doesn't organically fit. The impetus of Blue (whom VanHook makes compelling to watch under Dawn Monique Williams' direction) to sell the club doesn't need any elaborate backstory involving his father, let alone the idea that he's haunted by the memory of his father—certainly on a figurative level, possibly on a literal level.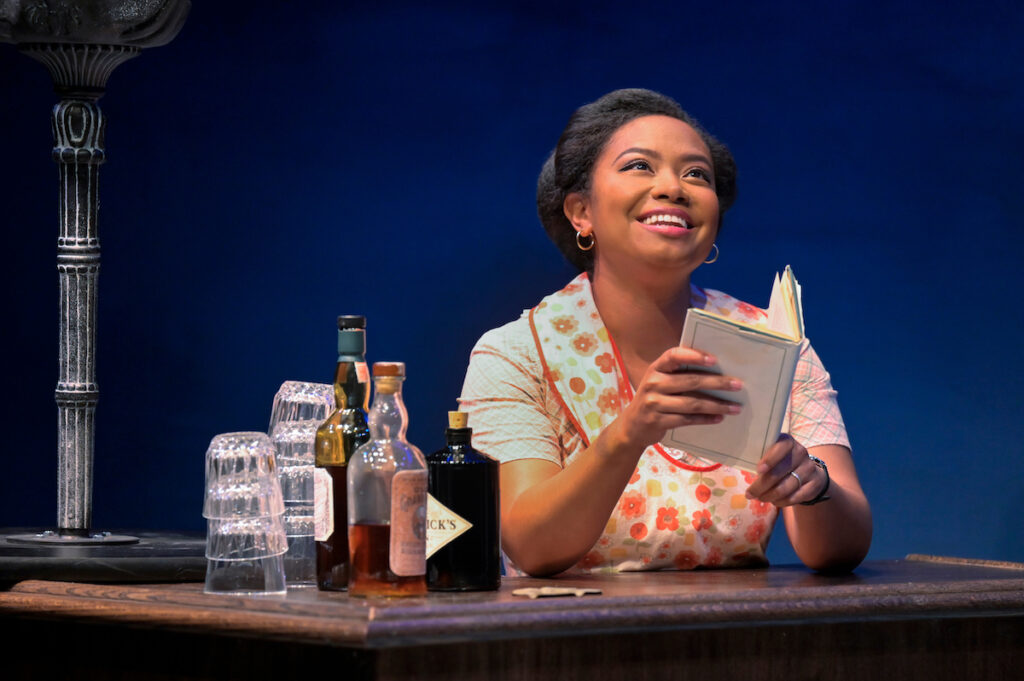 I wonder if that choice has anything to do with the play being part of Morisseau's "Detroit Cycle," her answer to August Wilson's famous Pittsburgh equivalent? The characters and plot points of Paradise Blue have the late Pulitzer-winner's influence all over them, even if they never quite rise to his mastery.
Scenic designer Stephen C. Jones does eye-popping work here, having the upstage club set, with its soothing blue neon sign, and the downstage rental room blend together so smoothly that its amazing how well Stephanie Anne Johnson's lights separate them into two different areas.
It certainly made the set a joy to look at when I wasn't closely watching the actors or peeking at my Aranet, which reached a disturbing CO² reading of 2535ppm at the end of the two-hour show. What's more, although Aurora claims to still check for proof-of-vax—both on their website and on signs posted in the theatre—the opposite was true in my case. When I offered to show mine, the folks at the door declined, saying they're "following Alameda County guidelines." I guess I should be grateful they still have their mask requirement, even though a few front-row seniors wore them on their chins.
Watching the story of the fictional Blue, I couldn't help but see parallels between he and Kanye West: near-preternaturally talented musicians haunted by dead parents and openly vocal about the disdain they feel for their own people. I thought also about similar gentrification of Black neighborhoods, past and present, here in the Bay Area. Paradise Blue stumbles by trying to shove too many ideas into a very simple story. Still, the story itself is timeless to Black America, and it's an intriguing evolution of the playwright's work.
PARADISE BLUE runs through the 26 of February (with streaming performances beginning on the 21st) at Aurora Theatre, Berkeley. Tickets and further info here.