An independent expenditure committee that has raised big money in the past from both Lyft and an heir to the WalMart fortune has launched what appears to be the kickoff of the Scott Wiener for Congress campaign.
It's unusual to get a mailer supporting a candidate 18 months before an election. It's unusual to get a mailer promoting a candidate who has no visible opposition for re-election (and if Wiener were to run for re-election to the state Senate he would have no serious opposition).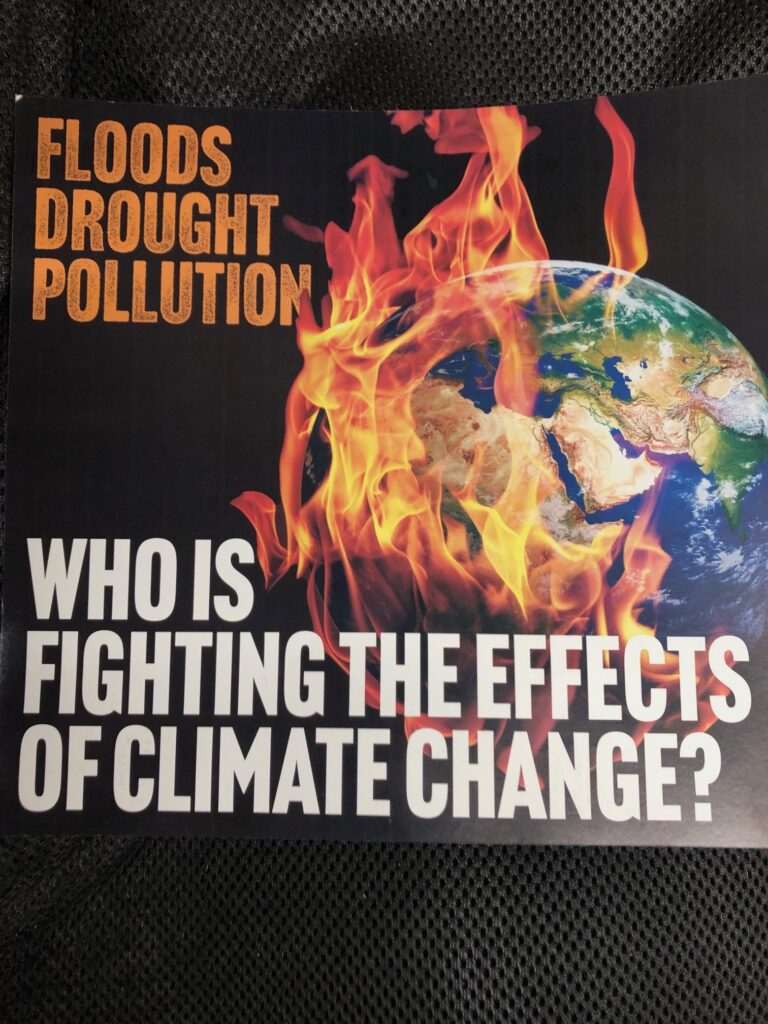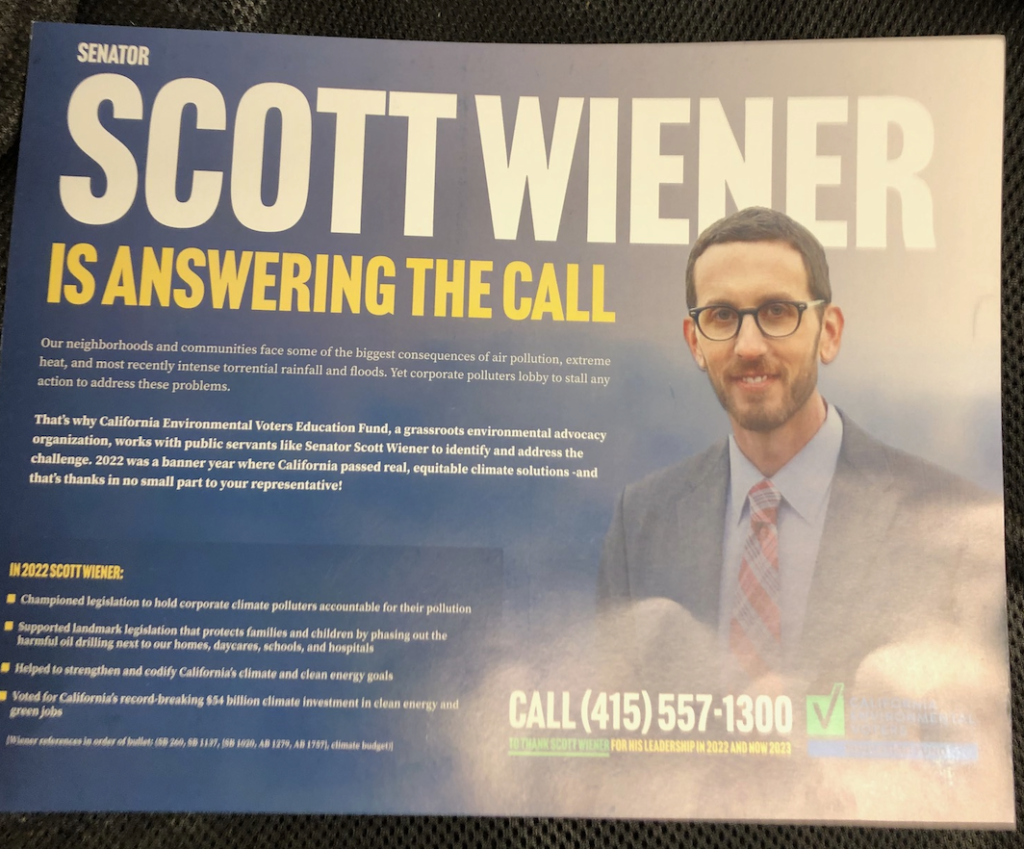 And while Wiener has made housing policy, public health, and LGBTQ issues a centerpiece of his legislative agenda, the mailer talks entirely about climate change.
Not that Wiener is bad on climate issues; it just hasn't been his primary agenda. He sits on no committees addressing environmental or climate issues (and if that's what he had asked for, he likely would have been given such an assignment).
The list of accomplishment on the mailer is pretty limited. Wiener did push legislation to hold corporate polluters accountable, but the rest of the list says things like "voted for California's record-breaking $54 billion climate investment in clean energy and good jobs." That was part of the state budget, supported by pretty much every other Democrat in Sacramento.
I could argue that Wiener's approach to housing has serious environmental impacts, because the tech-industry growth agenda, and allowing more luxury housing in cities, drives working-class people out of town, and they have to commute from a long ways away, often by car. Wiener supported all of the pro-tech legislation as a supervisor, backing the Google buses, Airbnb, and the late Mayor Ed Lee's agenda that caused massive displacement in the city.
But let's set that aside. Why did the California Environmental Voters Education Fund just send a mailer to local voters promoting Wiener as a climate champion? There is no "ask" here, no demand for a vote on a bill. The mailer just asks people to call Wiener's office and thank him for "his leadership."
The fund is a part of California Environmental Voters, which according to public records has at least two PACs, the Elect Climate Champions Fund and the California Environmental Voters Independent Expenditure Committee.
There's also a lot of money going back and forth with the League of Conservation Voters.
None of this is in any way dubious. The California Environmental Voters committee got a huge influx of money from Lyft during the Prop. 30 campaign, but lots of environmental groups supported that measure. (I voted for it, although I am not a fan of Lyft, because I am a follower of the economist Thomas Piketty, who argues that taxing the rich is always a good idea, not matter where the money goes. Someday we will need a name for our group; Pikettists? I am open to suggestions.)
The PAC also got $250,000 from Samuel R. Walton, the grandson of the founder of WalMart, which abuses workers and has destroyed countless small businesses in cities and towns. The latest generation is a bit more liberal, so to speak.
But back to the point: Why did this mailer go out now, to San Francisco voters?
The PAC hasn't filed forms for its spending for 2023, and won't have to until June. But in past years, most of the money has gone in increments of $4,000 or so to state legislators who are good on environmental issues.
A citywide mailer in San Francisco costs at least $40,000. Just to ask people to call and thank Wiener for his random "leadership."
The communications director for California Environmental Voters didn't respond to my email asking what this was about. But I can hazard a pretty good guess.
Wiener is gearing up to run for Rep. Nancy Pelosi's seat if, as expected, she steps down after this term. The more he can do to get visibility and traction on issues that are not at all controversial in the district, the more of a head start he gets on any other potential candidates.
This is an IE; by law, Wiener and his campaign can't coordinate with the group. But we all know how that works.
It's interesting in part because California Environmental Voters is pretty close to the Democratic Party, and some say that Pelosi's daughter is interested in the seat. If she is, California Environmental Voters might not want to offend the leader of the national Party.
Which says maybe she's not going to run, and Wiener is going to be the candidate of the party power structure.
At some point, if there's a serious campaign for this seat (and I suspect there will be, a lifetime safe seat in Congress is too appealing for nobody to take on Wiener) the senator will have to talk about things like crime, housing, taxes, and a lot of other difficult issues.
Meanwhile, he's a climate champion, in a district where that's not the least bit difficult.