Mayor London Breed released a budget proposal today that includes big increases for the Police Department in each of the next two years, reductions in contracts with nonprofit service providers, and a major shift in the way the city spends money on housing and homeless services.
Although lots of news articles have warned about a "doom loop" in city finances, and Breed says progressive tax policies are "crippling business," tax revenues are slightly up this year and are projected to be up next year, too.
Some of the money from the taxes Breed opposed plays a key role in her budget.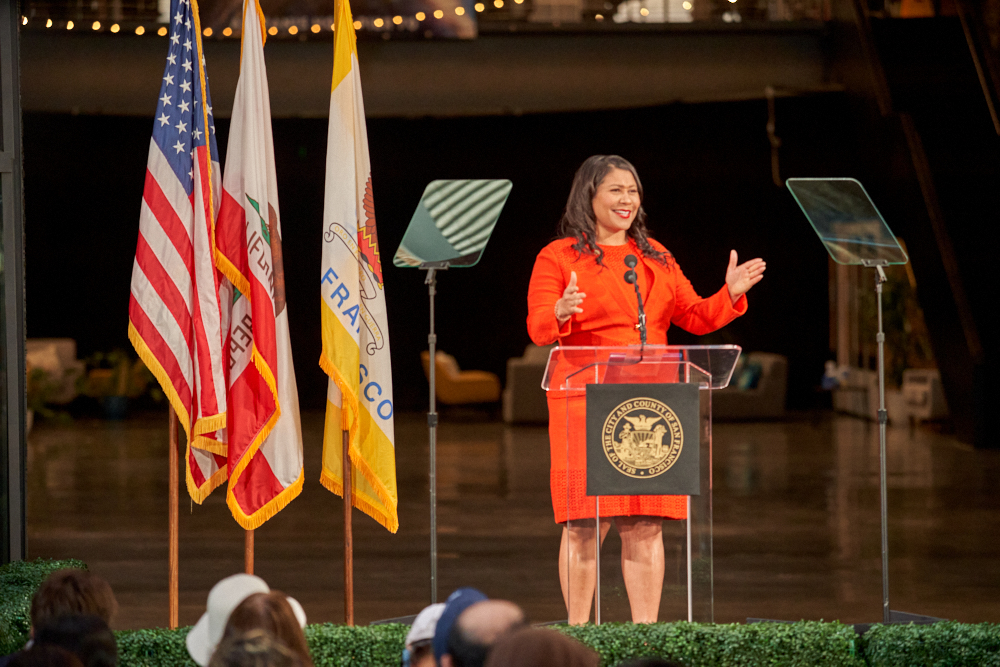 But the budget immediately drew criticism from Sup. Connie Chan, who chairs the Budget and Appropriations Committee, and from Sup. Ahsha Safai, who is running for mayor.
Breed made a point of complaining about the media narrative that is "creating a lot of fear" about San Francisco. That, of course, is the very narrative that she and her allies created to get rid of a district attorney they didn't like, and now it's come back to them.
Trying to sound upbeat about the future, the mayor put out a new false narrative, saying that "where Moscone Center is, there used to be nothing but parking lots."
In fact, the area that became the Yerba Buena Redevelopment site had 3,000 SRO hotel units and hundreds of working-class families. All of that was bulldozed to make way for Moscone and the hotels around it.
The battle against the demolitions was a defining moment in San Francisco history. The gleaming convention center came at a step cost; it wasn't just parking lots.
But back to budget.
Breed is continuing to present a very conservative, pro-police agenda, and her budget reflects that. In fact, she complained about the supes and housing activists who have put measures before the voters to tax the biggest corporations in town and high-end real estate deals: "Everything can't just be a tax on the ballot," she said, complaining that small retail outlets can't survive the "uncertainty and the layers of taxes."
She talked about taxes "destroying manufacturing," when the death of manufacturing was the result of the city ignoring its own rules and allowing tech offices to displace low-cost industrial space.
None of the taxes that the progressives have supported impact small retail or manufacturing in the slightest way. Without the Prop. C money, which taxes only the biggest and wealthiest businesses, many of them owned by out-of-town corporations, the mayor wouldn't have the money to fund her efforts at addressing homelessness.
Not once in the speech did she even mention income inequality.
In what sounds like a phrase that could have been written by the Reagan-era trickle-down economists, she said that the city needs to cut taxes on businesses, because "the ability to pay for all of this needs to come from somewhere."
More:
"If San Francisco is going to be a business-friendly city, we may not be happy with the millionaire and billionaire CEOs, but we have to be happy about the jobs they create for janitors."
That's such an astonishing statement I don't even know where to start.
Maybe with this: The fundamental reason we have such an affordable housing crisis, and a homelessness crisis, is that since the 1980s, tax cuts on the rich have allowed the income and wealth gap to climb to levels unseen since the 1920s (and that ended well). The jobs that the janitors get don't pay enough to allow them to live near where they work (and they can barely live in decent housing at all). That's not because of Nimbys or zoning; it's entirely, completely, directly because allowing the very rich to make and keep vast sums of money at the expense of the working class drives up housing costs to a catastrophic level.
That's basic economics. We have more than 40 years of data on this. It doesn't work.
She also said that "we have to build 82,000 units of housing in the next eight years." As I constantly say: The city, "we," builds no housing at all. Developers do that. Developers are building almost no market-housing now, and the city is so, so far behind on the affordable housing goals. In essence, what Breed promised is never going to happen.
Breed talked a lot about everyone in the city coming together, but she also said that if people oppose some of her approaches, "I don't care." She said that the city's Climate Action Plan is "totally on track," which is demonstrably untrue. And she talked about how important Muni is "to get people back to the office," although remote work, most agree, is here to stay.
She ended by saying that "we can't let other people write the story" about San Francisco. The thing is, she wrote the story, for her own political purposes, and now we all have to live with it.
Chan, who will oversee the budget discussions at the board, was not impressed:
Mayor Breed is on the verge of entering her 3rd term. Under her leadership, both before and during the pandemic, the City's spending has only increased, without results. So the question is, are San Franciscans ok with falling further into deficit with business as usual, or do we need a change? 

We can all say we share the vision for clean and safe streets, and we do. But this vision needs to include ensuring that people are sheltered, housed, and fed. Yet how we actually get there has always seemed to be the challenge for this City. I can tell you this is because our city administration lacks work ethic and public integrity, and it lacks accountability and transparency.
Safai, who has been one of the more conservative voices on the board, also said he's not happy:
"The Mayor's proposed budget is troubling. On the one hand, it's tough on children, youth, and families. It slashes programs to help homeless youth and families get help right away rather than get sicker and die on the street. As conservatives in Washington make it harder to access federal food aid, this budget cuts vital local hunger programs. While we recover economically, this would make it harder for working families to get the childcare they need. Along the way, the Mayor is rejecting the spending priorities voters approved in two separate revenue measures known as Prop. C.

At the same time, this budget is not bold enough to fix the City's biggest challenges and meet this moment. I wanted to see a real commitment to 2,000 permanently funded shelter beds, which Supervisors unanimously backed. Residents deserve clean streets, a working 9-1-1 dispatch center, safer communities, and investments in our neighborhood small businesses. I'll work as hard as I can to improve this budget at the Budget Committee, while recognizing that our slowed economic recovery means less funding for critical investments."
Typically, the Board of Supes changes about one percent of the mayor's proposed budget. This year might be a little different.