Although I'm sure it must have happened, I'm hard-pressed to think of a recent show that actually choked me up. Didn't expect it in a show involving Rupert Murdoch, of all people.
As played by actor Andre Amarotico, the infamous Fox News founder plays only a small role in Breakdown (through September 4 at various Bay Area parks), the latest satirical musical by the SF Mime Troupe. But he's given the expected Snidely Whiplash treatment. Of course, his cartoonishness doesn't seem quite so satirical in light of the real-life villains spawned from his infamous cable TV creation. Here, he's the wizard behind the curtain to whom all would-be Tucker-successors grovel.
One such sycophant is Marcia Stone, played by a fully-committed Jamella Cross as a Candace Owens-type (maybe the only Black Neo-Con who isn't name-dropped in the show) and partial to the same red business suits as the current mayor of San Francisco. Point of fact, San Francisco is the focus of Marcia's latest pitch to the boss: an on-the-ground report of the most Leftist city in the world during its so-called "doom loop" (though that term isn't used in the play, which was written months ago). And, as is the norm of lying conservative cry-babies, she sets her sights on the Tenderloin.
It's there where Stone's destiny intersects that of homeless woman Yume (Kina Kantor, the talented young performer who's been stealing scenes the past couple of years). Yume's mental health concerns are what Stone is more than happy to exploit. As Yume is seemingly haunted by some inexplicable phantom, it's all the proof Stone and her camera crew need to show that SF is a Mad Max-style wasteland of destitute victims of altruistic social services.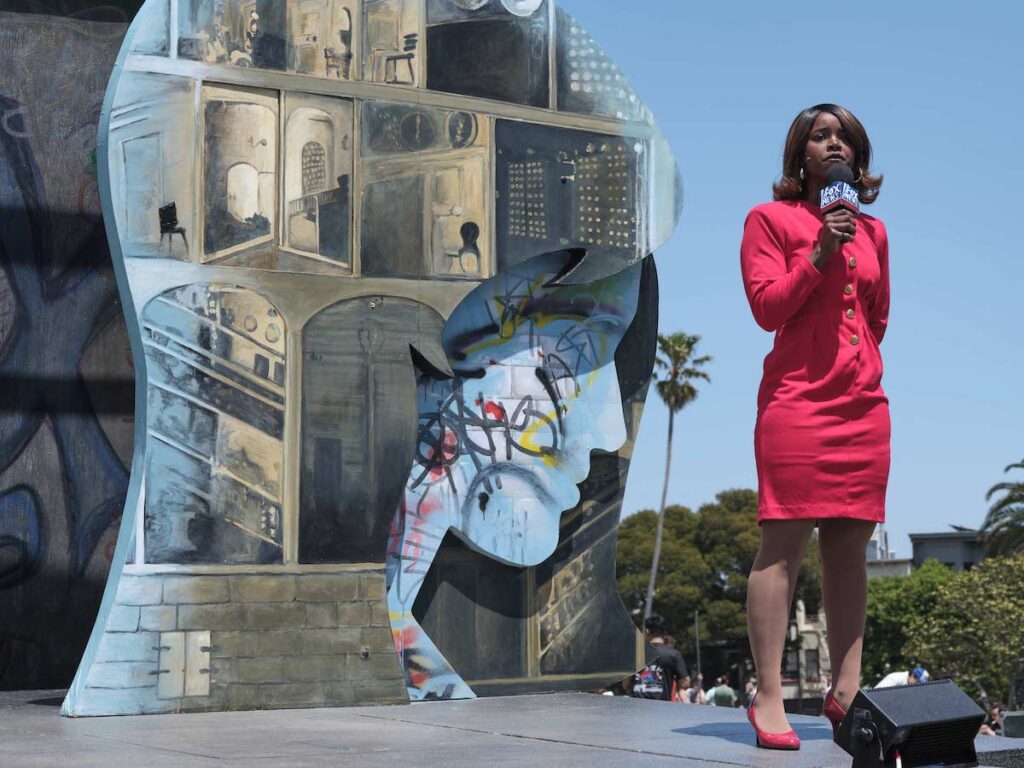 Speaking of which, it's around that same time when Yume's case comes to the attention of spread-too-thin social worker Saidia (Alicia MP Nelson). She wants to help Yume with her organization's limited resources, but after the two initially meet, Saidia is practically sent on an RPG quest to try and find her again.
In addition to that, we have Saida's douche-y roommates (Cross as shoddy TikTok homeopath and Amarotico as a VR enthusiast), an empathetic and eccentric Greek store owner (Amarotico), an evicted Noe Valley woman (Nelson) with nowhere to go, and Yume's get-rich-quick-scheme pal Felix (Jed Parsario). All of them ascending and descending in the carousel of the Mime Troupe's latest farce. Breakdown is one of those works that has lots of great moments that don't fully coalesce together.
Yet, some of those moments do hit hard. As someone born 'n raised in SF, the play seems tailor-made for me, having heard "SF is dead" since the Reagan era. Hell, every time some pretentious blowhard makes that declaration and heads to Texas, they're usually the first one to run back to SF and try do something stupid, like buy (and destroy) Twitter. They slaver over SF Standard's "doom loop" articles just as much as they lament the ones about Airbnb rentals falling—because of all the "doom loop" talk. (It's like living inside that Eric André meme: They take shots at SF in public then wonder why The City is "dying" in their eyes.)
Breakdown's strength is in cutting through the anti-SF propaganda to blame The City's woes on the real culprits: Reaganomics and a string of greedy mayors whose goal has never been to support the fertile city, but to attract outside interests who don't care about it. As Stone herself tells Murdoch: "One thing I've noticed is that SF isn't run by Progressives." Murdoch concurs, before fiendishly stating he hates SF for what it represents, "An alternative to our [Conservative] point-of-view".
That was the part that choked me up. As outlandish as that exchange was, it put into words something I've been trying to say about my hometown for years.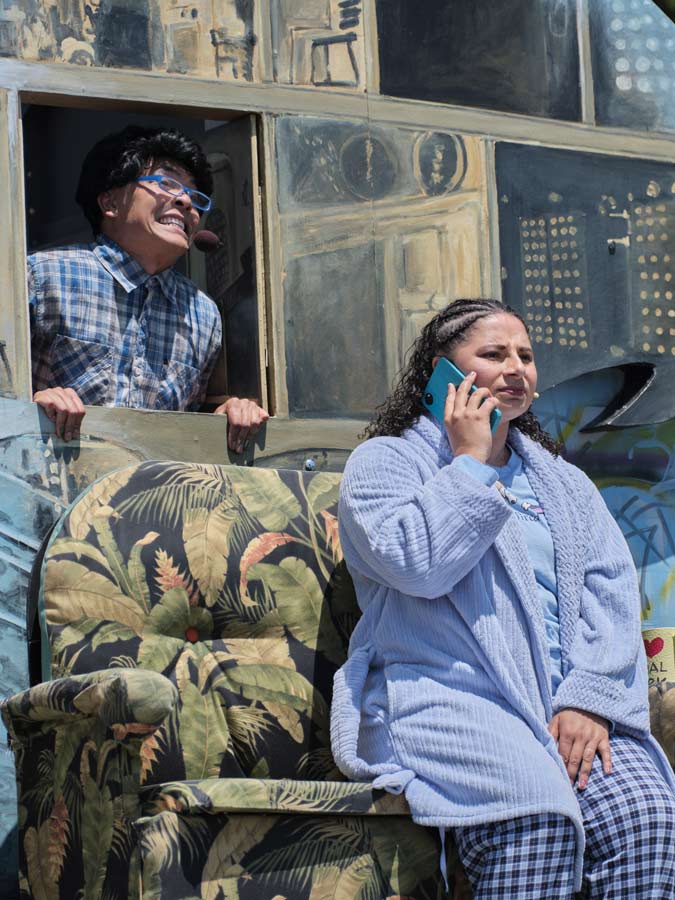 Yet, where Breakdown stumbles is in how it overstuffs itself. Righteous indignation or not, it introduces an army of characters, but only gives a few of them a chance to really distinguish themselves. Felix's quirky start-up ideas are fun to hear (especially his homeless cryptocurrency HoboCoin), but it's only at the very end that he's given a true level of character depth. Saidia's ridiculous roommates could probably be full-fledged foils on their own, but we only see them once. And if the Noe Valley woman's fate is mentioned, I honestly can't recall what it is?
One understands the impetus: SF has no shortage of colorful characters; some wanting to exploit it, others who want to nourish it. But there are only so many of them one can reasonably fit into an hourlong farce.
Also—because I now have a rep as "that guy" and this is my thing—one can't help but notice the complete absence of COVID in the play. Long COVID was briefly mentioned in last year's play, and the virus played a heavy role in this year's other significant homeless-themed play, Theatre of the POOR's Crushing Wheelchairs, but its absence here is pretty noticeable. The not-yet-over pandemic both exposed and exacerbated the class divide that creates homelessness. What's more, SF was the exemplar of how to safely and effectively support both before the mayor's office screwed it up royally. I'm tempted to say it wasn't on the Troupe's minds because all of their shows are outdoors, but seeing as how their post-show call for volunteers required proof-of-vax, it's disappointing not to hear it mentioned in the show proper.
Fellow journalist and SF native Violet Blue's new memoir, A Fish has No Word for Water (available on her site, Amazon, and many other retailers), documents her time as a homeless teen. It juxtaposes her story with the history of SF as a land of gold-seekers who wound up penniless beggars. Nearly two centuries later, very little has changed. But at least we have actual San Franciscans telling the story. 
Breakdown is an imperfect entry in the SF Mime Troupe canon: full of genuine pathos, good laughs, and an unabashed bleeding heart, despite being weighed down by too many characters bumping up against one another—some of them unintentionally.
BREAKDOWN runs through September 4 at various Bay Area parks. Further info here.