When I call the opening of Crushing Wheelchairs, aka Aplastando las sillas de ruedas (next playing Sat/26 at PianoFight Oakland) messy, I mean that as a high compliment.
In one sense, the production by Theatre of the POOR (the performance arm of POOR Press/POOR News Network, the grassroots media collective by and for current and formerly unhoused Bay Area residents) is a mess because its sold-out opening show—on Super Bowl Sunday, no less—was hit by a number of technical SNAFUs that wound up pushing the hourlong show even longer. It was also messy because, as written in the program notes by conceiver Lisa "Tiny" Gray-Garcia, the assembled troupe "are not actors".
Adding to the above is a sense of urgency; the play comes on the heels of (and possibly as a reaction to) a planned sweep of the Wood St. Commons homeless camp in Oakland. As of this writing, a judge has put the breaks on the sweep, but it still hangs above the residents like a guillotine blade. Whether or not rookie mayor Sheng Thao lives up to her "progressive" campaign promises remains to be seen.
In another sense, Crushing Wheelchairs isn't a polished piece of theatre because it isn't meant to be. It's a rallying cry first and foremost; a means by which to put faces to the literal "huddled masses" whose country and neighbors have turned their back on them.
It's less a traditional play than a collection of dramatic sketches told from the points of view of the Bay Area unhoused. It begins on a set that's as visually effective as it was inexpensive to make, looking like thousands of homeless camps: full of tents, trash bags, and yes, wheelchairs. The first scene features the residents of this particular camp being shocked awake by sirens, signaling a sweep for which they had little warning.
This is followed by a piece, one of the best in the show, set in the aptly-named "Café Boojé", wherein a pair of affluent customers complain about the very sight of the homeless outside the windows where they drink lattes. When one is ready to call the police, the other asks, "What about the 'Black Lives Matter' poster in our window?"
To which the first replies, "They're homeless; they're not Black."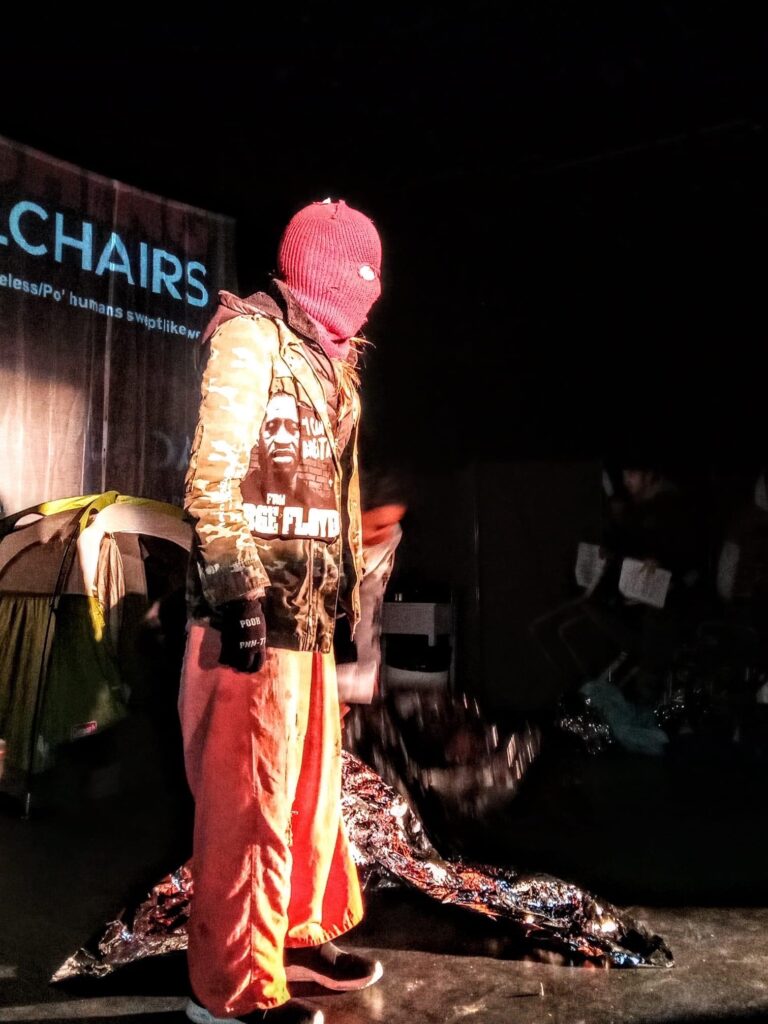 Another incredibly powerful segment features a Black woman construction worker returning home only to find the locks changed. After a long-term understanding with the previous landlord, the new owners have evicted her and tossed her belongings. Attempting to call them, they give her the cold shoulder and callously suggest (we only hear her side of the call) that she head to an overcrowded shelter. To add even greater insult to injury, she's arrested for trespassing outside of the only home she's known for years.
The only thing that stings more than watching these stories is the fact that every single one is true. Each of the scenarios shown over the hour-or-so runtime is immediately followed by an on-screen projection showing the unhoused person who lived through it—some of whom weren't lucky enough to live at all; whether dying from police violence; domestic violence; being set on fire by cruel citizens; or simply succumbing to the elements by living without adequate heat and shelter.
Just as the play has no proper beginning, it also has no proper end. It simply turns over the proceedings to land acknowledgment and prayer to the ancestors with both the cast, crew, and audience. The opening also featured residents of the Wood St. Commons imploring those gathered to amplify their voices while there was still time.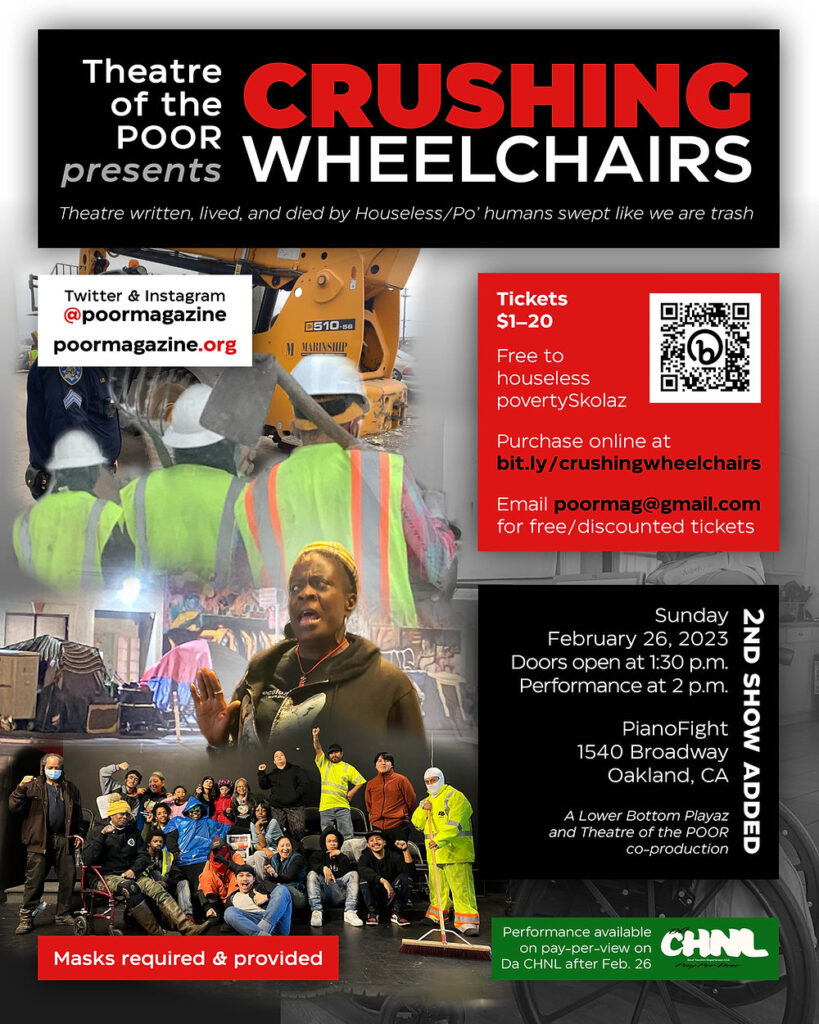 Crushing Wheelchairs was a unique experience to sit through. When I agreed to see its opening, I didn't know that it would be counter-programming to the Super Bowl. (If I had, I'd have agreed to see it sooner.) In truth, the selling point for me was the fact that masks were required and that—as is now common for POOR Press— COVID safety would be a priority.
Indeed, masks were required and seen on all audience members, save for two women in front of me, one of whom recorded the show, despite we all being told not to. (Granted, she appeared to be a member of the company, but holding up her phone still obscured my view several times.) As The Redstone Building is incredibly old, ventilation is minimal, leading CO² readings upwards of 2298ppm on my Aranet4, which is unnerving, but also similar to the levels at the Aurora with its fancy new HVAC.
I bring this up because COVID mandates are yet another way to create a safe space, literally and figuratively. It speaks volumes that a troupe of former and current unhoused people put more effort into it than the ACT or Berkeley Rep with their multi-millionaire subscribers and donors.
And that, really, is the big take-away from the "messy" production that is Crushed Wheelchairs: like an actual homeless camp (including Wood St. Commons), the people are more concerned with building and maintaining a sense of community rather than caring about the minutiae of tidiness. Hell, every time they do try to rise up and improve conditions for themselves and those around them, the greedy are quick to penalize them—for being poor, no less—in order to maintain the status quo. And people wonder why socialism is so popular? It can't be all that bad if MLK advocated it.
Crushing Wheelchairs is primal scream against what Tiny calls "the violent act of looking away." I won't predict how many eyes will actually see it, but as someone who did, the impression of it still lingers.
CRUSHING WHEELCHAIRS' second-of-two performances will be on February 26 at PianoFight-Oakland. Further information here.