Like most artists, Saif Azzuz often gets asked what his work is about. The title of a show Azzuz curated at Anthony Meier's Mill Valley gallery, What's that about, pushes back on that question. Azzuz wanted viewers to engage with the materials in the works and the emotions they elicit rather than trying to explain them.
The show includes two historic works—an untitled quilt by Rosie Lee Tompkins, and Say It Again (1990) by Melvin Edwards. The rest of the artists are contemporary, with local ties. Azzuz wanted to include artists whose work he admires.
"I came at it from taking work that I really liked, rather than trying to create an argument around something," said Azzuz, a Libyan-Yurok artist who lives in Pacifica. "Aside from Rosie and Melvin Edwards, everyone else is someone that I've intersected with or known in the Bay Area. I like that there is a Bay Area aspect to it."
Some of the artists have a connection to the California College of the Arts, where Azzuz earned his BFA in Painting and Drawing in 2013.
Teresa Baker, an enrolled member of the Three Affiliated Tribes in North Dakota, got her MFA there. She has two pastels on paper in the show along with Signal, 2023, made of yarn and willow atop AstroTurf. Azzuz says he appreciates the subtlety of Baker's work, her combination of synthetic and traditional materials, and the way she approaches borders. Their conversations at CCA meant a lot to him, he says.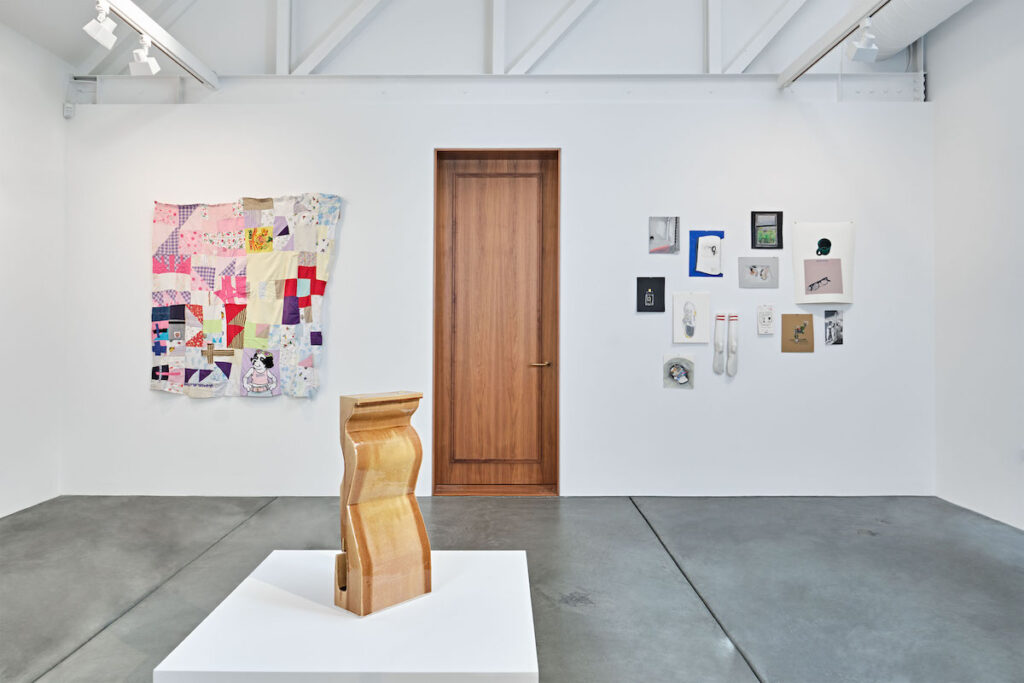 "There was an intersection in our practices and then us both being Indigenous and making work," he said. "Teresa was a helpful voice in talking through different ways to have these conversations."
Libby Black, who now teaches art at San Francisco State University, used to teach at CCA. A cluster of her drawings hang in the show, including of tube socks, her trash can, a single Reebok sneaker, and her shower. Black said when Azzuz came to her Berkeley studio, they had a conversation unlike others she's had in a studio visit.
"We talked about making work and the art market and galleries," Black said. "There's two things that happen—you can make work and show work and be very successful in galleries. And then if you don't have the success of galleries and of showing and selling, how do you still make work? We talked some real-life shit that doesn't get talked about a lot, I think."
Black says because of her job teaching at SF State, she can focus on work that interests her.
"I feel very free in my studio. Like, one of the drawings in the show is of my trash can in my bathroom. Probably no one is going to buy that, but the whole collection of drawings is me slowing down and looking at my life and questioning these kinds of more mundane things," she said. "I'm just saying I don't feel beholden to art sales, and I don't think Saif does either. Saif is very genuine in who he is and the work that he's making, and I think that shows in the curation of the group show. I mean, the range of artists, ages, cultural backgrounds, gender, all of that is just, for lack of a better word, unique."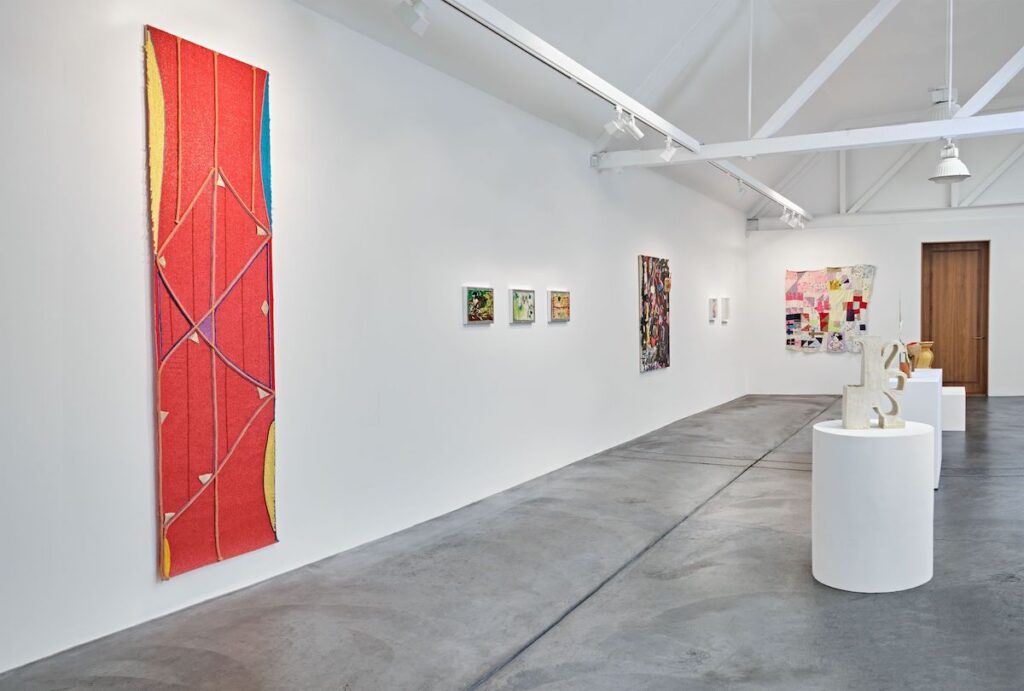 Clifford Hengst has two watercolors in the show: Inversion, (2023,) and Play With The Changes, (2023).
"If you ask anyone who has been in the Bay Area for super long, they just love Cliff and they love his work. Cliff has such a vast practice, going from performance art all the way to drawing and painting," Azzuz said. "Then there's his sign work, which is typography-based on bright poster board with sayings in black. They're similar to protest signs, but they have their own kind of specificity to the Bay Area when you start to look at gentrification and the rich LGBTQI histories in the Bay Area and how those overlap into his own personal experiences here."
An article in Hyperallergic included What's that about among 10 shows to see in the Bay Area this summer, saying it felt like "an ongoing conversation among friends." Hengst agrees. He also enjoyed the small scale of the pieces, and like Black, he mentioned he liked seeing the range of artists included.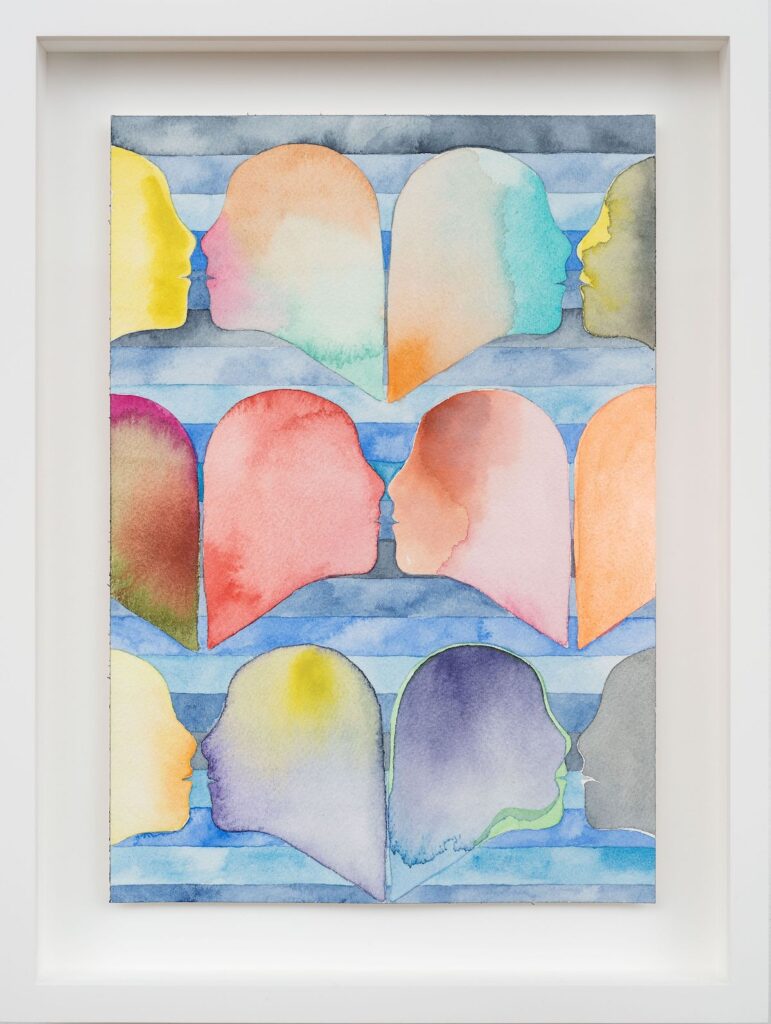 Hengst hasn't done performance art in a while, but he did at the opening of What's that about as a gesture to his friend and fellow artist. On the sidewalk in front of the gallery, he poured a bottle of water over himself, while a friend played a song on their phone—one that wasn't "happy or sad," Hengst said. He then unfolded a paper towel, dried himself off, and squeezed out the water. The performance caused some eyebrows to shoot up.
"Saif's work is so much about water and water rights and the way it's used in the country, and the way that his family is affected by the river," he said. "It was funny. Out of the corner of my eyes, I could see people on the sidewalk giving me these strange looks, like, 'What's this guy doing?'"
A painting by Azzuz, Coyote Tales (2023) hangs in the gallery's storefront window with an installation he and his wife, Lulu Thrower, did called trickster returns, containing a plastic coyote in a canoe and indigenous plants.
Azzuz says they were reflecting on Indigenous histories, the effects of colonization, and fire risk due to invasive species. They also thought of a Karuk story about Coyote bringing fire to the first people.
"We created this narrative where Coyote's coming down a river of canvas with fire in the background, to try to bring some of these things back to the land," Azzuz said. "But also have it be humorous, in that it's a plastic coyote in a canoe in a window."
WHAT'S THAT ABOUT runs through August 11 at Anthony Meier gallery in Mill Valley. More info here.