"When I reflect now, I honestly wanted to have a job where I didn't have a boss and had autonomy," says Vee Vargas of Oakland's Be Here Salon. After 12 years of training in the luxury hair game, she has just that—and she's ready to share the experience. Vargas just announced that she's launching a cosmetology apprenticeship program based on liberatory teaching methods, and open to BIPOC, LGBTQIA2S+, and first-generation youth aged 16 to 24.
She's called her program Be Infinite, and her first apprentice will soon begin training. Vargas is hoping to move the needle in an industry that is plagued by a racial divide that impacts customers as much as professionals. She hopes that Be Infinite will help stylists from marginalized communities to make it in the industry—and in particular, salons that offer high-end services to clientele.
"Through my lens, as a first-generation Queer LatinX Woman, I saw the opportunity for folks to have the opportunity to have increased access to economic empowerment and creative expression through the luxury cosmetology industry," Vargas tells 48hills in an email interview.
"I want to change the landscape of the industry, individual lives, and the broader community by providing access to the high-paid luxury industry by creating an apprenticeship program to create accessibility for folks, and ensure that it was done in an equitable way," she continues. "The cost of education is often a barrier for BIPOC individuals to work and educate, even free options can be prohibitive with the time required."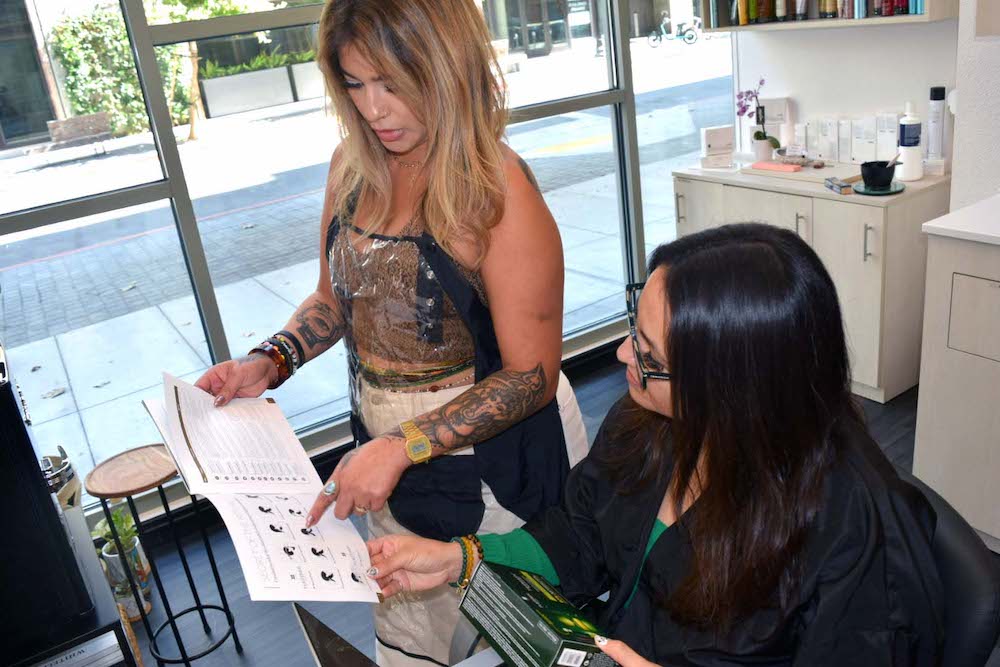 This is hardly Vargas' first time working to support folks facing long odds. When the COVID pandemic broke out in 2020, she set to work with incarcerated individuals via the Enneagram Prison Project. The program relies on group work to encourage growth and understanding of behavioral programs through the use of the Enneagram personality theory. Vargas was tasked with translating the program's workbook into Spanish.
Be Infinite will involve the work of various mentor/trainers, all of whom, Vargas says, have been trained in what she called "trauma-informed" teaching methods.
"I've been trained to hold space for folks through actively listening, supporting them, guiding them, helping them understand why they do the things that they do, and creating better relationships," she says. "We will use this tool for team building and healing."
Vargas, who grew up in Southern California, says that her own career in cosmetology was ignited by an inspiring stylist who was also a close friend.
"I looked up to her and loved how she designed her life the way she wanted," Vargas remembers of this individual. "She always had the latest tools, her locker was always fully stocked and had excess amounts of extensions, and went to all the latest classes. [I was also inspired by] other folks that I have come across in the industry, but I would say at the beginning it was her."
With the image of her successful friend locked into her mind, Vargas got to work learning the art of hair-cutting, corrective color, and extensions. She attended Riverside Community College, received training via Vidal Sassoon programs, and after working at Mimi's Hair Designs in Fontana, and Salon Shags in Redlands, eventually moved to the Bay and found work at Posh Salon on Fillmore Street before starting Be Here.
In so doing, she's fostered a community of hair professionals who know the importance of passing their knowledge forward.
Stylist Fiona Lake had served as an educator for trainees at multiple salons, and received training from Vargas. When Lake found out about the Be Infinite training program, she tells 48hills, "My initial reaction was I thought it was so cool! I was so proud of [Vee], and if I'm being completely honest, I wanted to be involved."
"There are a lot of people who need a helping hand, and Vee and I have talked about how we have had hands help," Lake continued. "Having people around me that really were patient and understanding of who I am and what I need really inspires me to be the best educator I can be."
In fact, anyone can help support the Be Infinite program—donations to the apprenticeship program are welcome, and can be accepted through its website.
If Vargas' emancipatory visions continue to become reality, liberatory cosmetology training programs are coming soon to a salon near you.
"I would love to see the Be Infinite Project to be adapted globally whether that's at schools, salons, or apprentice programs to ensure equitable practices are implemented," she says. "My hope is that folks find peace, and financial freedom, and overall know that they have a choice, and have a community to support them."
Learn more about the Be Infinite program and support with a donation here.