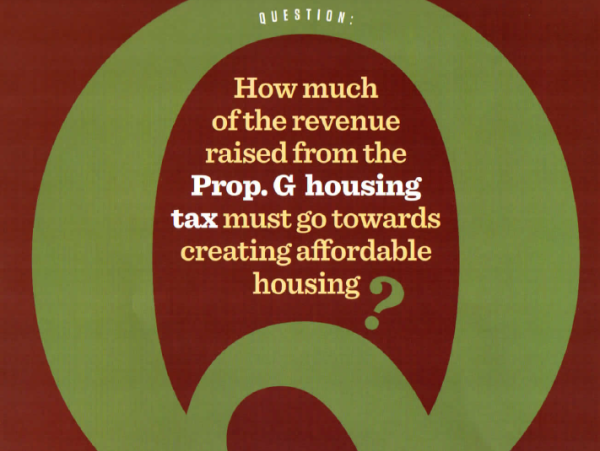 By Tim Redmond
The campaign against San Francisco's anti-speculation tax is trying to replay the successful effort in Richmond to shoot down a soda tax. It's not just misleading, it ignores the entire point of the tax measure.
A flier that arrived in my mailbox today – similar to one that was on the Board of Realtors website – argues that none of the money from the tax will go to affordable housing.
That's what Big Soda did in Richmond – the companies argued that none of the money from a sugary-drink tax would go to fight obesity.
Clue phone: The state of California, thanks to some very bad laws, forbids cities from levying taxes to fund specific programs, unless there's two-thirds voter approval.
The soda tax in San Francisco needs two-thirds for that very reason; organizers here were willing to risk winning a much higher threshold to avoid the argument that the money might (gasp!) go to general government activities (you know, like police, and fire, and parks, and Muni … that sort of thing.) They feared a repeat of the Richmond campaign.
The anti-spec tax drafters decided they would have a tough enough time getting 50 percent of the vote against a well-funded landlord onslaught, and two-thirds would be nearly impossible. So it's not a special tax; it's a general tax.
So what does the No on G flier say? "How much of the revenue raised from the Prop. G housing tax must go to creating affordable housing? Zero." Yes, thank you: That happens to be state law.
But there's a much larger point here.
The anti-speculation tax – no, it's not a "housing tax," it's a tax on flipping property – isn't designed to raise money.
Odd – a tax that isn't about raising money. Most of the time, when you pass a tax bill, you expect revenue.
But in this case, the sponsors of Prop. G would be thrilled if it never brings in a penny.
That's because the tax is designed to take the profit out of speculation, to make it much more expensive to buy a building, Ellis the tenants, and resell it quickly. You tax away a lot of the profit, and speculators won't do the deal.
Nobody wants speculators to keep flipping buildings just so the city can bring in tax revenue – which, by the way, won't make a dent in the affordable housing problem. It's supposed to be a penalty, a disincentive to do something that most of us think is socially detrimental.
You can't outlaw speculation; this is America, after all, and even the grossest forms of capitalist excess are protected by the Constitution. But you can make it unprofitable, maybe – and that's why Prop. G exists.
So the campaign thus far is not only misleading; it's completely wrong. Who cares where the money goes? If Prop. G works, people won't flip buildings and we won't get any money, not one cent for affordable housing. And the housing and tenant advocates will declare victory.