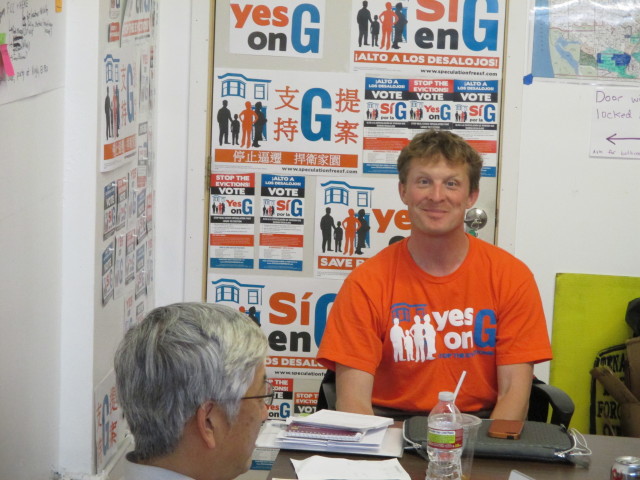 By Tim Redmond
NOVEMBER 4, 2014 (5:30pm) – Two and a half hours until the polls close, and turnout on the East side of town is mixed. Dean Preston, director of Tenants Together, told me that his polling place (in the Western Addition) was hopping this morning, with an actual line to vote. Mine was a little slower; by mid-day, only about 100 people had voted.
I rode around the Mission later in the afternoon, checking polling places at random. Most were reporting about 100 to 125 votes in the machines – which would be turnout in the 20 percent range – but a lot of places said there were as many, or nearly as many, Election Day absentee ballots dropped off.
That means better turnout, of course, but it also means we may be in for a long count on some of the close races. If the Campos-Chiu race is within a point or two, we may not know the final outcome for days.
Traditionally, early absentee votes trend conservative, and Election Day absentees trend about the same as Election Day ballots. When we get real results, I'll be able to analyze where things are going.
I can tell you the Campos campaign had hundreds of volunteers in the field today. One permanent absentee voter I know told me he had been called twice by the Campos campaign to remind him to vote. That's what's going to make the difference tonight.
If this election is anything like the June primary, Chiu will jump out to a lead in the absentees. Last time, 80 percent of the vote in some Chinatown precincts was early absentees, and they went overwhelmingly for Chiu.
So if his early lead is only a few points, that's a good sign for the Campos campaign. If his early lead is really substantial, then Campos will need a huge Election Day turnout surge to catch up.
I went by the Prop. G campaign headquarters, and it was packed with people in Yes on G shirts, identifying precincts, making calls, and organizing the door-to-door effort. Of course, they're up against an avalanche of landlord money.
There's no contested Assembly race on the West side of town, where the tenant vote isn't as strong, and the polls show that more than 40 percent of the voters don't even know that Jerry Brown is running for re-election. So you have to wonder: Other than the permanent vote-by-mail folks, who in the more conservative areas is going to turn out?
The Campos Election Night Party is at El Rio. The Yes on G party is next door, at Virgil's. Should be a happening part of town tonight.