Rally focuses on ways to take housing out of the private market — starting on Folsom Street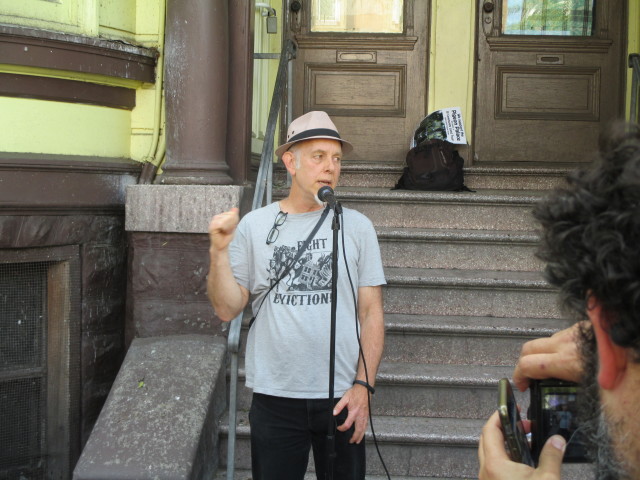 By Tim Redmond
MAY 6, 2015 – Long-term residents of a Folsom Street building, all of whom have been active in San Francisco arts, culture, and politics, rallied outside their homes yesterday in an effort both to encourage the property owner to sell to the San Francisco Community Land Trust – and to discourage speculators from bidding on the property.
In some ways, it's a classic San Francisco situation, and in some ways, it's tragic: The landlord, an older woman who by all accounts was close to her tenants, was put under court conservatorship in 2013, meaning that she no longer controls her own financial assets.
She has been moved from the house, where the tenants helped feed and care for her, to an assisted living facility – and the trust that now controls the property has put it up for sale.
The tenants, of course, fear that the buyer will invoke the Ellis Act and toss them all out: Most have been there for ten years or more, and pay well below market rent.
Landlord Frances Carati inherited the property at 2840-2848 Folsom from her father, who had bought it for $12,000 cash in 1946. Without mortgage payments, and with the tax benefits of Prop. 13, she was able to make a profit while charging reasonable rents. (Property taxes on the place, public records show, are just $844 a year.)
In fact, the tenants say they had worked with the ailing Carati to find a way for them to buy the building after she died.
But now it's out of her hands – a legal conservator controls the property, and yesterday afternoon, as the tenants rallied, a series of potential investors walked through the units to consider making offers.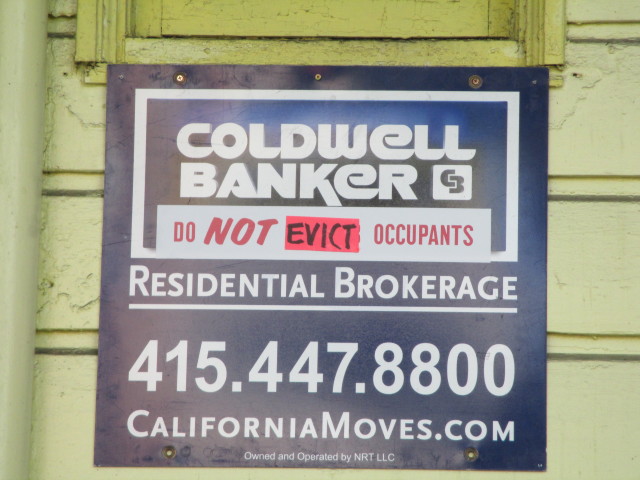 The Land Trust, a community-based group that is able to leverage loans and city grants to buy property and take it forever out of the private market, wants to buy the Folsom Street place and has put in an offer at $2 million, Chris Carlsson, one of the tenants, told me.
That would preserve the place as affordable housing forever – not just for the current residents but for future tenants.
"If we succeed here," Carlsson said, "we will remove a building from the marketplace." And that, he said, would set an important example for how housing can be kept affordable.
Carlsson is a founder of Critical Mass and the co-director of Shaping San Francisco. He's also a founder of the legendary underground magazine Processed World. He is, in other words, part of living SF history.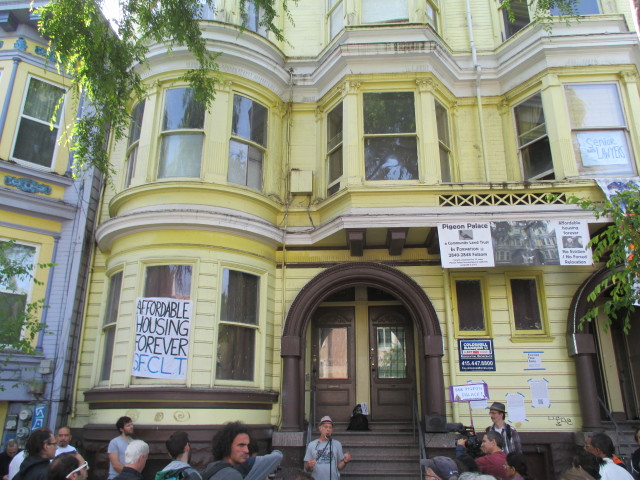 But if the conservator and the Franceca Carati Living Trust, which now owns the building, insist on selling the place at auction to the highest bidder, the tenants (who have set up a nonprofit called "Pigeon Palace," in honor of Carati's love for pigeons), and the land trust, could be out of luck.
But speculators who might be looking to buy and flip the place were warned during the afternoon rally: The tenants are longtime local activists who know how to organize and aren't going to leave easily.
In fact, they were openly advising possible buyers to avoid the place. "We are going to make your lives hell if you buy this place," Carlsson said.
And the demonstration may have had an impact: I spoke to several potential buyers who were on hand for an open house, and one of them told me he was considering making an offer "but this scene here is giving me second thoughts."
Mike Bernstein, who told me he owns a number of rental properties in the area, said if he bought the place, he wouldn't evict the tenants.
On the other hand, he and a person he identified as a possible investment partner said that they might offer the tenants buyout money to encourage them to leave.
Carlsson said that he's worried that anyone who buys the place – a valuable property in a hot neighborhood – will want to turn it into TICs or flip it for a huge profit – with the tenants gone.
That's the pattern in the neighborhood.
And it's why the tenants don't want a buyout for themselves; they want the units to be affordable forever. And in this case, it's actually possible – if the place isn't lost to speculators.