Google lawyer throwing out disabled tenant; activists vow to blockade sheriff's deputies when they arrive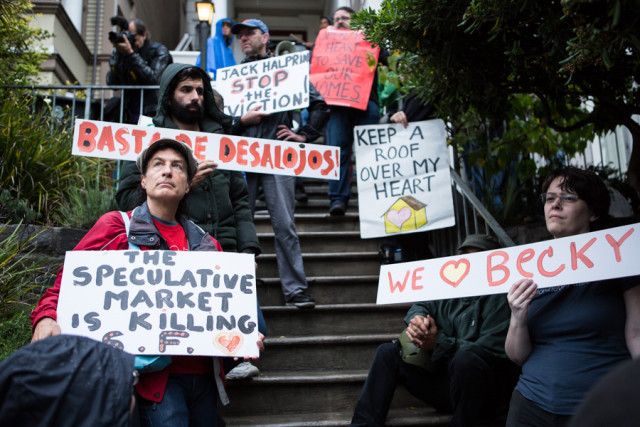 By Khaled Sayed
JUNE 10 — It was a rainy morning in San Francisco, but that didn't stop community and housing activists from showing up at 812 Guerrero Street to block the eviction of a disabled tenant by a Google lawyer
The protesters gathered at 6am in the cold under umbrellas and heavy coats trying to warm up by  sipping on coffees and eating freshly baked chocolate chip cookies on the steps of the old Victorian house, ready to block the sheriff's deputies if they showed up to evict Becky Bauknight.
She had been notified to expect an eviction at 6:01am, but the Sheriff's Office doesn't always carry out eviction orders at the exact time the courts and the landlords direct.
Bauknight is facing eviction from her small studio apartment on Guerrero Street for failing to file the paperwork to protest her eviction on time. Supporters say her disability prevented her from timely filing.
Google's head of eDiscovery, Jack Halprin, is the owner of the building Bauknight lives in, and he successfully evicted three other tenants in the building already. He is in the process to getting rid of the rest of the tenants.
Halprin has never explained why he needs the entire building for himself.
Evan Wolkenstien, Bauknight's neighbor, pointed out that he is also fighting eviction, but Bauknight can't join the fight with the rest of the tenants. "She has been left vulnerable to the eviction process," Wolkenstien said. "She doesn't have the resources to move anywhere else, or the social network to help her out."
Wolkenstien said that the protesters were there to let the sheriff know that Becky is vulnerable, and in need of help. "We also here to let Jack Halprin know that this is not a business transaction. This is deeply immoral," Wolkenstien said. "We are also letting the neighborhood know about this. They should join us to help keep people in their homes."
Claudia Tirado, Bauknight's neighbor, is worried that Bauknight will have nowhere to go and will be forced to live on the streets. "Eviction processes are cruel enough to begin with, but evictions of people with disabilities are even worse," Tirado said "We filed our paperwork, and I wasn't aware that Becky didn't until this past Thursday."
Tirado described Bauknight as a nice quiet neighbor who never asked for help. "When she told me last week that she is getting evicted and showed me the Sheriff's eviction notice, I contacted all the housing organizations on her behalf, asking them for help," She said. "I'm so glad that people showed up to help and stand with her."
The sheriff typically notifies tenants in advance when evictions are slated, so the protesters will be back and vow to block any future attempt to remove Bauknight from her home.