Mural in Mission showing two LGBT couples and a trans man hit by arson; community rally planned 6pm-7pm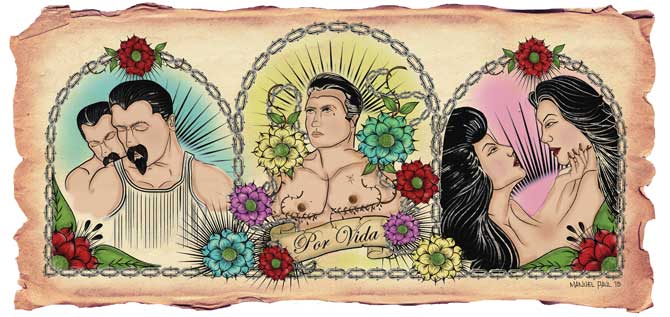 By Marke B. 
JUNE 30, 2015 — Galeria de la Raza's "digital mural," showing two gay couples and trans man in a Chicano cultural context, has twice been defaced by vandals since it went up for Pride month — and last night at 11pm, an act of arson defaced it yet again.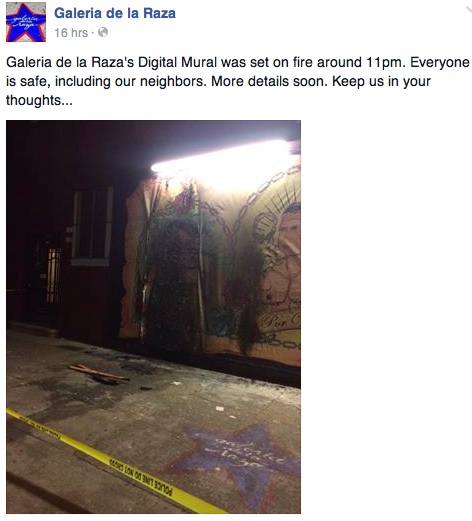 In response, a Unity Rally for the mural has been set for 6pm-7pm at Galeria de la Raza (2857 24th Street, SF), with support coming in from local businesses like El Rio and El Tecolote, and a plea for funds from the community to keep this symbol of queer visibility in the Mission in place for all.
The mural, by Manuel Paul of the Los Angeles-based Maricón Collective, was installed June 5 and "timed in honor of San Francsico Pride Month and inspired by the dedicated work of Queer People of Color … celebrating achievement and strength in the LBGT community." The mural was defaced with spray paint twice and restored twice; the last restoration unveiled on June 26 during a candlelight vigil.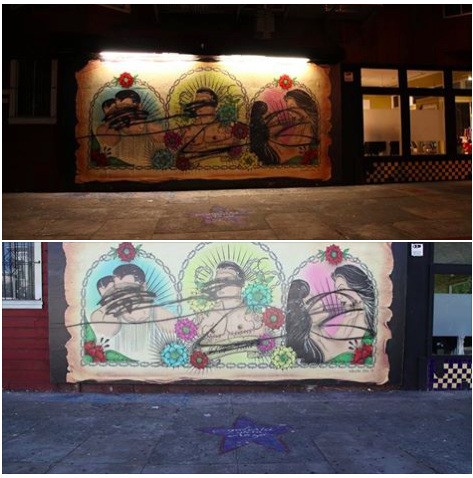 Galeria de la Raza issued the following statement:
Galería de la Raza strongly condemns last night's act of terrorism to try to yet again silence Chican@/Latin@ LGBTQ visibility.
On Monday, June 29 at about 11pm, the Por Vida digital mural by Manuel Paul was set on fire. Thankfully no one was physically hurt; however, the emotional trauma our neighbors and local communities have suffered is unacceptable and we must find ways to heal. The level of anger and hate expressed by the perpetrator(s) has moved beyond the dislike of a piece of art and into endangering the lives of families who live in the building and could have displaced families that have lived in the building for more than 20 years.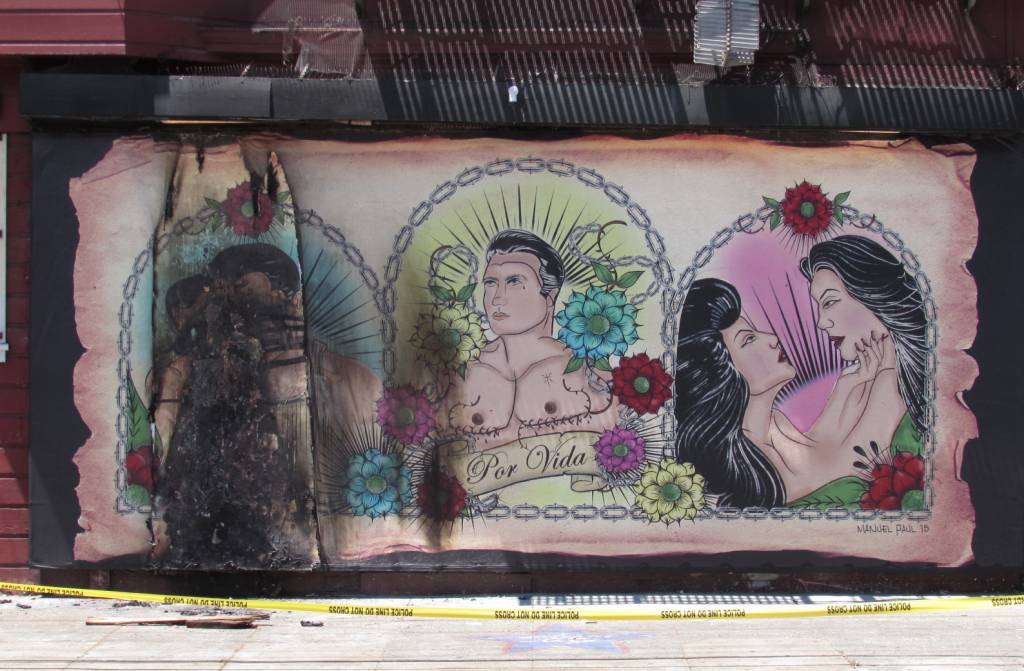 We have the perpetrator(s) for the last two incidents on video and this is an active investigation with SFPD and we will be cooperating with SFPD in their investigation.
In midst of all the hatred and violence we have experienced, we maintain a strong dedication to Galería de la Raza's mission to help give voice to all relevant issues within the larger Chican@/Latin@ communities including LGBTQ Latin@'s. 
We will be hosting a community conversation on Saturday, July 18th, details to come.