Jessica Williams Remembered: Friends, family and supporters gather to pay their respects
The life of Jessica Williams, birth name Jessica Leanne Nelson, was honored as friends, family and community members gathered to pay their respect eight days after she was fatally shot by SFPD officer Sgt. Justin Erb in Bayview. Organized by two local groups, the last 3 percent of black San Francisco and the Anti-Police Terror Project, this was no conventional memorial. It was the coming together of Williams' life as a child, the family she was born into and the people she called family after she left her own in Sacramento and moved to San Francisco. Around 120 people marched down from Palou to Bayview station as they chanted "They didn't have to kill her."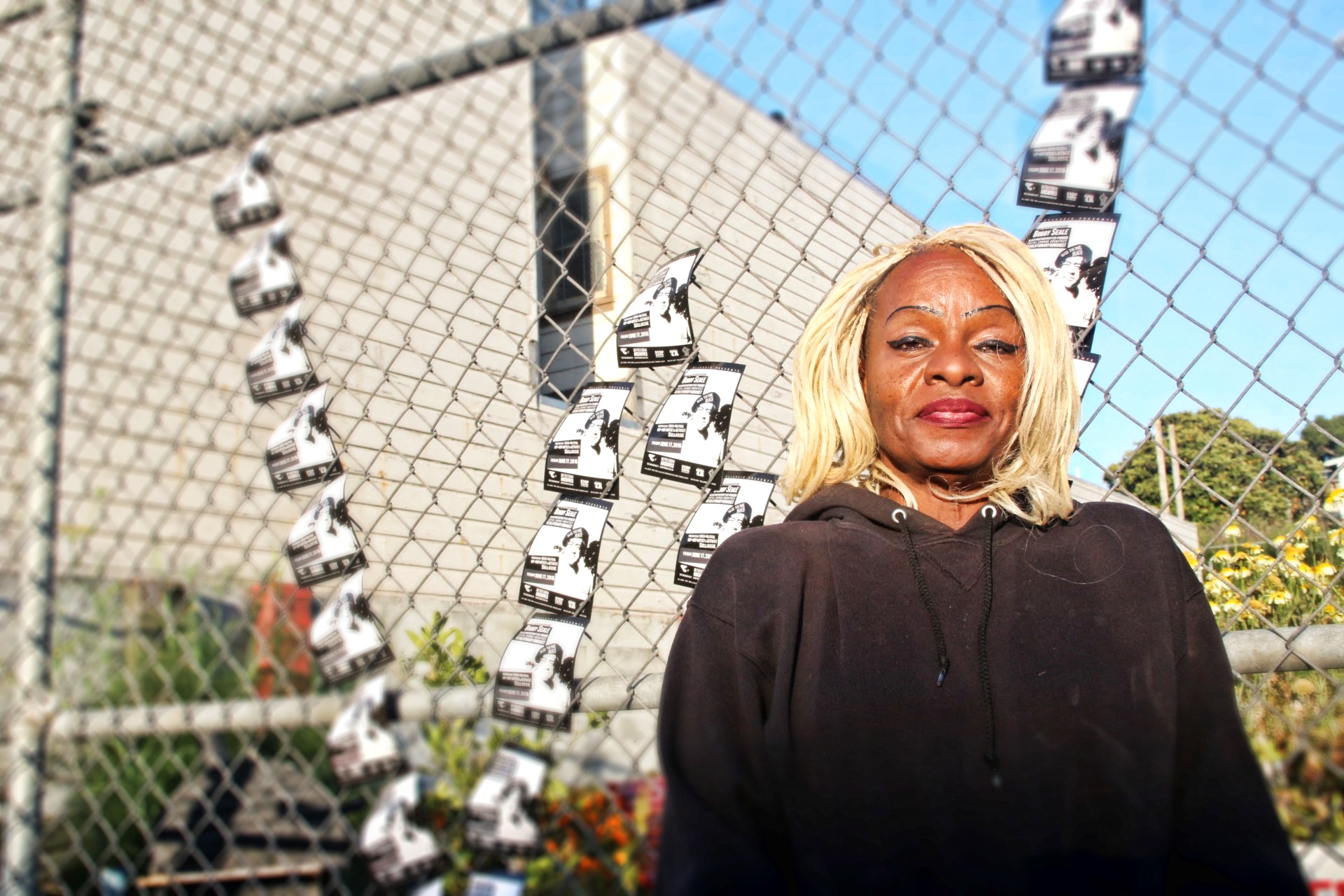 Family members, aunts and cousins sat in a corner to catch-up on the life Williams had lived for the past few years. Williams' cousin Yolanda Udell remembers the last time they spoke. "It was seven months and two weeks ago," she said, "She's the daughter of my first cousin; her name is Carol Walker, who was not in the condition to come down and be here today. We are all here for Jessica. I knew her from day one. She was my baby," Udell said.
Williams had just moved back a few years ago and hadn't spoken to the family for the past seven months. She found out about Williams' death three days after it had happened. Williams grew up with her dad and her aunt who raised her in Sacramento. When asked about conflicting reports of Williams' pregnancy, Udell confirmed it "Yes, as far as what her mother told me she was four months pregnant at the time of her death."
Williams' pregnancy has not been verified, her family members say they heard from her mother that she was pregnant at the time of her death. Her fiancé, whom she lived with, who was allegedly present at the time of the shooting declined to speak to the press.
"We are pretty torn up about it, but it's so wonderful to see all these people who are bringing in support and making Jessica have a face not just a name. She does have a family she had children."
Williams has five kids. The youngest is not yet one year old.
"We are trying to find her children right now, the paternal family and the maternal family, basically some people out here that know her have been telling us that a girl that's her play sister has the kids and so we are just going to be here breaking our neck trying to find them and find out who she is, just keep talking to everyone that knew her (more recently)," Udell said as she stood in front of a fence adorned with origami art spelling out Williams' initials. Several of her family members wore hand-painted shirts reading 'They Didn't Have to Kill Her.'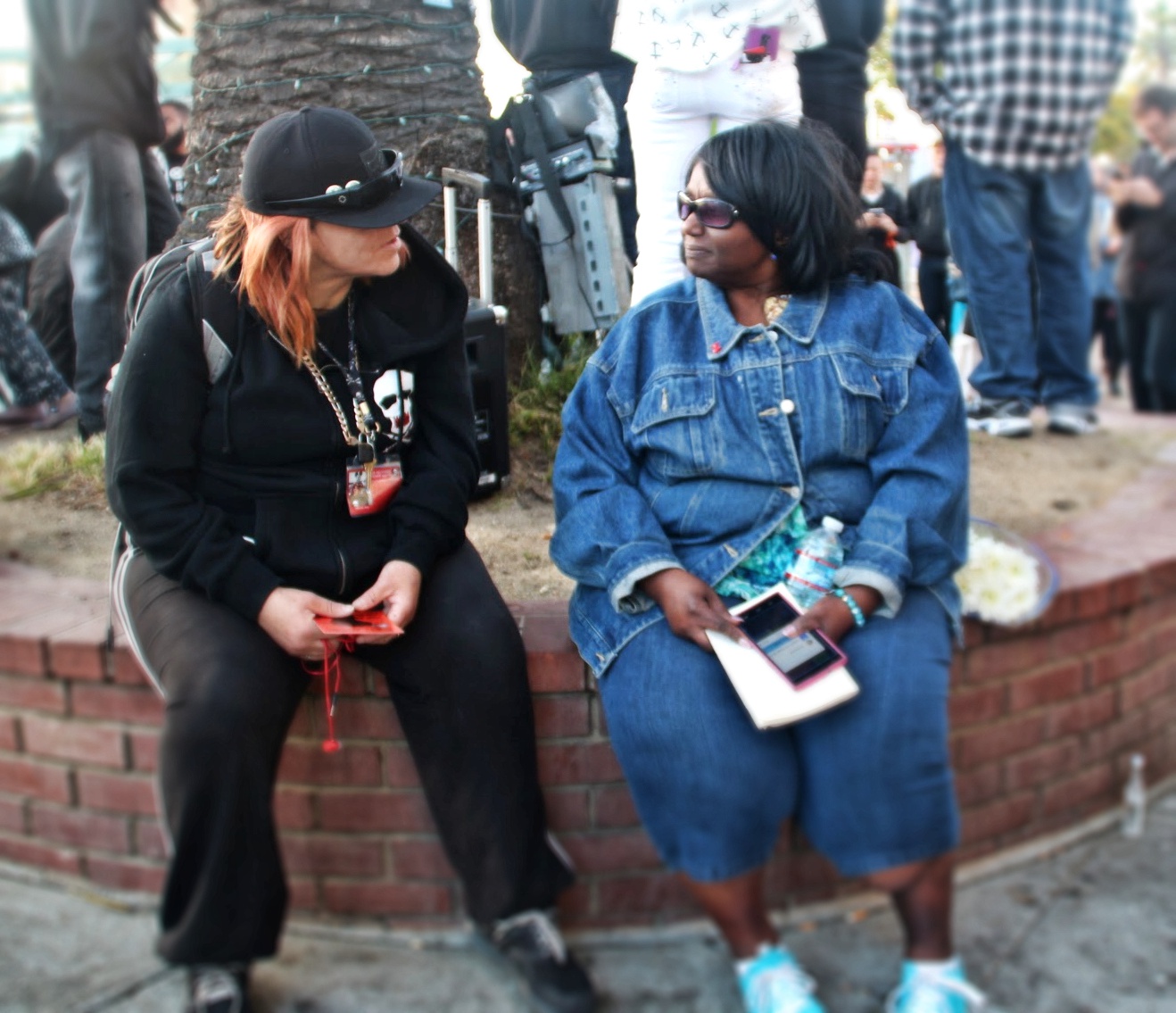 In the words of the woman Jessica Williams had called mom in the past years and whose last name she took on, Jessica's story is one of a young mother trying to keep her life together to secure the future for her kids. Among the crowd of family and friends, Jennifer Williams knew the most, "She wanted to get married. She took my wedding dress to try it out, but she never told me she was pregnant I found out after she had passed,"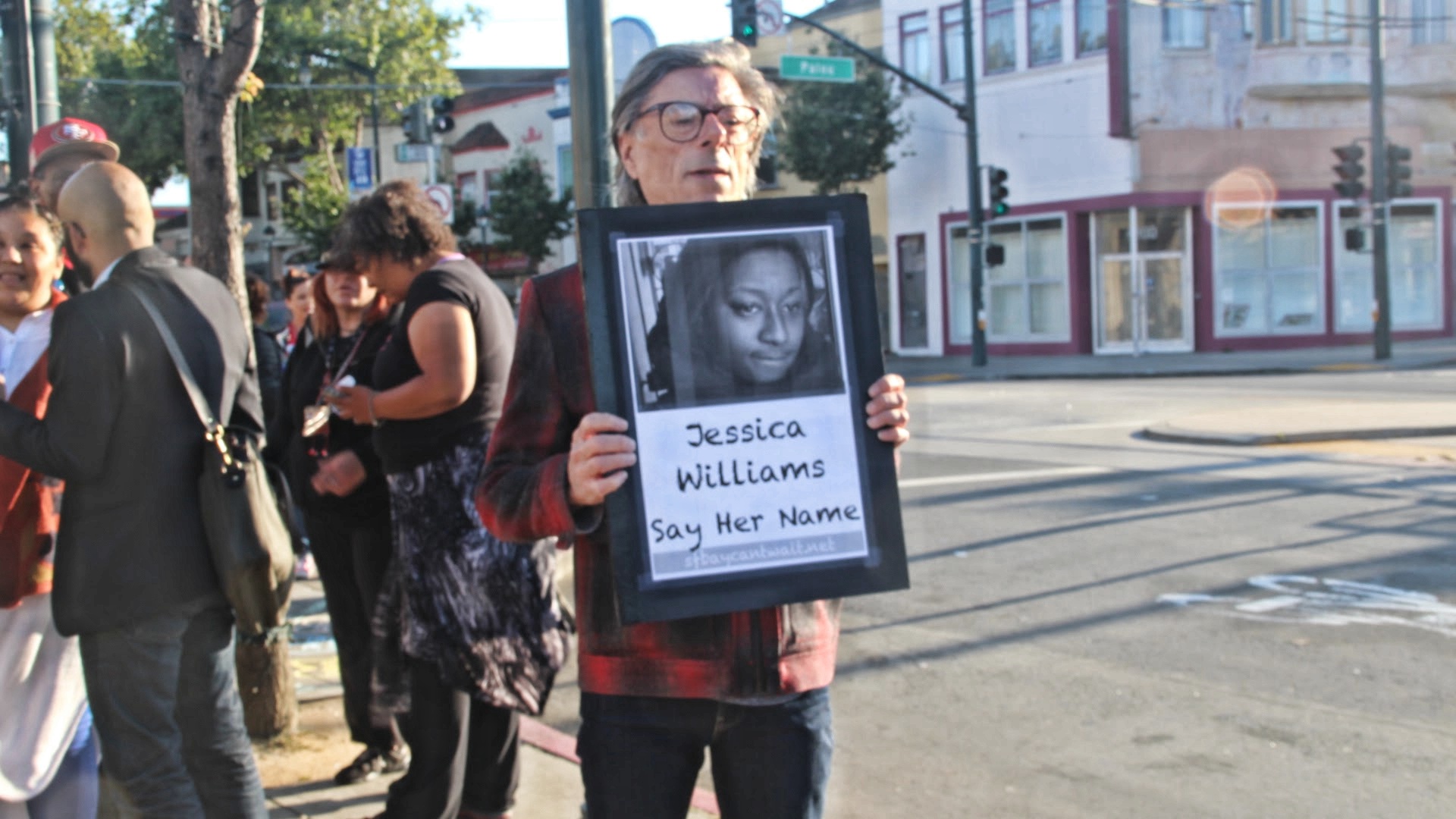 Jennifer Williams said, visibly shaken as she tried to maintain composure, "They (Jessica Williams and her fiancé) were camped at a nearby industrial, they had to keep moving as the police came, but they were always into people always helping. No matter what they did, even if it was illegal they were good people. There was always something very peaceful about Jessica," Jennifer Williams said.
Narrating her story was difficult for Jennifer because an announcement at the protest referred to Jessica by her birth name, Jessica Leanne Nelson, as requested by her family. "She had a big family out here, her street family, and she chose to be out here with her street family she wanted to be with us. She didn't have to be. She wanted to be. She was just a wonderful, talented and caring kid. She was also very bossy and stubborn. She thought she could fix it all she was determined to help her fiancé set his life straight," said [Jennifer] Williams.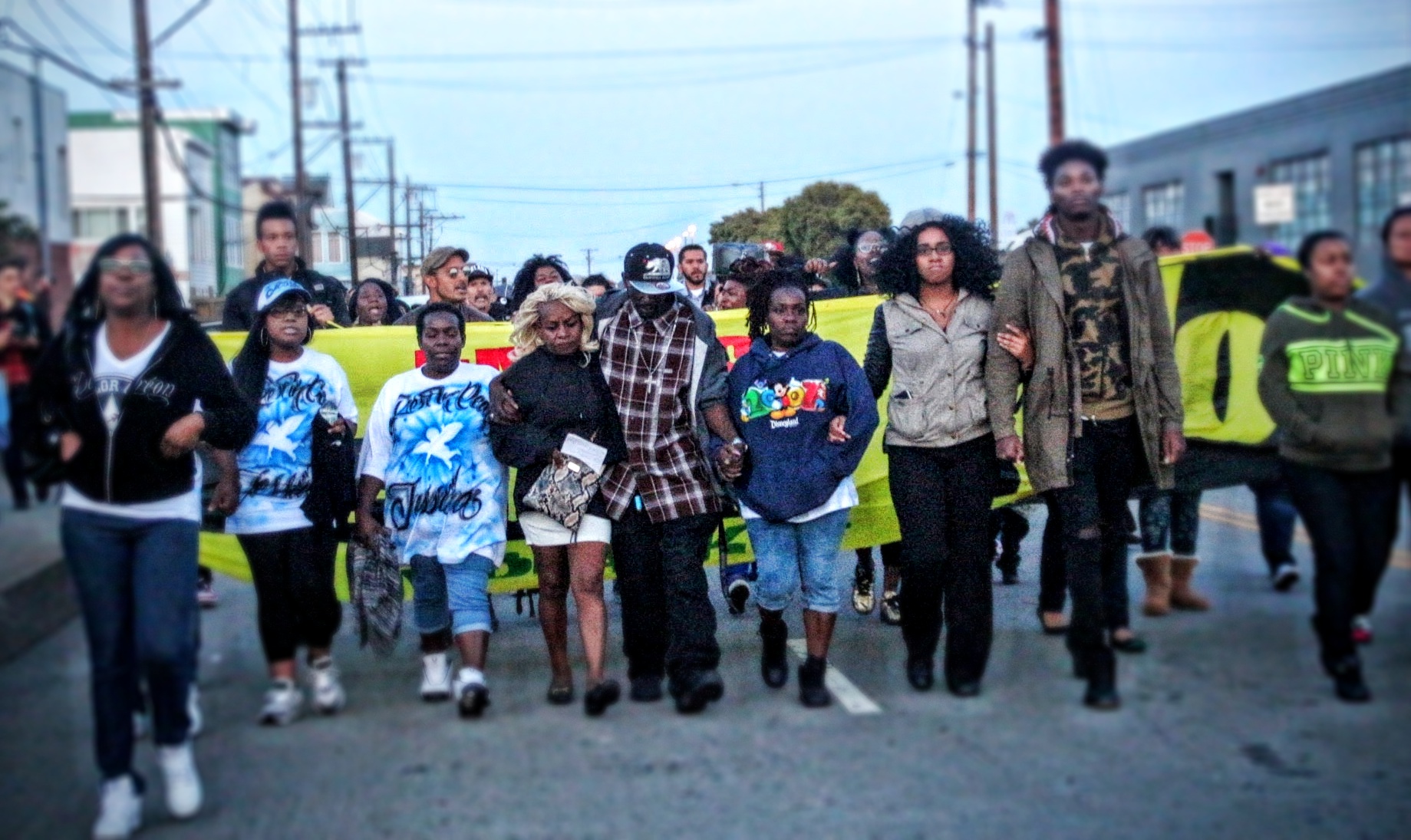 At the street corner, one of the Williams' cousins broke down as quickly gathered to console her, "We have to remember her for who she was. We have to remember her for who she was" they said as they hugged each other and cried. As they made their way back to the crowd their path met Jennifer Williams, "This is the person who Jessica called mom" and that triggered stories of Williams' life in the recent years "Could you please tell her aunty what you just told us?" one of them requested and so two strangers who knew Williams through different phases of her life began sharing stories of grief and life with all its trials and tribulations.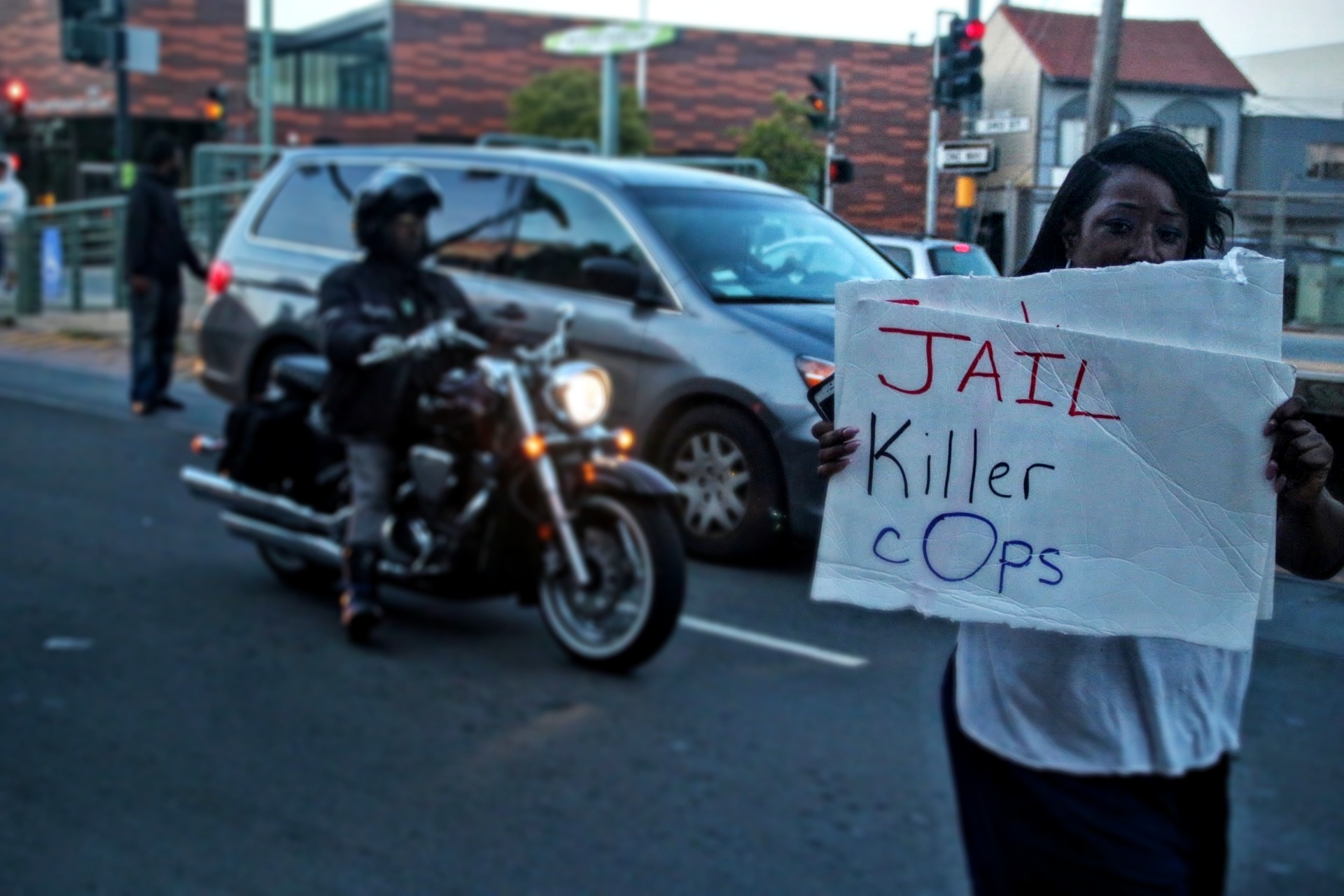 We now know that SFPD Officer Sgt. Justin Erb shot 29-year-old Jessica in Bayview eight days ago. Within hours of the shooting, Chief Police Suhr resigned, following a year-long campaign by local activists calling on the controversial police chief to step down.
Shortly after the shooting former Chief Suhr spoke to the media, "They (Officers) exited their vehicle to engage a suspect, one occupant in the car, a black female. The female didn't comply initially with the investigation. We have one witness that says there was a back and forth with the vehicles and at some point during this engagement one officer, a Sergeant, fired one shot," Suhr said. Speaking to 48hills at the NAACP meeting past week, Interim Chief Toney Chaplin said that he is wary of doing town hall meetings "We've been criticised for doing meetings without full information, I can assure you we've been working on this case. In fact I just spoke to the mother an hour and a half ago," Chaplin said.
Family members who wish not to be named out of fear say Williams was never warned by officers to get out of her car, that she was accompanied, and that the individual jumped out of the car shortly before the altercation with the police.
"She was only struggling with her seat belt; that's all she was trying to get out but they just shot her, no warning nothing they just shot her" [Jennifer] Williams said. "She has a step-sister and she's been raising her kids. She was living in Hunters Point at one time, and she did things, all kinds of things, sometimes illegal just to support her family and that's when her step-sister got custody of her children. She has two sets of twins, four girls, and a boy, I think the oldest one is 13 and the youngest one is almost a year old."
Williams (nee Nelson) had built a family around the people she met while camped out on the streets, those are the people who knew her and about her life, the most but her street family feels that had she gotten the opportunity she may still be alive right now. "His (her fiance's) parole officer had actually referred them to the navigation center but they told them that the parole officer can't refer them. If they would have been able to get into navigation then this wouldn't have happened. He was trying very hard to get her off the streets, if she had shelter this would not have happened. There's no sense, there's no sense at all. No reason for her to die like that, none," Williams said as she broke down.
Local activists addressed the crowd as the Williams family, new and old, pieced together the tragic tale of their lost daughter and sister. The crowd gathered at Palou and Third moved down Third Street and onto Williams Avenue, ending the vigil with a prayer outside the Bayview Police Station, where the officer who shot Jessica is stationed.
Update: At his first police Comission meeting interim SFPD Chief Toney Chaplin provided an update on the shooting of Jessica Williams. According to Chaplin, there's an ongoing investigation by three different departments including internal review, homicide and the district attorney's office
This post was last updated on 1st June 2016.