If you're taking a walk through a San Francisco park, or along the waterfront, going to a restaurant, or even walking along the streets these days and you see a group of twenty-somethings glued to their phones, running, and yelling something about catching an "Eevee," you're not alone.
It's the new thing: In just the past few days, a game called Pokémon Go has taken over San Francisco.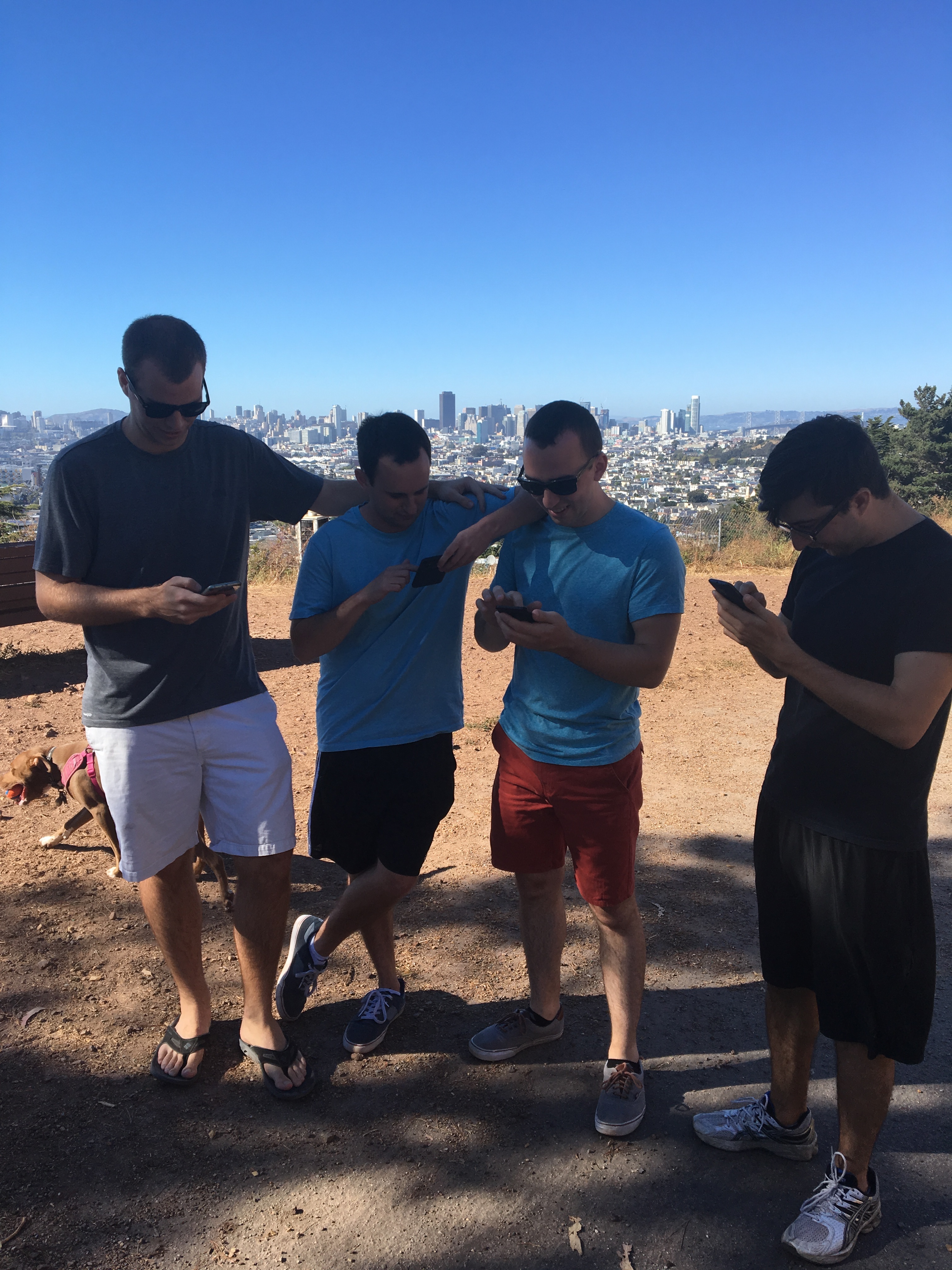 Weird, creepy, fun, whatever, it's here: Along the waterfront this afternoon, more than 50 people were playing. We found at least 20 more on Bernal Hill.
Pokémon Go, at a glance, is just a new trending game in the app store. But then you download it, and realize why you can no longer walk 20 feet without bumping into someone trying to catch a Pokémon.
If you don't understand Pokémon, you missed part of modern childhood: The books, the movies, the games, the gear were a part of millions of people's lives, and half the nerds in the country count Pokémon as part of their defining experiences.
But the new app has turned it into a whole new experience.
When you open up the game, you become a customizable avatar walking on a map of the area you are in. That's right — the game uses your gps location to transform your house, and street, and city into a world full of Pokémon.
You can walk through the city streets and catch a number of Pokémon, or if you're like me, and completely delighted at realizing your childhood dream of being a Pokémon trainer, you can go to the park or beach, where there are hordes.
The game also incorporates Pokémon gyms, used for battling. The gyms are located at certain libraries, rec centers, and parks. These aren't very interesting, though, and the actual battling is pretty stupid. All it involves is tapping your screen furiously until one Pokémon emerges victorious. The fun part is actually catching the Pokémon.
The app is so popular it's actually starting to pass Twitter. All of this in just a few days.
As I was walking along the short stretch of the embarcadero from the YMCA to the ferry building today I saw at least 50 or 60 people walking around trying to catch water Pokémon. (Water Pokémon, of course, only appear in the game near bodies of water such as beaches, piers, lakes, and so in.)
One woman looking for water Pokémon in Wyoming found a dead body. But no worries – she's going to be back at the river tomorrow looking for more (Pokémon, that is.)
I continued my Pokémon journey on Bernal hill, near my house. While I was up there, I saw at least 20 people wandering around with their phones in front of them, clearly playing the game, so I stopped one of them and asked about his interest. His name was David, and like me he grew up playing the original Pokémon games. He is 26, and he told me that he got his fist Pokémon game 16 years ago, when he was 10.
The app seems to be getting people who typically sit on the couch and play games out into the world: You don't catch many of the little beasts staying at home. He told me he's taking his Chihuahua for longer walks.
Then I ran into a group of male, white, mid-twenties software engineers — Casey, Evan, Pat, and Nick. They all remained fixated on their phones through the entire interview, and one even stopped mid-sentence to shout, "Oh, an Eevee!"
When I asked what appealed to them most about the game, Evan told me that it "gets him off the couch." Pat went even further: "It's all I've ever wanted," he said.
I personally wouldn't go so far as to say that, but I can tell you that from the perspective of someone who grew up on Pokémon, this is one of the greatest things that technology has ever produced. Right up there with google, microwaves, and cat videos.
It has, however, also sparked a crime wave of phone thefts. Imagine for a second being a phone thief and suddenly seeing hordes of distracted people walking around with their phones out and ripe or the taking.
So PSA to all nerds, hipsters, techies, and Pokémon enthusiasts; unless you're catching something absolutely legendary, it might be a good idea to take a look around once and a while to make sure no one's about to rob your $600 phone — and more importantly, your Pokémon.
Pokémon Go was downloaded 50,000 times in the first 24 hours, and over a million more times since then. It has become so popular, in fact, that people on Facebook are describing downtown Santa Cruz as looking like a zombie apocalypse, with everyone so focused on their phones and walking that they have completely lost touch with reality.
As I was walking around catching Pokémon with my friend on Bernal Hill, I saw a man so focused on the game that he slipped and fell on the dirt. Somehow I think this guy missed the warning at the beginning of the game telling players to be aware of their surroundings at all times.
Meanwhile, I'm off to the Prospect St. stairs to challenge the local gym leader with my dope fucking Ninetales.