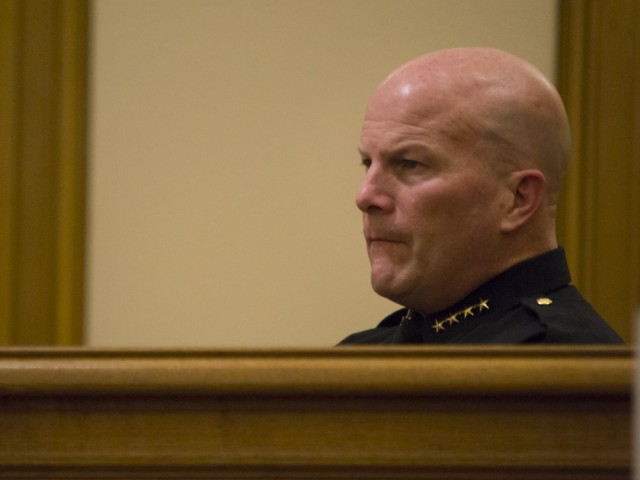 It took 48 hours for the consulting gig between former police Chief Suhr and the basketball team Golden State warriors to fall through. 
A statement released by the Warriors announced that the two had "mutually agreed" to cease his consultancy: "The Warriors had recently put Suhr on retainer to advise the organization regarding certain security matters related to the team's groundbreaking ceremony occurring in San Francisco next Tuesday."
Suhr made his own statement which was forwarded to and published by the Examiner:  "The last thing I want to do is cause a distraction for the Warriors during this incredibly positive time for the team and organization," said Suhr. "I think this is in the best interest of everyone."
The news of Suhr's consultancy triggered angry reactions from activists who took to social media to share their concerns.
Community activist and organizer Yayne Abeba, who recently moved back to San Francisco, said she felt insulted when she heard Suhr's appointment: "I find it insulting that they would disrespect the will of the people and hire him. His time as police chief was riddled with scandal, racism and murder. That doesn't serve the people well." 
Suhr, who resigned in May 2016 amid protests calling for his ousting, has faced strong criticism through his tenure. It was the shooting of Jessica Nelson Williams, the third fatal police shooting within six months, that triggered his resignation. 
Ike Pinkston, one of the five community members who went on a 17-day hunger strike to demand Suhr's resignation, expressed his concern about the appointment and subsequent resignation: "I personally feel that the Warriors are out of touch with the surrounding communities that they serve. For them to hire ex SFPD chief Greg Suhr says that they paid no attention to five individuals who went on a hunger strike to have him removed, nor the lives of those that were killed under his watch, that prompted the outcry from the community for his resignation," he said.
For Pinkston even the press release announcing the ceasing of Suhr's contract was dismissive: "To release a statement saying it was 'mutual agreement' because of social media backlash says they had no convictions about the reasoning of their separation and they did it for business purposes, not for the greater good of the fans," Pinkston said.