The San Francisco Sheriff's Office quietly showed up at the home of Iris Canada this morning at around 11:30 and changed the locks. Canada, who is 100 years old, was evicted – while she was out, apparently at a senior center where she goes during the day.
There was no notice, so no protesters were on hand. The whole process happened quickly.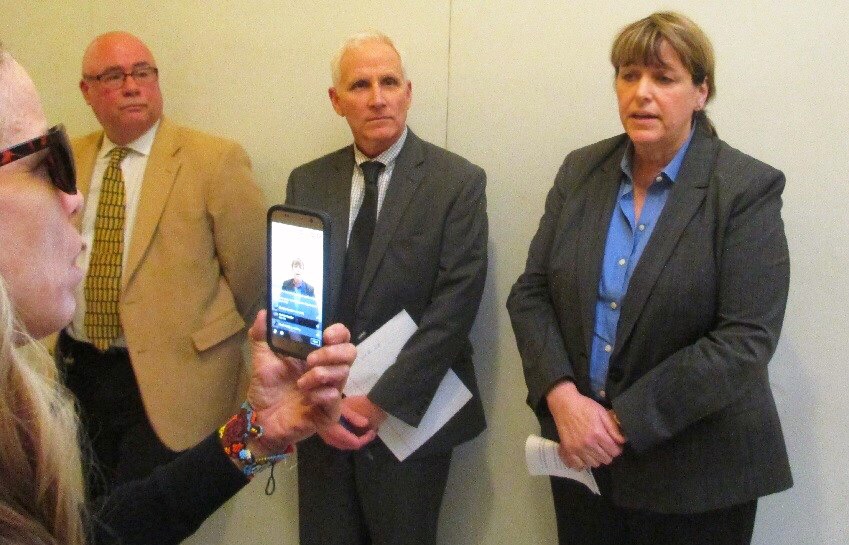 Canada has critical medicine in the house – but her ability to get access to retrieve her possessions is now controlled not by the sheriff but by the notorious anti-tenant law firm that represented the owner.
It was a stunning end to a battle that's been going on for more than a year, as the last African American tenant in a building now owned by white people who want to convert to condos tried to save the place she's lived in for more than half a century.
It happened, Canada's supporters pointed out during a raucous protest in front of the Sheriff's Office, during Black History Month and around the 40th anniversary of the eviction of the I-Hotel.
Your Actions Matter. Donate $10 to fight evictions with the Coaliton on Homelessness

Superior Court Judge A. James Robertson II this week ordered the sheriff to evict Canada "at the earliest possible date that was safe."
Sheriff Vicki Hennessy, facing a large crowd of angry protesters outside her office, said she decided that it was safer to do the eviction while Canada was out of the house. "I think we did the right thing," she said as the crowd shouted "shame." (I have to give her credit, at least she came out and dealt with the crowd; the mayor would have been hiding under his desk.)
She said that the court "ordered us to give no notice," although the court order was not that clear. When I asked her, she told me that one of the reasons she had given no notice was that she didn't want to deal with a lot of protesters out in front of the house while the deputies were doing the eviction.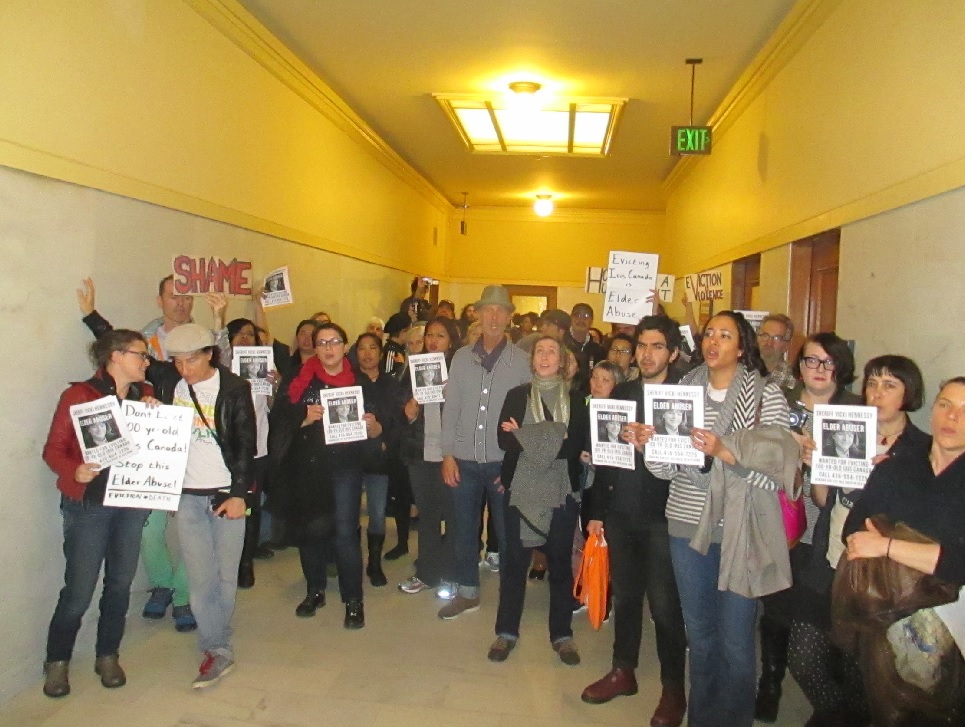 She also said that she was worried about Canada's health: If the deputies had to forcibly remove her from her home, Canada, who has had serious health complications from previous eviction orders, might not have survived. "I was afraid the stress of the eviction would be too much for her," the sheriff said.
"This was a very difficult decision for me," Hennessy said. "It was hard for me." She was shouted down by protesters who asked what the sheriff would have done if her mother or grandmother was the one facing eviction.
Canada's lawyer, Dennis Zaragoza, was preparing today to file a writ to appeal the judge's order. The sheriff could have waiting to see what the outcome of that was before eviction Canada, but her legal counsel, Mark Nicco, said he didn't know an appeal was underway.
Canada's lawyer was on the phone with tenant activist Tommi Avicolli Mecca during the back-and-forth with the sheriff, and he said that at an earlier hearing, he had told Nicco that he would appeal any eviction order.
Nicco said he hadn't heard that.
Hennessy said she was "between a rock and a hard place." She said she sent deputies to Canada's house over the last three days to get in touch with her, but nobody was home.
She said that she hadn't called Canada's lawyer to try to get in touch.
When I asked her what would have happened if she hadn't done the eviction so quickly, she said: "I don't think anything would have happened right away."
Eventually, she said, she might have been held in contempt of court.
But this was a huge deal: Whatever the law says, the San Francisco sheriff has just evicted a 100-year-old frail woman to pave the way for wealthy white people to do a condo conversion.
It doesn't get much worse than that.