ART LOOKS In 1981, Ben Vereen, known for his role as Chicken George in the miniseries Roots, and for winning a Tony in Bob Fosse's "Pippin," performed at Ronald Reagan's inaugural gala.
Vereen danced and sang the song "Waiting on the Robert E. Lee" in blackface, as a tribute to Bert Williams, an African American vaudeville entertainer who was forced to perform in blackface. Then, Vereen took off his makeup while looking in a mirror and singing the mournful song, "Nobody." But despite its promise to broadcast the entire performance, the television network, ABC, only showed the first half of Vereen's performance, cutting to Donny and Marie Osmond.
This left it looking as though Vereen had performed a sort of minstrel show for the Reagans, and led to the ruin of his reputation. One African American activist said he was  "insulted, outraged and disgusted." Actor Ossie Davis called it tragic, and actress Ruby Dee said Bert Williams was turning over in his grave. 
The artist and filmmaker Edgar Arceneaux has made a multimedia video installation Until, Until, Until . . . , exploring Vereen's performance. He also wrote and directed a live action play of the performance, which showed at Yerba Buena Center for the Arts at the end of February. The installation is on view at the YBCA through March 25, along with another piece by Arceneaux, a sculptural labyrinth, The Library of Black Lies, which holds a collection of crystallized book presenting variants on African American history.
On Friday, March 16, Arceneaux will be at the YBCA with his friend and collaborator, art historian Julian Myers-Szupinska. Along with talking about Arceneaux's two works at YBCA, they will discuss history and art and using archival images.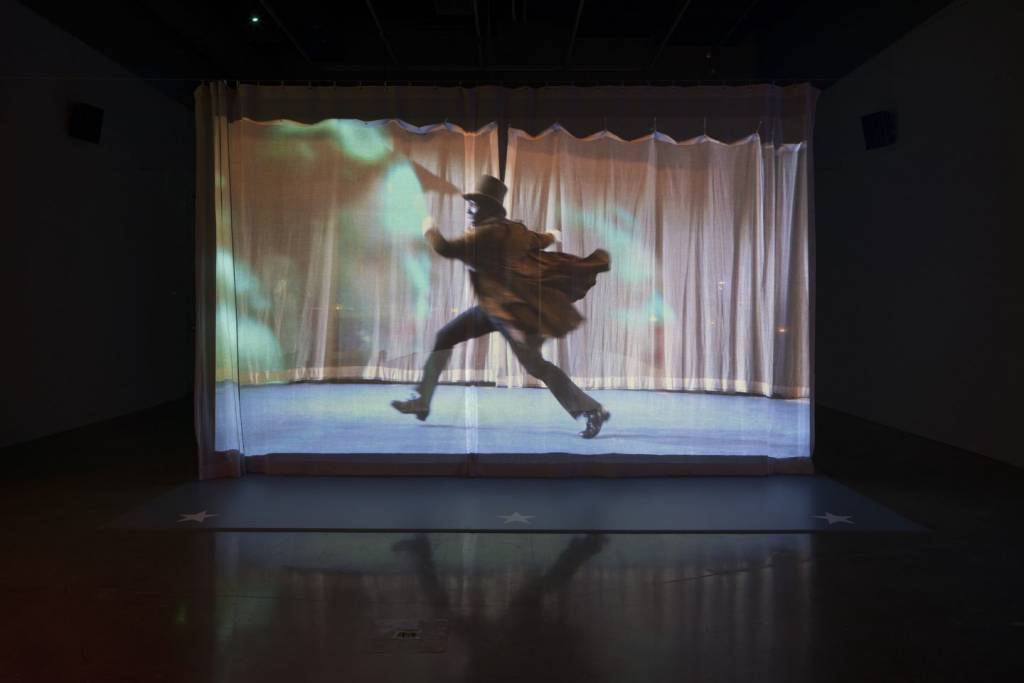 Arceneaux says they'll start off by talking about an image in the middle of The Library of Black Lies of comedian Bill Cosby, accused of drugging and raping multiple women. Arceneaux says the library is a way of examining the stories we tell ourselves. 
Help us save local journalism!
Every tax-deductible donation helps us grow to cover the issues that mean the most to our community. Become a 48 Hills Hero and support the only daily progressive news source in the Bay Area.
"We like our history to be progressive and triumphant, from slavery to Martin Luther King to Oprah," he said. "But the way we learn is through a series of mistakes and meanderings, and the labyrinth is reminiscent of that experience. Mazes are designed to get lost in, and labyrinths are to find yourself in. In the middle of this one, you're looking at Bill Cosby, and we'll be having a conversation about that and how the image is composed and riff on that."
The two will also discuss Until, Until, Until  . . . , Arceneaux says. When he first learned about Vereen's performance at the inauguration on a PBS show about 20 years ago, it made a big impact on him. 
"I just remember the emotion of it," he said. "Seeing him do that in this sea of Republicans – it was so crazy. I had a hard time comprehending how it happened."
Arceneaux says he wasn't planning on making art about the performance, but then he met Vereen at a birthday party and talked to him about it, and the singer invited him over and showed him the video of the performance. This made a big impact on him, and is included in the play of Until, Until, Until   . . .  with Arceneaux playing himself. 
Arceneaux is known for his work exploring race and memory and the connections between history and the present. The artist says he considers himself as a conceptualist, taking things apart and putting them back together. He thinks of Until, Until, Until  . . .as a sort of loop, he says, and he remembers when Vereen invited him over to his house to watch the inaugural performance. 
"It was a powerful experience being in that moment, sitting in his living room watching him watch himself portray a man 100 years in the past," Arceneaux says. "It was a sort of out of body experience, and in that moment, I was thinking there was a story I could tell about the past and how the past is inserting itself in the present." 
EDGAR ARCENEAUX: UNTIL, UNTIl, UNTIL…
Artist Conversation, March 16
Until, Until, Until… and Library of Black Lies through March 25
Yerba Buena Center for the Arts
More info here