Named for a famed Arthur Russell disco production ("I want to see all my friends at once!") and featuring an outright disco legend on the decks in DJ Steve Fabus (a resident of the Trocadero Transfer who pioneered both the tea dance and the bathhouse sound in the 1970s), the monthly Go BANG! party is rooted in disco tradition. But the threesome behind the party—rounded out by DJs Sergio and Prince Wolfe—do anything but stick to musty musical relics and ABBA singalongs, though there are plenty of familiar, fabulous tunes.
No, the party, which draws an astonishing 60-year age range of attendees, actively engages with the history of San Francisco disco while attracting younger people with its debaucherous yet good-natured vibe. One recent highlight for me was seeing the Go Bangers hang a massive multi-mirrorball, handmade by one of the Trocadero Transfer's lighting geniuses, from the ceiling of the party's current home, The Stud. (Disclosure: I'm a member of the Stud Collective.)
Go BANG! also musically breaks down generational barriers. You hear the evolution of '70s disco from the hippie-rock '60s into the synth-pop '80s, and guest DJs from around the world showcase disco's continued influence and diverse sounds.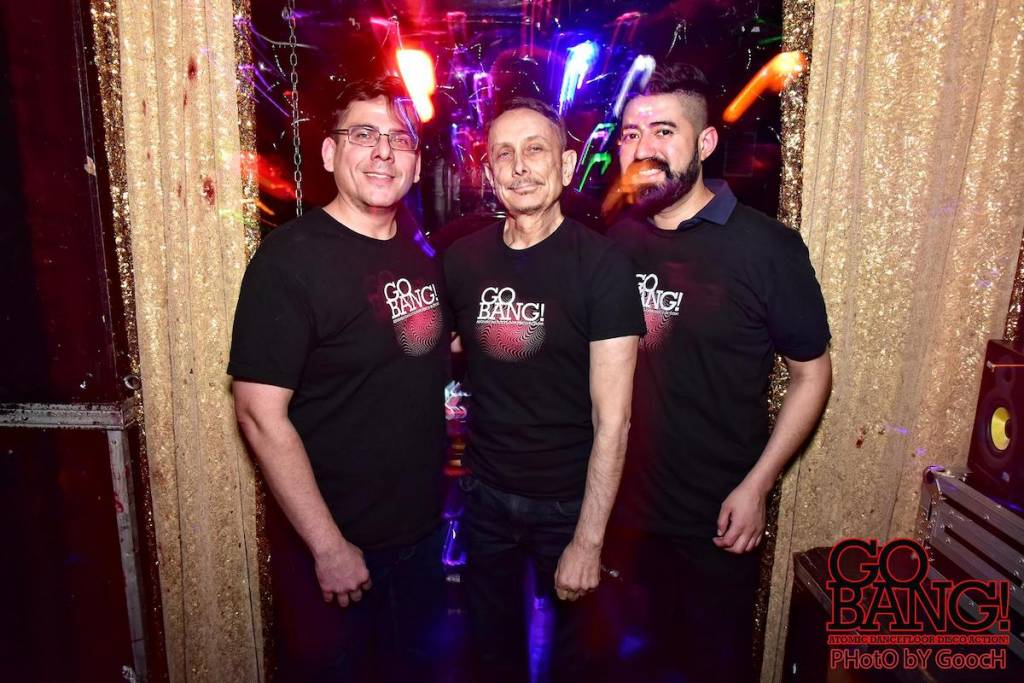 The Go BANG 10-year celebration Sat/1 has DJ Stanley Frank from LA and local duo Robin Simmons and Elaine Denham joining the Bangers, along with the usual cavalcade of dancing, smiling characters—and features lighting from the person behind that massive mirrorball: Carla Ann Nicholson, the Arc Light Diva of the Trocadero Transfer. I asked the trio, who responded as one because they're so close, about the party's origins, SF's disco legacy, and the sexy times.   
48hills How do you feel the old school disco vibe of Go BANG! fits into the scene, and why is it important to continue the San Francisco disco tradition?
Go BANG! Many people and parties continue to connect the dots and forward the story of dance music and San Francisco's unprecedented impact on this musical form. We have had many times in which the thought to move beyond the '70s and '80s disco sound was there, but we've been determined to preserve the spirit and story of our city's sound… The sound of love, respect, and liberation. The sound of joy and pain, love and friendship during the halcyon days of the '60s and '70s, through the painful times of the '80s AIDS crisis, which affected so many of our loved ones, and continues to be a part of the fabric of our party and our city. The spirit of San Francisco culture, which has paved the way for so many of us to find connection with one another and to share moments of love, life, and laughter in times of joy but even more so in times of sadness. 
48h Ten years is pretty huge for a party, especially with he constantly changing (and disappearing) nightlife landscape in SF. Share with us a couple fun stories that have happened in the past decade.
GB! Given our start at Deco Lounge (with its infamously-fun basement) and our party continuing at the storied Stud Bar, we personally enjoy stories of makeout sessions, trysts in basements and bathrooms, stolen glances and welcomed touching in dark corners and hidden booths, packed floors and dark alleyways alike. And we also value stories of love connections made on the dancefloor, or in the ether surrounding our party. We've had a select few beautiful couples who began their romance due to our party, and we have heard many tales of "a friend to spend the weekend" found on our dance floor. Love, lust, like, joy, smiles, hugs, kisses, and more… These stories of personal connections are one of our greatest motivators.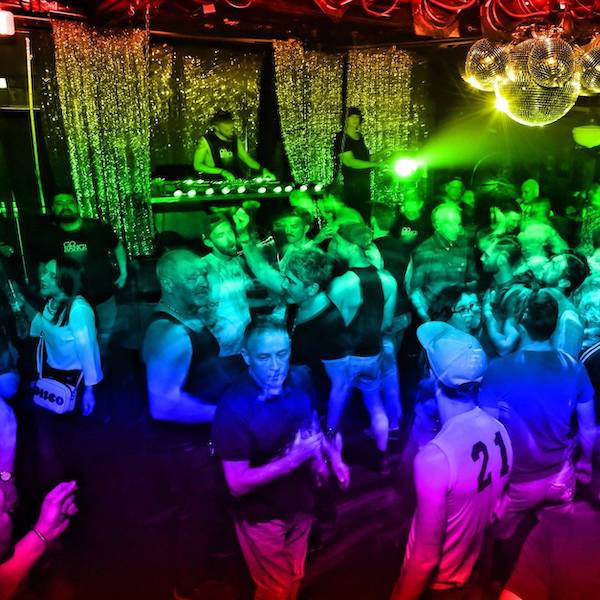 Before we were on first Saturdays, we landed on the fourth Saturdays had a Christmas weekend installment called Ho Ho Ho BANG!. This was back at Deco. Sergio went to Michael's craft store and got Walgreens bags-full of fake snow, hung them from the rafters, and found the right time to get on a stool in the middle of the floor, poked those bags with a mop handle, and all this plasticky, itchy, fake snow fell on our sweaty dancers and was UGH. He regretted it the moment it happened. And… that was the last time we did that. Ironically, that was the very party where Steve Fabus first DJed as a guest. The very next month—because Steve saw that Sergio and the party was worth being involved with—Steve agreed to join as a resident and co-BANG!er.
48h I adore that you include behind-the-scenes legends and historical moments in the party, like having Carla Ann from the Trocadero do the lighting. 
GB! Carla Ann Nicholson was the Arc Light Diva the The Trocadero Transfer, she has been one of our stalwart dancing friends for so long. We recently purchased two follow spots from legendary SF sound and light man Randy Schiller, who is also a great friend to us. As of the middle of this year, you can find Carla providing the beautiful dance floor lighting— reflected upon a disco ball cluster handmade by her—adding to the authenticity of a true San Francisco disco dance floor. We fondly remember a time, during a recent Trocadero Transfer Tribute, when Steve Fabus played Frankie Valli's "Soul + Heaven Above Me" (1980) and at *just the right time* Carla made the lights turn bright and sunny during the break of the song, lifting us from elation to ecstasy.
48h I've seen 22-year-olds on your dance floor, I've seen 80-year-olds on your dance floor (making out, mind you!). What attracts such a range to the party?
GB! In our 10 Years, we've been welcomed and loved by so many in our community, and that's why we continue! We love San Francisco! We love its past and its present, and we're encouraged by our future as we all work together to share of our art and resistance, our rebellion and unfettered love. We are so lucky to have so many talented friends working with us to make the party so special. It's really grown into a group effort. We think about the party each and every day, we think about how to make our friends happy, about how to repay them for the joy they give us. We do this for our friends.
48h Give us a Go BANG! top 10 for 10 years.
GB! Dinosaur L., "Go BANG!" 
Lorraine Johnson, "Feed The Flame"
Bryan Adams, "Let Me Take You Dancing"
Two Tons of Fun, "Earth Can Be Just Like Heaven" 
Linda Clifford, "If My Friends Could See Me Now"
Sylvester, "I Need You"
Village People, "San Francisco"</p
Voyage, "Souvenirs"
Dan Hartman & Loleatta Holloway, "Vertigo (Relight My Fire)"
Ashford & Simpson, "Found a Cure"
Donna Summer, "Could It Be Magic" 
Gayle Adams, "Your Love Is a Lifesaver" 
Go BANG 10-YEAR ANNIVERSARY
Sat/1, 9pm-3am, $5-$10
The Stud, SF 
More info here.