On the morning of September 11, 2001, millions of Americans were glued to their television sets, watching the horrific images of planes crashing into the Twin Towers over and over again.
But some of those most directly impacted by the disaster had no idea what was going on:  the 7,000 passengers on 38 planes that were diverted to a near-abandoned airport in Gander, Newfoundland when U.S. air space was closed. They had no idea where they were, why they were there, or how long they were going to be there. 
Their weariness and confusion were assuaged when the residents of the small town of Gander welcomed them not only with open arms but with shelter, fresh clothes, warm food, phones, and goodwill.
Could this turmoil be turned into a musical? Young Canadian couple Irene Sankoff and David Hein took on the challenge, writing the book, music, and lyrics for the Tony-award winning Come from Away. Their spirited, moving musical begins its national tour at SHN's Golden Gate Theater through February 3 after a smash Broadway run. The witty play reveals, without romanticizing, the best of the human spirit.
We first meet the "come from aways" stranded on the tarmac. Their pilot Beverly (Becky Gulsvig) tries to be calm and reassuring while the cabin crew distributes mini-bottles of liquor and encourages a song fest. But when one anxious passenger belts out the theme song from the Titanic, it hits everyone's last nerve. 
On the ground, the islanders scramble to transform schools and libraries into shelters and to provide everything from baby food to tampons.  An ongoing strike by school bus drivers complicates matters because there is no way to get the stranded passengers to the shelters. Announcements go out searching for Spanish, Mandarin, and Moldovan translators. The mayor (Kevin Carolan) pleads with the bus driver (Andrew Samonsky) to put the strike on hold because his "Corolla will only hold four."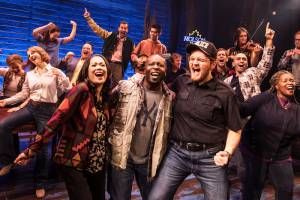 Under the direction of Tony-award winning director Christopher Ashley, the dozen cast members all play multiple roles, moving seamlessly between Islanders and stranded passengers with quick-switching accents. The set undergoes a similarly rapid series of transitions. A scattering of wooden tables and chairs become airplane interiors, a local diner, school gymnasium and even a rocky hillside path in the countryside. The simple, flexible set design by Beowulf Boritt is brilliant, but it couldn't work without the deft handling and collaboration of the agile ensemble.
When a busload of African families arrives at the Salvation Army shelter, they are wary of getting off the bus because the volunteers have put on their Salvation Army uniforms; military uniforms mean something different in their home countries. The enterprising school bus driver, who has agreed to put the strike on hold until after the crisis, helps to find a common language and ease their minds.
The show is based on a true story — or many true stories. Passenger Bob (James Earl Jones II) is asked by his Canadian host, the Mayor of Appleby (Carolan plays mayors of all the towns, with a flick of a hat or a moustache) to collect barbecue grills from the neighbors' backyards for a community cookout. Bob, an African American man from New York, is naturally wary of doing this.  As he stealthily removes the grills, he is afraid he'll get shot. Instead he gets invited in for tea — at every house.
A gay couple, both partners named Kevin (Samonsky and Nick Duckart), fear they have revealed too much about their relationship while drinking at a local bar until the waitress and several patrons tell them they have relatives who are lesbian and gay. "We found ourselves in the gayest town in Canada," one of the Kevins quips.
One of the most moving songs is "Me and the Sky", where Beverly shares her story of becoming the first female pilot to fly for American Airlines. "The pilots all complained, 'Girls shouldn't be in the cockpit," she sings. But she persisted; "Suddenly there's nothing in between me and sky."
After all learn the details of the 9/11 attacks, everyone is wary of Ali, a Muslim man on the flight (also played by Duckart). Harried schoolteacher Beulah (Julie Johnson) trying to feed the multitudes rebuffs his offer to help in the kitchen. But as the days wear on and she learns that Ali is an experienced hotel chef, she eagerly invites him to join the mass cooking effort.
After five days, tempers begin to fray. The Mayor tries to calm people's anxieties with a get-together in the community hall, oiled by plenty of local whiskey and a hilarious kiss-the-fish ritual.  The band — which until now has been mostly hidden by the tall tree trunks looming over the stark stage — makes a joyful appearance, playing traditional instruments like the penny whistle, Uileann pipes, and bodhran drum combined with electric guitars and bass.  This time, no one flinches when one of the karaoke singers chooses the Titanic theme.
But Sankoff and Hein do not insist that good will conquer all. Pilot Becky laments that "the one thing I loved more than anything else was used as a bomb." Two "come from aways" find out that loved ones have not survived. One couple's relationship dissolves under the strain. Anti-Muslim bias persists: Ali learns that his daughter is afraid to go back to school.
But in this age when our government lambasts, scapegoats, and rejects those who come to our borders in need, it is refreshing to witness a time of real crisis when strangers were not only offered safety and shelter, but welcomed into people's homes with extraordinary kindness. 
Come from Away reminds us of that moment when the planes were grounded, but the spirit of generosity soared.
COME FROM AWAY
Through Feb. 3
SHN Golden Gate Theatre, SF.
Tickets and more info here.