Those with the chance to visit "Forever, A Moment," the SOMArts exhibition curated by Yetunde J. Olagbaju and Kevin Bernard Moultrie Daye that opens Thu/14 will not be experiencing the sterile white walls we've come to expect of the art world. Instead, the pair present a series of works and ritual spaces created by Black artists with strong ties to the Bay Area, a meditation on the ways that Blackness translates from the past to the future, with an essential stopover in the present.
Enriched by Moultrie Daye's background as an architectural designer, Umar Rashid a.k.a. Frohawk Two Feathers constructs a tent inviting entry, bedecked with signifiers of indigenous culture that speak to the artist's work reimagining and reassessing colonial history. Oakland creative and art educator Lukaza Brandman Verissimo's "As Bright As Yellow" explores the bounds of color therapy, objects arranged on a sunny background that opens up to the possibilities of rite.
Though such real-life spacial reimagining may be the immediate energy grab, "Forever, A Moment" is not without its more traditional, wall-hung works. Exhibition previews highlight the mixed-media collage of Kasmir Jones a.k.a. POETIC, expands the Black body, quite literally altering perspective with unexpected physical ratios.
Such an undertaking required deep investigation from its participating creatives. But it also asks for an amount of reflection on the part of attendees to absorb the implications of a Black futurity presented free of whiteness' accompanying yard stick.
We connected with Olagbaju and Moultrie Daye to find out the past, present, and coming implications of the show.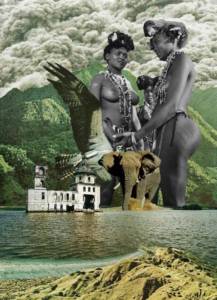 48 HILLS What did you know in advance of this project about the other curator's work that made you eager to collaborate with them?
YETUNDE J. OLAGBAJU The thing that excited me the most about Kevin's previous experience was more so surrounding his ability as an architect and creator of spaces. I was interested in collaborating for this very reason. What Kevin brings to the table is his expertise on how to truly make a space nonlinear and a dedication to investigating how deeply physical space can affect our sense of possibility and memory.
The sensibility is crucial when thinking about how art inhabits a space and how it also might alter it.
KEVIN BERNARD MOULTRIE DAYE When I met Yetunde, I didn't know about her art practice! The more I learned however, the clearer it became that although our approaches and attitudes are different, we are interested in the same things: How we, as human beings, orient ourselves in space and through time. How memory and possibility is embedded in our landscapes and specifically, how black people can leverage the spaces we occupy and the time we are given to heal and thrive.
48 HILLS The artists in the exhibition all have ties to the Bay Area. What are some of the overlying truths/impressions about Blackness in the Bay being expressed by "Forever, a Moment"?
YETUNDE J. OLAGBAJU One obvious truth is that we are a dwindling and dissolving group of people. Those of us who are able to stay are often doing so by the skin of our teeth and are having to balance our need to survive with our desire to to create/heal. I believe we would be hard pressed to find a Black artist in the Bay who is not consistently worried about their bills or stable housing opportunities.
The other truth that I feel "Forever, A Moment" truly addresses is the pressure that is placed on Black artists in the Bay to talk about specific topics through their work. I believe that many Black artists experience this phenomenon of walking into the gallery and have their work be digested in ways that puts Black relationship to White Supremacy at the forefront of the viewers experience. Blackness, Black art, and Black memory should not be defined only in its approximation to Whiteness. This, in itself, is racism and forces artists to place limitations on their artistic expression.
For me, those were some of my main intentions when considering artists and work to included in "Forever, A Moment". I wanted artists whose work expands upon Blackness in a way that challenges our established art historical narratives, allows us to reimagine our place within that timeline, and that ultimately distorts this timeline in new and exciting ways.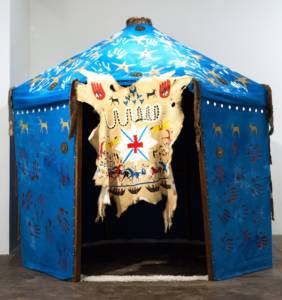 KEVIN BERNARD MOULTRIE DAYE Standing in the gallery it think there is an overwhelming sensation of ownership of this place, the Bay Area. A feeling that this is somewhere where the history and legacy of Blackness is so established, it does not need to prove itself or position itself in relation to Whiteness or anything else. And so, the work is given the freedom to dive even deeper and covers quite a broad spectrum of questions: from the relationship between Greek myth, Renaissance ideals and the modern-day athlete, to the connection between cannabis culture and what it takes to survive in the world today.
48 HILLS What kind of/are there questions attendees to the exhibition should ponder BEFORE they arrive at SOMArts?
YETUNDE J. OLAGBAJU If you're a Black artist, I would love for you to come questioning what your Blackness means to you within your art practice. Do you see work that resonates with how you orient yourself within memory, legacy, and time? Is there such a thing as "Black collective memory"? If so, what lives in those archives? And finally, what can those endless possibilities provide for you in terms of your own healing?
If you're not a Black artist, I then ask how you are creating opportunities and resources to Black artists and elders in the Bay? Do you feel a responsibility to do so? Could "Forever, A Moment" be a revelatory moment for you? I surely hope so.
KEVIN BERNARD MOULTRIE DAYE Have I ever been in a space that was completely designed for Black people? How many ways have I allowed Blackness to express itself? Have I treated Blackness as a monolith? If nobody told me that this show was 100 percent Black artists and curators, what would I have expected to see? What do I expect to see now?
FOREVER, A MOMENT: BLACK MEDITATIONS ON TIME AND SPACE
Opening reception: Thu/14 6-9pm, free
Exhibit runs through April 6
SOMArts Cultural Center, SF  
More info here.