"When we talked it through, they were interested in the openness and breaking strict and rigid notions of identity and gender and sexuality," said PJ Gubatina Policarpio, youth program manager at the Contemporary Jewish Museum. "Teens really can relate to and welcome those conversations."
Policarpio organizes a Teen Takeover night every year with the museum's 10 paid Teen Art Connect interns. Originally planned for November, the event was postponed until this weekend (Sat/9) due to terrible air quality from Paradise's Camp Fire.
That gave them a chance to organize it in conjunction with an exhibit that opened Thu/7, "Show Me as I Want to Be Seen", which displays contemporary artists questioning representation and identity along with the work of 20th century French surrealist Claude Cahun and her partner and collaborator Marcel Moore.
Teens are ready to discuss the ideas the show brings up, Policarpio said.
In their program, interns hear panels on careers in the arts, go on studio visits, take mural walks and attend artist-led workshops. It's mostly teen-driven — and Saturday night will be too, with a DJ who is a freshman in high school, and several teens presenting fashions they've designed.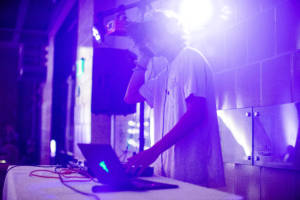 "DJ Wild is a professional DJ – he has the equipment and the speakers and a professional email," Policarpio said. "Then one of the interns is a fashioner designer and he makes clothes for his friends. I was inspired since we're talking about identity and presentation, and I thought it would be cool if we found a way to feature his designs."
A couple other young designers will join Berkeley High School senior Rohan Steinmeyer, 17, to put together a fashion show. Steinmeyer has made a blazer, a dress, and some denim pants made out of scraps of fabric. He's a little nervous, but also excited to show his work, he said.
"It's something I've always liked — a really fun, imaginative way to express yourself," he said about fashion design. "It's like this armor every day to dress yourself up and feel good about yourself. I'm very visual, so I like to translate ideas in a direct physical way, plus I like doing something that's functional for every day."
But there will be more than music and fashion — snacks! Making art! Policarpio has invited Randi Reed of the teen LGBTQ Jewish group, Keshet ("rainbow" in Hebrew). She, along with some teens in the group, will be sitting at café tables, ready to talk.
"People can come and ask questions and not be scared of what others will think," Policarpio said. "Like what happens if friend is transitioning, and how can you support them, and breaking down those kind of hard questions."
Policarpio is thrilled that San Francisco choreographer and performer Sir JoQ will be there to do a presentation followed by a workshop on vogue dancing.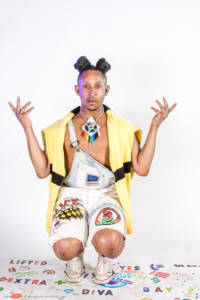 "Because we are thinking about gender fluidity and sexuality and identity, I wanted to create something like that underground very New York scene where everyone becomes your family, and it's about the comfort of the dance floor and the nightlife," said Policarpio, who has worked at the Brooklyn Museum, the Queens Museum, and The Museum of Modern Art. "This kinship develops on the dance floor and you can try on different movements and be hard or soft. Sir JoQ is a San Francisco icon, and when I showed his video to the teens, they all loved it."
Policarpio and the interns have gotten in touch with other teen art programs and to friends to let them know about Teen Takeover. Steinmeyer is looking forward to the event.
"What speaks to me the most is art making and interacting with the exhibit," he said. "And having a night out to dance and have fun and meet other people from teen art programs."
It's not every day you can see an exhibition in a contemporary art space dealing with queer issues, Steinmeyer says. Policarpio is excited for the teenager to see the exhibit, which breaks down ideas about identity and how the body can be represented.
"My hope is to create a space for free expression for teens without the rigidity that we are often so exposed to," he said. "My hope is we're really inspired by the exhibition, and we have this night where we create memorable kinships and friendship."
TEEN TAKEOVER!
Sat/9 6-8pm, for teenagers only, free
Contemporary Jewish Museum, SF
More info here.