Daniel Bae is a lifelong romantic, who pens love poems in a little notebook he carries around with him. Natasha Kingsley (Yara Shahidi) is a persisting pragmatist, who is more likely to quote the theories of cosmologist Carl Sagan than the love poetry of Emily Dickinson.
When this modern-day Korean-American Romeo and Jamaica-born Juliet finally meet one day in New York City, the timing couldn't be any worse. University-bound Bae is en route to a critical college interview and Kingsley is on her way to an 11th hour appointment with immigration authorities about her and her family's impending deportation.
The odds of the two teens developing an attraction, much less an everlasting love, seems slim at best, in director Ry Russo-Young's "The Sun Is Also a Star", which is based on Nicola Yoon's bestselling YA book. Except that Bae is convinced that they are destined to be together and begs the skeptical Kingsley to give him 24 hours to prove it.
Although Kingsley has barely enough time to grab a coffee, she acquiesces and what follows is a testament to the power of…well, you'll just have to watch the movie to find out.
48 Hills spoke to "The Sun Is Also a Star" cast members Charles Melton ("Riverdale") and Jake Choi ("Single Parents"), who plays Daniel Bae's brother, Charlie in the film, as well as author Nicola Yoon about the power of love and the role that romance plays in their own lives.
48 HILLS The central question in "The Sun Is Also a Star" is whether our lives are determined by fate or random events? Which is it, in your opinion?
NICOLA YOON I think that fate is being open to the world or to seeing how the random events are going to affect you. So some things are random, but if you're paying attention, then one thing can lead to the other.
CHARLES MELTON I think both. What's meant to be is meant to be, but that doesn't mean you live with this passiveness because of what fate has in store for you. You still get up every day and stay open to the world and present to the things that may seem random but aren't.
JAKE CHOI I think it's already written, but then people are going to say, "Hey, then what's the point of getting up every day and doing what we do?" But that's the point, right? If you live moment to moment and work toward your dreams and goals and are present, that's fate.
48 HILLS Another theory that the film explores is whether it's possible to fall in love within 24 hours. Have any of you experienced that in your own lives?
CHARLES MELTON I think the possibility of falling in love within 24 hours is very real. I believe falling in love happens in moments, and when you first see someone—people talk about love at first sight, and there's this hopeful curiosity to love at first sight.  Unfortunately, we live in a time where people can feel a little jaded about the idea of love, but you just have to be open to it.
NICOLA YOON There's also this idea of love at second sight, which means that you know that it's possible to fall in love with this person, so you see them and see the possibility of them.
When I met my husband—I remember clearly in graduate school—I looked at him and thought he's so cute and there was something about him where I knew immediately that he was going to mean something. Then he's like, "Well, I have a girlfriend," and I was like, "Whatever about this girlfriend." Then we were friends for years before we got together.
48 HILLS In the movie, we hear that the ingredients to a successful relationship are friendship, chemistry, moral compass, common interests, and the X factor. What does the X factor mean to you?
NICOLA YOON It's something that's not definable. It's the reason that when you walk into a room you notice that super cute boy but not that one. I have one friend and he's extraordinarily attractive, but I get nothing. But all my girlfriends are swooning.
With my husband, he walked into the room and I was like, "Hello." But I don't know what it is. There is a chemistry there, and it's not just physical. But there is that. There's just something about the other person. That's why in the book, I call it the X factor because I still don't have any other words for it. It's magic.
JAKE CHOI It's that mph…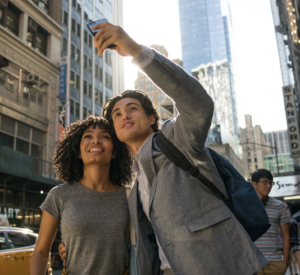 CHARLES MELTON You can't measure the X factor. There's that saying, "Oh, I have butterflies," and you start getting that queasy feeling and your heart just stops for a moment and there's just this invisible magical force that draws you to somebody. Everybody experiences it in their own way and they just don't know how to express it.
Falling in love can be kind of scary, at times, because you don't want to get hurt. But when you're feeling that X factor feeling, you should never be worried about the possibility of being hurt. Just be open.
48 HILLS Every year, it seems that more and more people complain that romance is dead, but this movie and the way that you all speak about it almost make me believe that it's still possible. How do you keep the romance alive in your own lives?
NICOLA YOON Romance is not dead and whenever people say that, it makes me insane. People talk about love as if it were not the most important thing in the world, which is crazy because it's literally the thing that makes the world go round. Everyone wants and needs love in whatever form—the love of your art, the love of your friends, the love of the person you're in love with. So romance is not going to die, because we're people and we're made for love. That's what we do.
CHARLES MELTON You just have to be open to the possibilities, and this film is such an aspirational story that I think it gives hope. Today, with social media, it's easy to become jaded with personal trials and tribulations, with relationships. There's just something special here, and tying it back to destiny and fate, if Daniel Bae was on his phone at Grand Central Station, he'd have never noticed Natasha. Were he taking a selfie, he'd never have noticed the car about to hit Natasha and wouldn't have been able to save her life, so there's just something about this romance that I think is very fresh and installs hope.
JAKE CHOI I agree. One of the things that's essential to romance is a childlike curiosity and innocence. I think we see that from Daniel in the movie. He has this curiosity toward Natasha that comes from a very pure place and that kind of gives birth to a lot of the ways that he romances Natasha.
Even looking back on my life, things I did in my life that seemed romantic to me, it really came from a place of innocence where I listened to what my partner liked or loved and wanted to present that in my own way like a romantic gesture, 'cause the idea of romance is different for everybody.
48 HILLS Nicola, if I had to draw a commonality between your books, "The Sun Is Also a Star" and "Everything, Everything", I'd argue that they're both about interracial relationships that defy odds. Obviously, you're in an interracial relationship. Why are these stories important to be told?
NICOLA YOON I would say it's more about love. But as far as the political commentary in there, we all have way more in common than we think we do. I think especially, in 2019, we tend to think that people who don't look like us or share our race, religion, or sexuality are so different. But they're not.
It's safe to say that I have more in common with David, my husband, than with anyone in the world because I am the Jamaican version of him and he's the Korean-American version of me.
48 HILLS At a time when people have very opposing views on immigration, you've chosen to tell a story about the plight of immigrants inside the narrative of a love story. We can't all relate to immigration—at least directly—but most of us can relate to love.
NICOLA YOON I think one of the things that books and media do so well is that they can make you empathetic. It's hard to hate someone if you've been in their heads for 400 pages or in a two-hour movie where you're falling in love with these characters.
The best thing I ever heard from a reader once is, "You made me think about immigration differently," because he loved Daniel and Natasha and loved the story and was with them. So if we could have media that shows that it's not just politics—it's also people and real lives—then I think we're doing a good job.
THE SUN IS ALSO A STAR
Opens Fri/17
Various Bay Area theaters
Tickets and more info here.