ONSTAGE Ten years ago, Rob Melrose, who founded the Tenderloin's Cutting Ball Theatre with his wife Paige Rogers, translated and directed Eugene Ionesco's absurdist classic The Bald Soprano (June 5-16). Melrose's version went over so well, it even impressed Oskar Eustis, artistic director of New York's illustrious Public Theater. 
"He said, 'I've hated this play my entire life, and I can't believe how much I loved this production,'" Melrose said. 
A lot of directors just take Ionesco as an invitation to be as weird as possible, Melrose says, but the playwright had something specific in mind. When Ionesco was in France, he was reading an English textbook, and in order to get in the all vocabulary and grammar the writer wanted, the characters would talk to each other in a way that made no sense. 
Above: The trailer for Cutting Ball's 2009 production of 'The Bald Soprano'
"They would say things like, 'Hi, my name is Mrs. Smith, and I live here with you in London, and we have two kids,' and Mr. Smith would say, 'That's right, and we just had a nice dinner and you fixed eggs,'" Melrose said. 
Ionesco decided to write an entire play using this kind of dialogue, which he called "anti-theater."
Translating the play, Melrose wanted to include the kind of wordplay Ionesco loved. "If you don't have that, you literally miss out on fun of the play," Melrose said. "It sounds like nonsense and Ionesco loves nonsense, but it's organized nonsense—and then it's smart and enjoyable." 
Now, for the Cutting Ball's 20th anniversary, the theater is doing the play again. Melrose came back as director and Rogers, David Sinaiko, and Donell Hill, who were in the 2009 production, will star in it again, along with Radhika Rao, Lauren Hayes and Doug Nolan. 
In the 20 years since he and Rogers started Cutting Ball, there have been some big changes. Melrose recently became artistic director of Houston's Alley Theater, which has two theaters, one with 700 seats (about 10 times that of Cutting Ball) and another with 300. A staff of about 200 work there, Melrose says, with two people employed just to do wigs.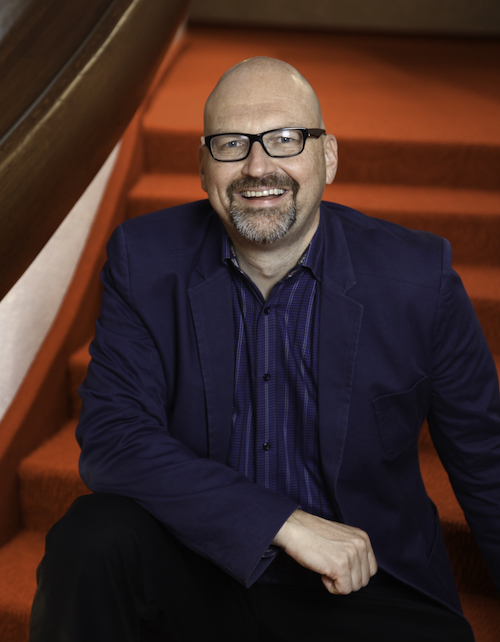 Melrose loves working at the Alley, but he's glad being back at the Cutting Ball, where he's doing a few things differently in this production. Nolan, who was in the Cutting Ball's Timon of Athens and Uncle Vanya, is also a professional juggler, and Melrose will incorporate this skill into one scene, which he says makes it much better. Another change is that the assistant director, Maya Herbsman, who trained as an intimacy coordinator, works with the cast on sex scenes. This job is something good that came out of the #MeToo movement, Melrose says. He compares it to having someone choreograph fight scenes. 
"A fight coordinator would never say, 'You have a baseball bat, and you have a crowbar—why don't you start hitting each other, and we'll see what we like," he said. "As ridiculous as that sounds, a lot of directors would say, 'Well, you know each other, so why don't you start making out, and we'll see what we like."
The Bald Soprano was one of the most successful shows the company's ever done, Melrose says, which is one reason they decided to bring it back. Another big reason is that they've made connections with theaters around the world: Cairo, Sweden, Poland. They plan to tour with The Bald Soprano, Melrose says, and he hopes this will mean Ariel Craft, now Cutting Ball's artistic director, and the theater itself will get the reputation they deserve. 
In Ionesco's plays anything can happen, Melrose says, like people walking in the air or turning into rhinoceroses. (In fact, his 'Rhinoceros' happens to be storming the ACT stage currently.) A friend of his once told him Ionesco is overrated and that Samuel Beckett is the great one when it comes to absurdist theater, but Melrose doesn't see it that way.
"I love Beckett, of course, and he's a literary genius. But Ionesco is so unassuming," Melrose said. "Beckett is very dark and very serious. Ionesco is so lighthearted and fun. I think the thing that makes him good is he doesn't take himself too seriously."
THE BALD SOPRANO
Cutting Ball Theatre, San Francisco
June 5- June 16, one absurdist hour
Tickets and more information here.