Two months after emergency motions were filed in court to quash and unseal search warrants executed against Bay Area journalist Bryan Carmody, a judge finally heard arguments in court Friday afternoon.
But those arguments didn't get very far.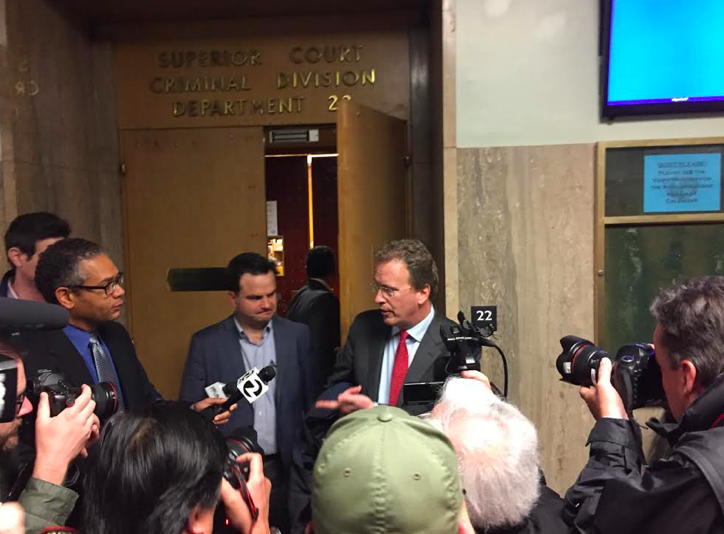 Initially, both motions against all five search warrants – one for Carmody's home, one for his office, and three for his cell phone records – were supposed to be heard by the same court. But Superior Court Judge Samuel Feng ruled last month the motions must he heard separately by each magistrate who granted the five individual warrants.
Judge Victor Hwang, who signed off on the search warrant for Carmody's office, was the first of those magistrates to hear the motions.
In court on Friday, Hwang asked Ronnie Wagner, an attorney representing the San Francisco Police Department, if there was still an active criminal investigation and which agency was running it. Mayor London Breed ordered Police Chief Bill Scott in May to turn over the investigation to an outside agency, which has yet to be named.
Wagner at first refused to answer, citing administrative privilege, but under further questioning from Hwang admitted she didn't know.
"We're missing a really big piece of information – if there's an investigation," Hwang said, and that he had seen news reports the California Attorney General might be taking over the investigation.
"I can't answer that at this time.  What's been published in the paper is as much as I know about that," Wagner said, adding that if the Attorney General wanted to adopt the matter, she would defer to them.
"I am a little bit perplexed that we don't have an answer," Hwang said, and wondered if the Attorney General's Office should be in court.  "I'm not sure if it makes sense for you to be the one to appear."
For the motion to unseal, Hwang said he was inclined to grant an "in camera" review, which would allow SFPD to present evidence behind closed doors without a chance for cross-examination. Hwang would then decide which portions of the evidence to allow the other side to see.
"I don't want to jeopardize an ongoing investigation," he said.  "Maybe [the attorney general] is not opposed.  Maybe we don't need in camera review. We don't know."
Adding more confusion, Wagner said she didn't know if SFPD would be calling any witnesses at an in-camera review.
Duffy Carolan, an attorney representing the First Amendment Coalition, objected to the in-camera review. She said such reviews should never be a first resort, and that SFPD has yet to show justification for sealing the warrant.
Carolan also pointed out that with such a highly publicized case, if the attorney general wanted to file a motion in the case, "I would assume they would have done so," she said.
Hwang overruled, and set the in-camera review behind closed doors for July 24, with a follow-up court date of July 29, when he is expected to issue a ruling on the motion to unseal. He said he would defer ruling on the motion to quash until after ruling on the motion to unseal.
"It was a little monkey wrench," Carolan said outside the courtroom, about the discussion of the Attorney General's Office. "I wasn't quite anticipating that there'd be another party, and further delays."
"The judge seems to have information based on something he read, but literally this was the first time we heard that the attorney general was involved," said Thomas Burke, an attorney representing Carmody. "And that might come as news to the attorney general, I don't know."
Burke also represents 48hills on media-law issues.
David Snyder, executive director of the First Amendment Coalition, said he didn't fault the judge for his decision to hold an in-camera review.
"He wants to hear more information about what the basis for the official information privilege is, so he knows whether to redact parts of the search warrant application before making it public," he said.
Snyder said until the search warrant is unsealed, the public won't know if SFPD told the judges they obtained search warrants from that Carmody was a journalist.
"That's one of the things that these motions were designed to find out," he said. "It's a key question that would help put us on the road, ultimately, to accountability. To figure out who made the mistakes that resulted in, by my count, five search warrants that are clearly unlawful and contrary to the California Constitution, and executed on a working journalist."