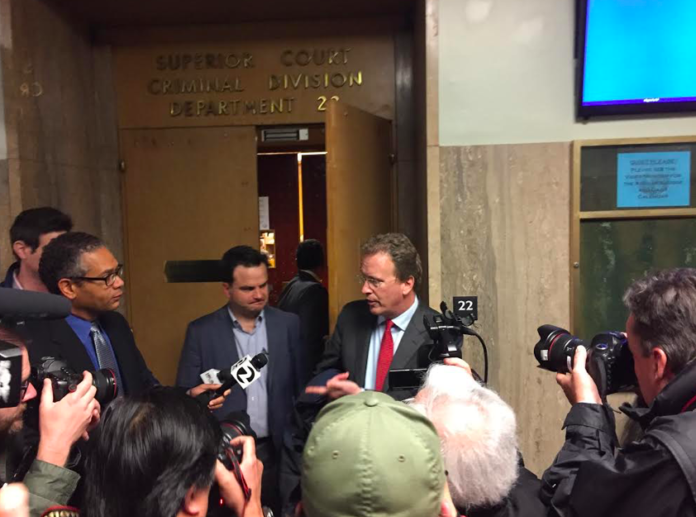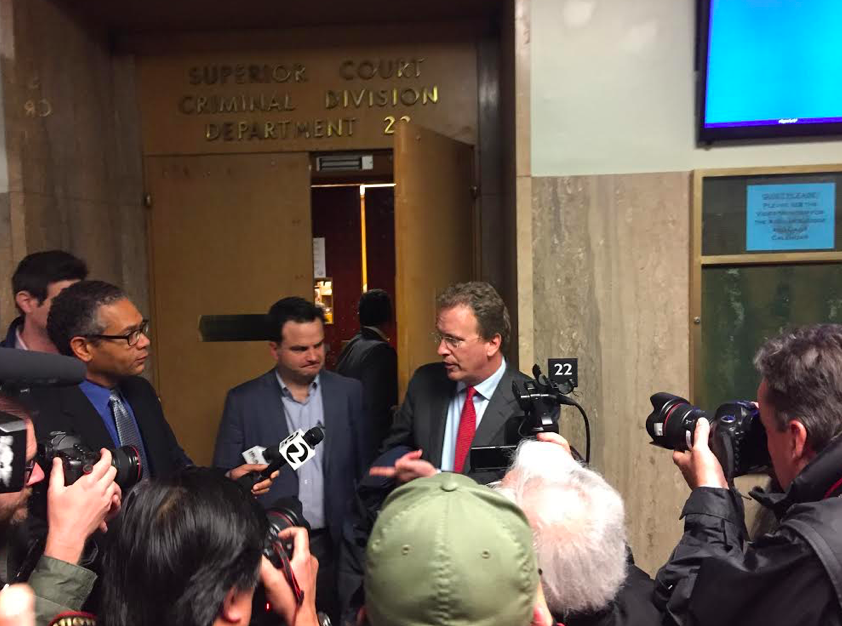 In a highly unusual move, SF Police Chief Bill Scott said today that the freelance journalist whose house was raided 11 days ago is a criminal suspect in an ongoing investigation.
At a hastily arranged press conference, Scott said that the SFPD suspects Bryan Carmody may have been involved in a criminal conspiracy to steal a confidential police report about the death of Public Defender Jeff Adachi.
SFPD has come under criticism and ridicule from free-press advocates across the country for their May 10 raid at the home and office of Carmody, a freelance journalist who has worked in the Bay Area as a videographer and stringer for 30 years.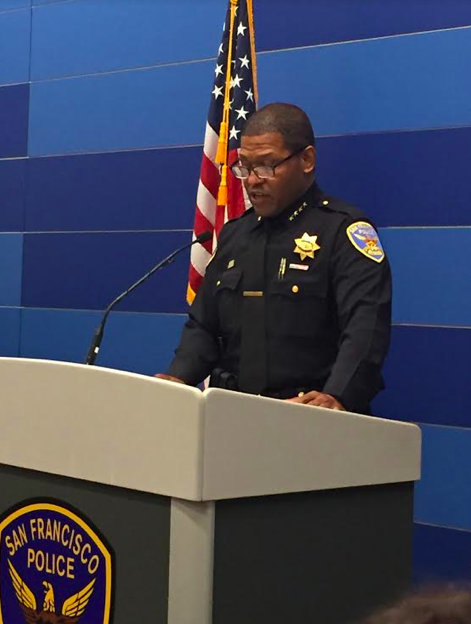 Carmody said SFPD officers interviewed him on April 11 asking the name of the source who leaked him a police report with details of Jeff Adachi's death. When he refused, he said the officers threatened him with a federal grand jury subpoena. He said he had no further contact with SFPD until May 10 when they arrived at his home and attempted to use a sledgehammer to gain entry to his home until Carmody opened the door for them.
"We do believe Mr. Carmody committed a crime, and that's what we believed early on," Scott said, but added, "There are some lessons to be learned here; we're very humble about taking criticism."
"Leaks happen all the time. The difference we believe here is the reporter crossed the line. We believe he took part in this act, this criminal activity," Scott said.
In a written declaration attached to a motion to quash the search warrant filed last week, Carmody stated the leaked report was provided to him unsolicited by a source.
"I did not ask the source to provide me with this document," he wrote. "I did not pay or provide any compensation whatsoever to the source for providing this report to me – nor did I promise them that I would pay or compensate them in the future in any way."
It's very rare for a reporter who receives confidential information from sources to face criminal conspiracy charges.
It's also very rare for the normally secretive folks at SFPD to announce this sort of information about an ongoing investigation.
The press conference came just hours after a court hearing on Carmody's move to undo the search warrant and return his property.
At the hearing, an SFPD attorney said the seized items will be returned. However, it remains unclear if the SFPD has already examined the material in the two weeks since the raid on Bryan Carmody's home and office, or if police have retained copies.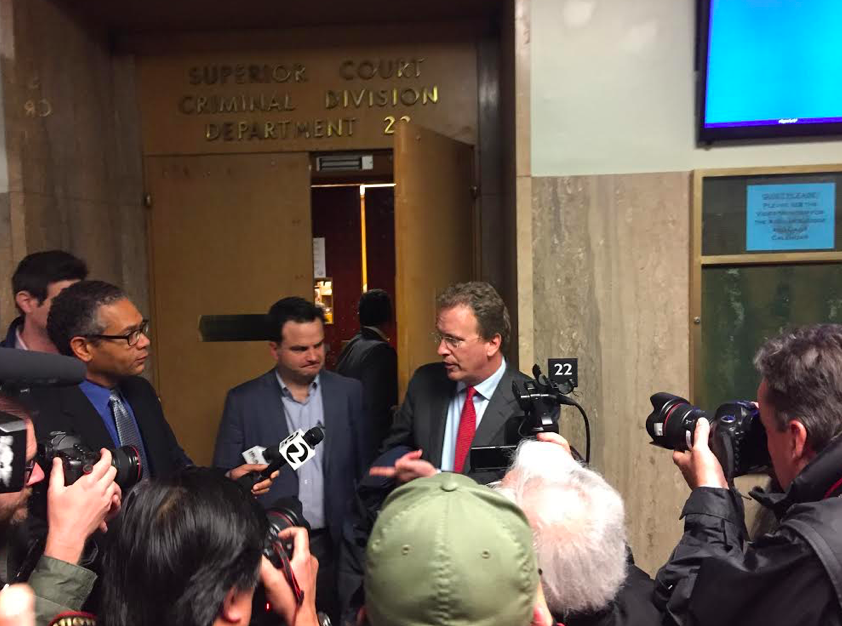 Thomas Burke, a first amendment and media attorney representing Carmody, filed a motion last week asking the search warrant be quashed and the 68 seized items —including phones, computers, tablets, hard drives and notebooks – be returned. Separately, the First Amendment Coalition filed a motion to unseal the probable cause memos that SFPD presented to two judges to obtain search warrants.
Burke also represents 48hills on media-law issues.
To the surprise of many, including Judge Samuel Feng, City Attorney Dennis Herrera is not representing the SFPD in this case and sent nobody to the hearing.
Feng even asked from the bench why the City Attorney's Office wasn't present. Ronnie Wagner, the SFPD in-house lawyer, said she didn't know.
Herrera's office offered no comment on the matter. But Herrera would have been in a terrible political situation trying to defend the city on this case.
As of Tuesday morning, no opposition brief had been filed with the court, and attorneys were optimistic the judge might make a favorable ruling from the bench.
"I don't think we were aware that anyone was even going to appear today on behalf of the city," said David Snyder, executive director of the First Amendment Coalition. "They had the opportunity to file some papers and they chose not to do so."
But Wagner, who works in the SFPD Legal Division, appeared in court and said while SFPD was prepared to return all of the seized items, they would challenge the motions to quash and unseal the search warrants.
Judge Feng ordered opposition briefs to be filed by May 31, and replies no later than June 7. A hearing date for the matter won't be set until June 10.
Even if the seized items are returned, Burke said he still wants the search warrants revoked.
"We want it made clear that they shouldn't have been issued in the first place," he told reporters outside the courtroom.
California's Shield Law, which was enshrined in the state constitution in 1980, protects journalists from being forced to disclose sources or unpublished material except in cases where it may interfere with a criminal defendant's right to a fair trial. Burke said it creates a "subpoena-first" policy, which is the appropriate way to get information from a journalist.
"It's like a sniper shot — as opposed to a search warrant, which is a net that grabs everything you've ever worked on," he said. "That's never appropriate.  It's not appropriate in San Francisco, it's not appropriate anywhere in the country."
Snyder said the public has a right to see the documentation SFPD presented to obtain the warrant because it will help explain if the judges who signed off on them understood the target was a journalist, and "help unravel the mystery of what went off the rails here that allowed these search warrants to be issued."
Typically the search warrant applications are made public after a warrant is issued. In this case, for reasons that are unclear, the application memo has been sealed.
"What's at stake here is the ability of the Fourth Estate…to conduct its constitutionally-protected mission, which is essential to the healthy functioning of a democracy," he said. "When the core mission of journalism is threatened in the way that I think it has been here, the entire public suffers."